Memorable Vacations Start Here!
We are here to help you savor your vacation experience by providing
articles
, maps, videos and
assistance
you need to thoroughly research, book and share your next vacation!
If you know where you want to go, simply choose a destination to begin your planning process. You can find things like activities, events, points of interest, lodging options, special vacation packages, local travel tips, weather information, and maps for all of our destinations.

Popular North American Destinations
Celebrate the Holidays with these Cheerful Christmas Cities!
With Christmas just around the corner, cities across the United States are transforming into enchanting winter wonderlands in preparation for season. If you are looking to add some holiday spirit to your next vacation, these destinations are a great option!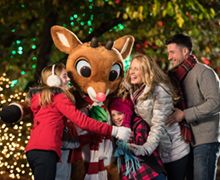 Known as one of the most family-friendly vacation destinations in the country, Branson, MO also comes to life around the holidays. Boasting some of the most fun and memorable holiday celebrations, this Ozarks hub is filled with Christmas activities the whole family can enjoy. Most of the popular shows have Christmas-themed evenings beginning in November, so don't miss out on Dolly Parton's Stampede Branson, the Haygoods, Andy Williams Christmas Extravaganza, or the Christmas on the Trail Chuckwagon Dinner Show! There is also a wide variety of fun to be had at Silver Dollar City with the Old Time Christmas celebration, or by visiting the Branson Trail of Lights for some family fun looking at brilliant Christmas lights. No matter what you choose to do, you are sure to have a blast in the Ozarks during the holidays.
Music City is also a fantastic destination for a Christmas celebration. Nashville, TN is home to so many different ways to celebrate the holidays, so do not miss out. If you are looking for a way to see the city on your vacation, embark upon the Nashville Christmas Lights Tour where you can see the city in its holiday splendor. As well as sightseeing tours, guests can visit classic Nashville attractions for a unique holiday adventure. See all of the memorabilia at the Country Music Hall of Fame or embark upon the Discover Nashville Inclusive Tour. Top of your holiday in Nashville, TN with a Grand Ole Opry show at the Ryman Auditorium! You can create unforgettable memories while experiencing the cheer of the holidays in this southern city.
For snowbirds, the cold winter months mean travel to warmer destinations. Christmas time is no different, and Orlando, FL is filled with things to entertain and help you celebrate even during the holiday season. Those who want to take in the best theme park experiences will not be disappointed as Disney World, Universal, and SeaWorld, are all open during the holidays. There are also plenty of outdoor activities still available. Check out a Boggy Creek Airboat Ride, Captain Memo's Pirate Cruise, or a Dolphin Encounter tour. As well as fun attractions, guests can also get in last minute shopping and see some stunning sights of Orlando as it is decorated for Christmas.
Do not miss out on the great opportunities to have a memorable Christmas. Vacations Made Easy makes it simple to create the best holiday yet!