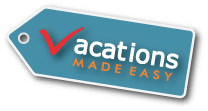 Myrtle Beach, South Carolina Vacation Packages, Online Reservations, Lodging, Dining and Show & Attraction Tickets
About the Myrtle Beach Area
This coastal town is a popular place for tourists as it offers beautiful and spacious beaches along with championship golf courses, tons of fun activities, and some of the best food and beverage options at local restaurants and dining hotspots. Some of the most notable points of interest include Murrells Inlet SC which is popular for its fishing pier and the Boardwalk which is home to Broadway on the Beach shows to offer guests quality entertainment.
Activities in Myrtle Beach, SC
From fishing to golfing and everything in between, Myrtle Beach is brimming with an array of things to see and do. Don't miss out on all the fun!
Ripley's Aquarium
For those who are interested in marine life, Myrtle Beach is an awesome place to visit. With admission to Ripley's Aquarium, guests will be able to view beautiful animals and learn more about the creatures that live in the water. From sea turtles to stingrays and sharks, Ripley's Aquarium is educational, fun, and something you definitely do not want to miss out on during your Myrtle Beach vacation!
Wildlife Preserve
TIGERS wild preserve offers up some amazing conservation efforts and the ability to embark upon a safari-style tour. See and learn about beautiful creatures such as lions, tigers, bears, and more! There are so many unique animals to see.
Pirates Voyage
Watch in awe as two crews of pirates battle it out for hidden treasure through fun stunts and more! Pirates Voyage features some of the best theatrics in the area with a huge indoor lagoon, talented actors, and an unforgettable time. Plus, guests will get to enjoy their own pirate-worthy feast!
Dolphin Sightseeing Tour
Enjoy a seaside adventure unlike any other the next time that you visit Myrtle Beach. With the Myrtle Beach Dolphin Sightseeing Cruises, guests are guaranteed to see beautiful wild animals and dolphins in their natural habitats. Get out on the water and experience some of the best views and create memories during your visit.
Lodging in Myrtle Beach, SC
Whether you want to enjoy a luxury resort stay or a more lowkey hotel, there are plenty of vacation rental options in the beautiful Myrtle Beach area. From Long Bay resort to oceanfront condos, each Myrtle Beach hotel leaves little to be desired. Indoor and outdoor pools are popular features to cool off from the heat and each rental helps guests relax and unwind. Don't spend your vacation stressing out, and book one of the luxurious hotel location options in Myrtle Beach for utter relaxation. Whether pools or location are most important, there's something for everyone.
An exciting time in Myrtle Beach awaits! For the trip of a lifetime book a stay in Myrtle Beach where fishermen, golfers, shoppers, and foodies alike can all enjoy a great getaway. From activities and attractions to hotels and even custom vacation packages, VME makes it easy to plan the perfect trip to the coast!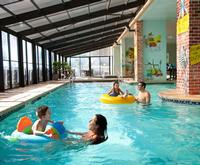 Caribbean Resort & Villas
Comfort Suites - Myrtle Beach
Bay Watch Resort by Oceana Re...