Myrtle Beach Dolphin Sightseeing Cruises
Click for More Information

Exclusive Online Offer: Buy 1 Get 1 Free
(Must purchase in advance online or toll-free at 1-800-987-9852)
1525 13th Ave North North Myrtle Beach, SC 29582
1-800-987-9852
Description
Myrtle Beach Dolphin Sightseeing Cruises Photos (11)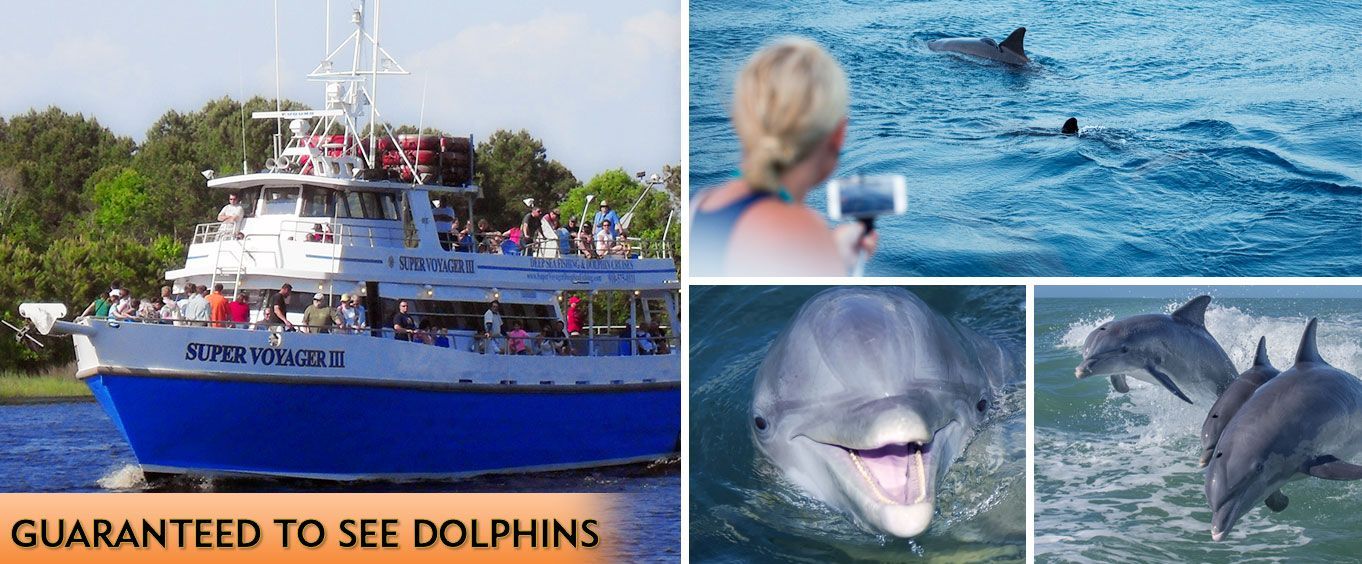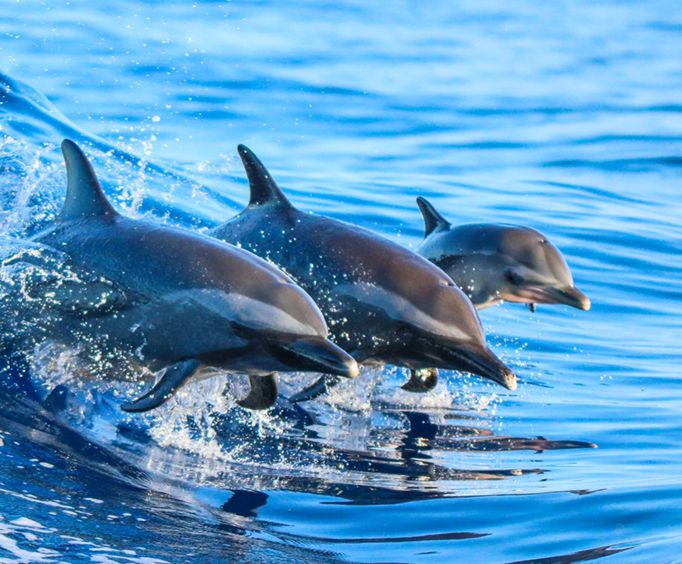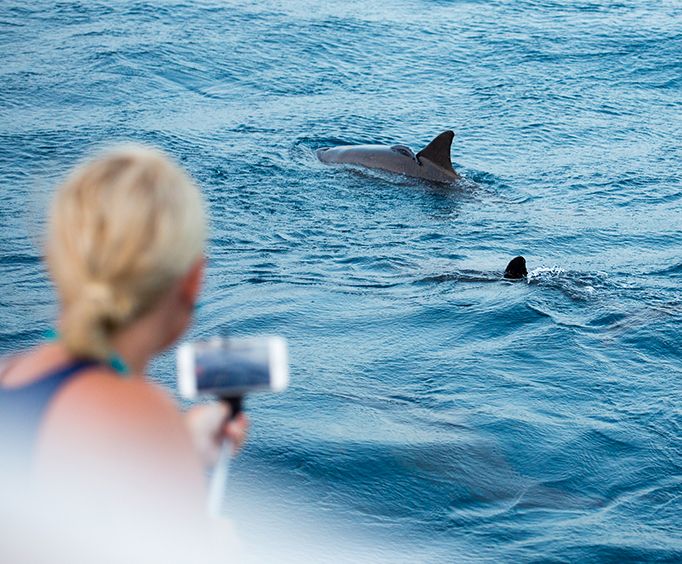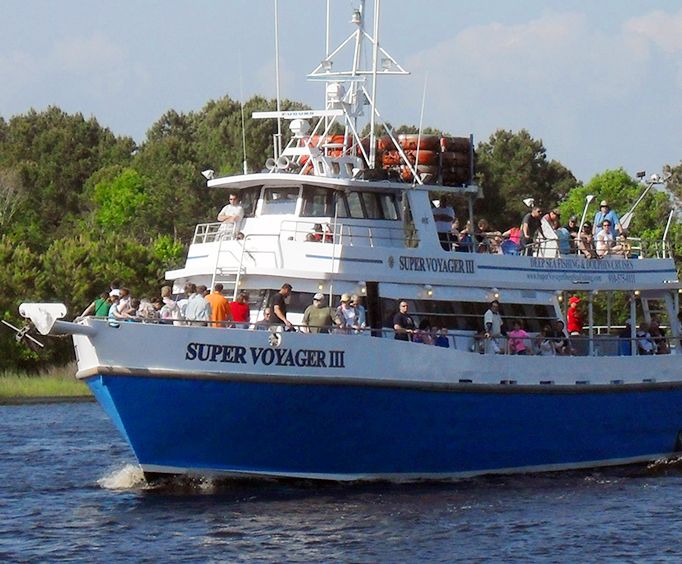 Customer Photos (169)
Set sail on a one-of-a-kind adventure cruise that the entire family will never forget with a Myrtle Beach Dolphin Sightseeing Cruise. This cruise is the best dolphin cruise in the Myrtle Beach, Outer Banks, and Murrells Inlet SC area, as it offers unparalleled views of glorious aquatic life and the inlet. Each pontoon boat ride is an opportunity to experience something new with a wide variety of sights and an atmosphere that any other dolphin watch cruise just cannot compete with. You will see dolphins swimming, enjoy awesome sights on the boat tours, see the beautiful beaches from the water, and enjoy the marine world of the island area all on this boat ride.
Your journey begins off of Hwy 17 right on the Intracoastal Water Way. From there, you will board one of the magnificent Voyager deep sea fishing and dolphin cruise boats that are available. Each of these boats is equipped with safety equipment that meets all Coast Guard standards, immaculate restrooms, a large open sun deck, and snacks and drinks for purchase on board. These boat tours are an amazing way to get out and enjoy Myrtle Beach SC wildlife. You may even see sea turtles or a great white shark which have been spotted recently in the water off the inlet coast of the Myrtle Beach area.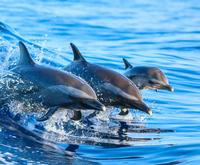 The cruise itself is bound to be a stunning adventure. Once you board your boat, you'll be en route to the Atlantic Ocean by way of the Intracoastal Water Way. You'll be able to relax and unwind with family and friends while zooming along the sparkling water as you watch for dolphins swimming around. As well as seeing a dolphin pod, guests will have the opportunity to see shrimp boat fleets working their fishing net and may see sharks, sea turtles, and other marine life as they feed on these boats.
Weather permitting, guests will even be able to observe a bucket of marine life that is pulled from the depths of the ocean on this dolphin watch adventure. Some aquatic life specimens frequently captured include sea urchins, sea horses, sand dollars, sea shells, sand crabs, shrimp, and maybe even a type of shark. You will have a blast shark tooth hunting and observing marine life with these bucket catches too.
This 2.5-hour cruise packs in so much fun and excitement that all ages can enjoy. Whether you are a sight-lover or want to see dolphins in person, there truly is something for everyone. Plus, there are different tour options such as an afternoon as well as a sunset cruise, so you can always fit this once-in-a-lifetime endeavor into your next Myrtle Beach area vacation with lots of other fun attractions. Be sure to get out on the water and experience the beautiful aquatic life of the Intracoastal Water ways and the sparkling Atlantic Ocean coast of Myrtle Beach SC.
Did You Know? Dolphins must tell themselves when to breathe; it's not an automatic response like it is for humans.
About Voyager Deep Sea Fishing and Dolphin Watch Cruise
The Voyager company has prided itself in providing amazing boat tours, deep sea adventure options, and tons of fun to Myrtle Beach SC, Outer Banks, and areas in both North Carolina and South Carolina for years. As the most popular dolphin watch company in the area, guests who embark upon these voyages are sure to have an amazing time. On your fantastic boat ride, you will enjoy the luxury of this fleet. The boat fleet offers cleanliness and convenience to its passengers with restrooms, a fun and personable crew, and a full galley on board featuring food and beverages. The company also offers a variety of deep sea fishing options, sunset cruise excursions, and other cruise adventures so there are options for every visitor to the Myrtle Beach area.
There are so many amazing things to see and experience in the Myrtle Beach SC area from fishing trips to water sports, but none quite compare to an amazing dolphin cruise. On this deep sea adventure, guests can see glorious marine life, cruise along the sparkling water on the inlet, and experience the beauty of the Intracoastal Water Way and inlet area. You are sure to have an amazing time, so do not pass up one of these dolphin watch excursions the next time you take to the coast of Myrtle Beach!
Guaranteed Dolphin Sightings!
This dolphin cruise is the only cruise backed by VME's guarantee. If you do not see dolphins on your cruise, please contact us at 1-800-987-9852 for tickets for another dolphin cruise. These Myrtle Beach Dolphin Tours are sure to make your vacation a memorable one!
Frequently Asked Questions for Myrtle Beach Dolphin Sightseeing Cruises :
What type of parking do you have?

Parking is free.

Approximately how long is Myrtle Beach Dolphin Sightseeing Cruises ?

The entire excursion is approximately 2.5 hours.

How many decks or levels are there aboard the Myrtle Beach Dolphin Sightseeing Cruises ?

There are two levels on the boat.

What lake or river does the Myrtle Beach Dolphin Sightseeing Cruises cruise on?

The cruise follows the Intracoastal Waterway to the Atlantic Ocean.

What is the dress code?

The dress code is casual.

Am I guaranteed to see dolphins?

Yes! This is the only dolphin cruise in Myrtle Beach that guarantees that you will see dolphins. Backed by VME's guarantee, call 1-800-987-9852 if you do not see dolphins on your cruise.

Is Myrtle Beach Dolphin Sightseeing Cruises handicap accessible?

While wheelchairs can be lifted onto the boat, there is no ramp and the boat is not wheelchair accessible.
Reviews
4.6 |
123 reviews
Sheirl McCormick
NC
✓
Verified Traveler
"Exceeded my expectations "
Exceeded my expectations
Tip: Perfect getaway and in a great location
Wendy Blackwell
NC
✓
Verified Traveler
"the trip was FABULOUS, we seen several dolphins!! This crew was very personable"
We went on this cruise hoping to see dolphins not knowing if 2:30 on an april saturday was a good time to expect to see much however the trip was fabulous, we seen several dolphins!! This crew was very personable, friendly and the captain was engaging as well. The ride was so relaxing with views along the waterway and while i was a little worried about the part taking us into the ocean, due to motion sickness, the captain drive the boat in a way that no one got sick that day and there were some good size waves i might add. It was a great way to spend time on the water and i would spend the money and do it again the next time we are in the area. Keep doing what you are doing and keep the staff who ran the 2:30 dolphin cruise on 4/13, they we the best.
Tip: We sat on theower level, not in the exact front but on the side towards the front and it was perfect, not to much wind but enough to feel the breeze.

Chasity Boswell
MI
✓
Verified Traveler
"It was awesome!"
It was awesome!!! Such a beautiful boat ride out to the ocean with beautiful homes including vana whites home. My kids loved seeing all the dolphins jump by our boat, there were tons of them very nice trip for our vacation.
Tip: Wear sunblock and being cash for snack bar
Retha Reddin
GA
✓
Verified Traveler
Awesome trip! We loved the crew and captain' ssaw many dophins'the kids and adults loved this adventure surprise i planned for them' kelp it a secret 'from everyone till that morning'had to let the adults in on it'for time wise! ??????You will love it!
Book Now!
Exclusive Online Offer: Buy 1 Get 1 Free