Medieval Times Myrtle Beach, SC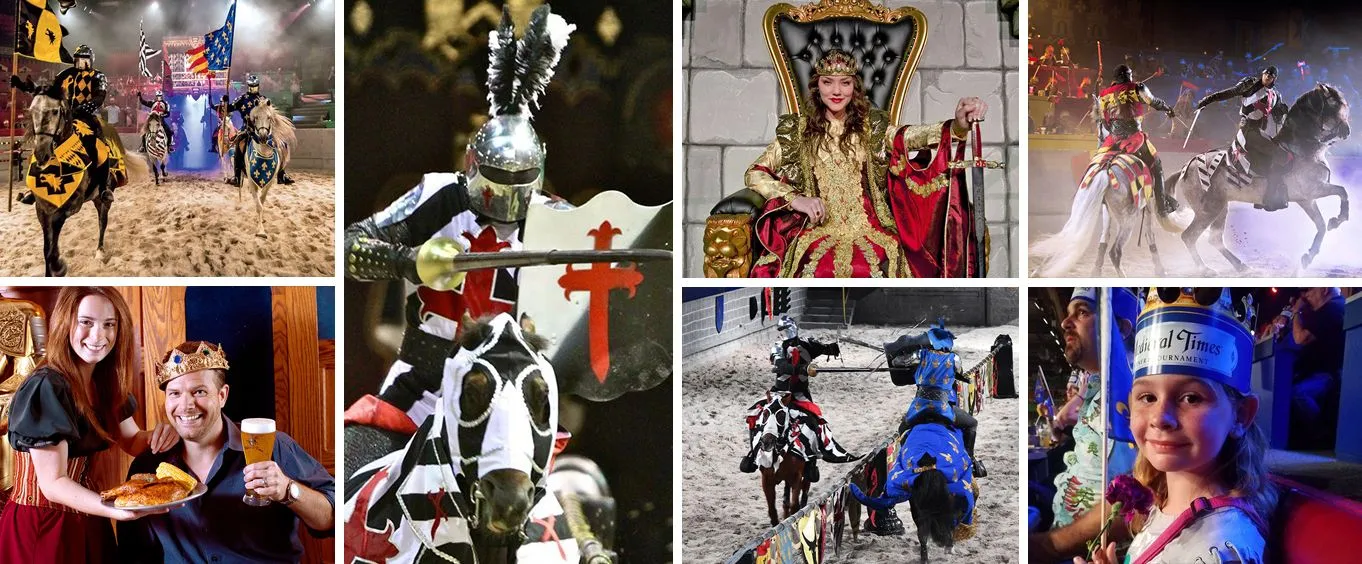 Description
Medieval Times Myrtle Beach, SC Photos (17)



Customer Photos (3)



For a fun family experience, check out Medieval Times Dinner Show. Take a voyage back to Medieval Spain where you will witness a magnificent Tournament of Knights in which you will see six noble knights battle to be a champion, and fight for the heart of Princess Catalina and the honor of the king. During this exciting tournament, feast upon an 11th-century meal fit for a king. Everyone will enjoy watching flawlessly trained horses take to the floors, the stunning royal court, high-energy performers, and more while the unforgettable medieval story unfolds to discover who the true Champion of the king will be! It truly offers a unique experience in South Carolina, so don't pass it up.


About the Show
You will be seated within one of the colored sections that will match one of the Tournament of Knights' competitors after arriving at the theater. Watch as your knight engages in sword fighting, intense hand to hand combat, javelin throwing, flag piercing, impressive jousting, and many different games that will test the skill and courage of the knights. Guests will also take part in an ancient ceremony which includes the Royal Falconer and his birds of prey. Gaze at the magnificent royal falcon as it soars over the crowd and back to its keeper during this exciting show. After the Tournament of Knights is finished, find out if your knight wins the heart of the princess.
You'll want to cheer on your favorite as they fight for the hand of the stunning princess and impress the king royalty. Just a few of these unique contests include jousting, hand-to-hand-combat, weaponry, horsemanship, and more. As well as being able to root for your favorite, you can enjoy some fantastic entertainment along the way, turning this into an impressive experience that you won't forget. The Myrtle Beach location is on par with the Buena Park castle, so it creates an amazing evening filled with fun and awe-inspiring feats.


Horsemanship
Some of the most talented performers at the Myrtle Beach castle are the noble Pure Spanish Horse stallions, which are trained to be precise during battle. These highly trained horses are raised to be a part of Medieval Times Dinner & Tournament, and the Master of Horse continually impresses guests with his show of superior horsemanship.
The best part about Medieval Times SC is truly its dedication to its performing animals. The horses are raised at the Medieval Times ranch where they are bred for their roles as stars at this dinner show. After spending three years training, they are moved to the castle stables where they are shown the ropes and take to the stage.

The Medieval Time dinner, a four-course feast, includes a variety of foods specific to the time period, and will be enjoyed without silverware! Indulge in tomato bisque soup (tomato soup), garlic bread, delicious oven roasted chicken, tender spare rib, an herb-basted potato, the pastry of the castle, and two rounds of beverages during the Medieval Times Dinner & Tournament.
A vacation to Myrtle Beach, SC is bound to be a fun one regardless of what you do. Choose from a variety of hotels - so whether you want a swim pool, exercise room, a pet-friendly hotel, free internet, or a location just a few miles away from the Myrtle Beach Airport, you are sure to find something to your liking. As well as Medieval Times, guests can check out other fun places such as the Factory Outlet Mall and more.

Head to the Medieval Times castle in Myrtle Beach, SC where you can join the king for an undeniably fun adventure! You are sure to have a blast with so many attractions, so do not miss out and add this to your next Myrtle Beach Family vacation.
Reviews

-Ann Brandt
OH
✓
Verified Traveler
Great service, good food and excellent show. My friend and i really enjoyed ourselves, this was the first show we ever seen. I would recommend this show to any one, it was fun watching this event.

Karen
MA
✓
Verified Traveler
Our group (8 in all, age 18 thru 48) had a great time! Dinner was really good and the entertainment was tons of fun go red team!!!!! All the participants were really in character and spent alot of time afterwards for photos. Special thanks to the red knight and of course our enemy the green knight! Thank you!!

Leonard Facemire
NC
✓
Verified Traveler
Great service, great food, great show! This show was enjoyed by my daughter, my 19 month grandson, my handicapped son, and my wife. An excellent father's day gift for me:)

brianna
medina
✓
Verified Traveler
"Love this"