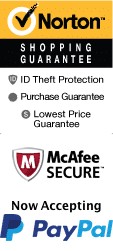 Ripley's Aquarium Myrtle Beach SC
1110 Celebrity Cir Myrtle Beach, SC 29577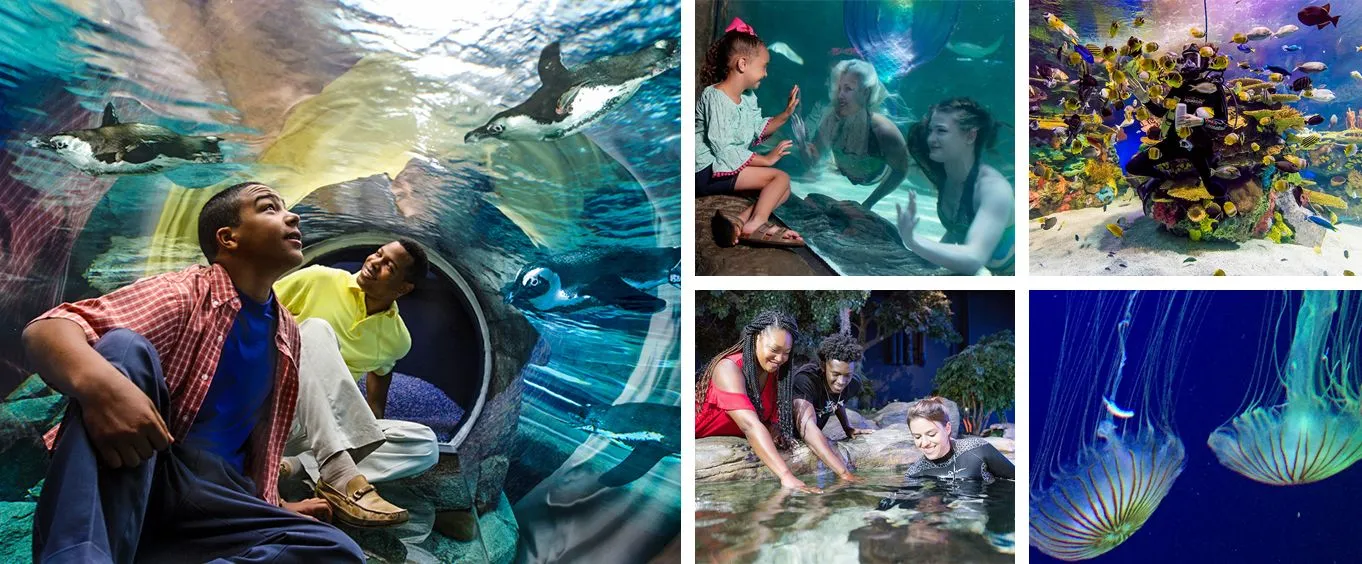 Ripley's Aquarium in Myrtle Beach, South Carolina, opened in June 1997 as has since made a reputation for itself as one of the most amazing attractions in the Smokies for both kids and adults alike as well as one of the finest aquariums in Myrtle Beach. More than one million visitors annually enjoy this unique approach of combining showmanship with serious marine science. Explore the habitats of exotic sea creatures and other aquatic animals at the aquarium at Myrtle Beach. Explore the boardwalk and all of the amazing vacation adventures that can be found at Ripley's Aquarium Myrtle Beach South Carolina.
Winner of 'The 1999 SC Governor's Cup,' guests continue to be entertained by some of the world's most beautiful, fascinating and dangerous aquatic life during their visit to Ripley's Aquarium South Carolina. With 87,000 square feet and 1.2 million gallons of saltwater, this Broadway at the Beach aquarium is home to over 6,000 fishes from the sea. The 'Cargo Hold Gift Shop' features specialty merchandise with an aquatic theme, and the 'Feeding Frenzy Snack Bar' offers a variety of hot and cold sandwiches, snacks, and drinks.
About Ripley's Believe It or Not Aquarium in Myrtle Beach Myrtle Beach, SC
Traveling through the 750,000-gallon Dangerous Reef tunnel on the 330-foot moving glide path at the Ripley's Believe It or Not Aquarium Myrtle Beach, visitors are surrounded on all sides by giant sharks up to 10 feet in length. Other spectacular features include the Discovery Center, an interactive area with a horseshoe crab touch tank, Ray Bay and Friendship Flats, an area inhabited by a variety of sting rays and small sharks offering guests a chance to pet a ray, and Rainbow Rock, a stunning display of thousands of brilliantly colored tropical Indo-Pacific sea fishes. Educational presentations and dive shows are scheduled throughout the day to bring even more enjoyment and value to your visit. The aquarium is known for housing fascinating species of marine life from bamboo shark in the shark tank to a mermaid dive show, unique experiences, and the dedication to providing great lives for marine animals.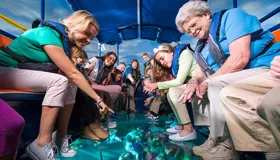 Explore the new hands-on, highly interactive exhibit SWARM at Ripley's Aquarium of Myrtle Beach, which features a schooling fish exhibit where you can crawl underneath the underwater tunnel and pop up in the middle and so much more! Discover and unlock the mysteries of how and why thousands of animals dynamically coordinate their actions into a single, overwhelming force to create super-organisms. Many swarms may appear to be remarkably similar, but a closer look will reveal that they are governed by drastically different motives and mechanisms. For a limited time only, visitors will learn that humans are not the only creatures that swarm together! The Myrtle Beach aquarium prices include all of the exhibits at the Myrtle aquarium location.
Upper Level Exhibits at Ripley's Aquarium Myrtle Beach: These Exhibits Are All Included with Your Ripley's Aquarium Myrtle Beach Tickets
Rio Amazon at Ripley's Aquarium of Myrtle Beach
This exhibit features animals such as piranhas, the arapaima, redtail catfish, and colorful, poisonous dart frogs. The poison dart frogs are some of the most interesting creatures in the world and bring color to the tropical rainforest.
Friendship Flats at Aquarium Ripleys
At Friendship Flats, guests will be able to have a unique adventure experience and touch live sting rays. The lagoon is filled with these amazing creatures, so you can learn all about them while watching them paddle around.

Lower Level Exhibits at the Aquarium North Myrtle Beach
Aloha Cove at Ripleys Aquarium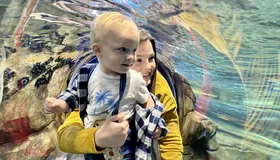 This interesting exhibition features marine life native to Hawaii. Explore Hawaiian culture and the animal kingdom that calls it home. Guests will find unique displays dedicated from everything to volcanoes to sharks and surfing. The shark tunnel is truly a sight to behold so don't miss out at Ripley's.
Rainbow Rock Myrtle Beach Aquarium Exhibit
At Rainbow Rock, guests can view some of the most colorful tropical fish. Relive the best of Finding Nemo with the beautiful blue tangs and clown fish, and see other amazing creatures like the clown triggerfish, foxface rabbitfish, sohal tang, and the emperor angelfish. There are also regularly-occurring dive shows that happen at this tank, so don't miss out.
Dangerous Reef Aquarium Myrtle Beach SC Exhibit
The Dangerous Reef is home to some of the more startling creatures in the sea. Some of the inhabitants include green moray eels, sandtiger shark, tarpon, the sandbar shark, and nurse sharks. Guests can also see beautiful sea turtles as they glide along in the underwater tunnel. This area provides a unique viewpoint into the underwater world that guests would not be able to experience anywhere else.
Discovery Center at Ripleys Myrtle Beach
Get an amazing hands-on experience at the Discovery Center! Here, guests can hold horseshoe crabs and take to an interactive playground for the kiddos. Puffer fish can also be seen at this amazing area.
Living Gallery: See the stunning, colorful, and slightly weird creatures in this ocean realm at the Living Gallery. This area holds animals such as weedy sea dragons, octopus, and jellyfish.
Stingray Bay at the Aquarium Near Myrtle Beach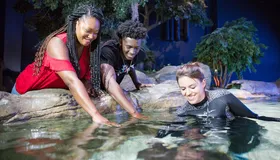 Filled with gentle giants and beautiful marine life, Stingray Bay is filled with tons of exotic sea creatures that guests can even touch. See sea animals such as the cownose ray, spotted eagle ray, southern sting rays, the bonnethead shark, and the leopard shark. There are so many awesome things to discover underwater.
Systems Control at Ripley's Aquarium SC
At the Systems Control portion lies the backbone of the center itself. Here, guests can view the computer-controlled system that makes their efforts run smoothly. Comprised of 1.4 million gallons of water total, the system filters through over 11 million gallons of water a day.
Live Shows
As well as amazing exhibits and stunning creatures, guests can take in one of the fantastic hourly dive shows that are put on every day.
Rainbow Rock Dive
Found that the Rainbow Rock exhibit, this show captivates audiences as divers explore the coral reefs, feeding and taking care if its inhabitants. The diver will also share plenty of neat information as well as explain how the animals are cared for. Shows are at 11 am, 1 pm, 3 pm, 5 pm, 7 pm, and 9 pm. Guests can see various feeding times as well, seeing feedings of octopus, sea dragons, sting rays, sharks, and other aquatic life.
Sting Ray Bay Dive
If you have ever been curious about the caretaking of sting rays and sharks, the Ray Bay Dive is a show you do not want to miss out on. Watch the divers as they swim among these creatures while hand-feeding them carefully crafted meals. Plus, you'll get to take in an educational presentation that will teach you all about these sea dwellers. Shows take place at noon, 2 pm, 4 pm, 6 pm, and 8 pm.
Mermaid Show
On the weekends, guests of all ages are bound to have an amazing time watching the show, which is set to music and features mermaids that frolic among the animals and rays of Ray Bay. Shows are held at noon, 2 pm, and 4 pm only on weekends.
Conservation Efforts
As well as providing the public of the area with fantastic views of marine life, the aquatic center also puts forth tons of conservation efforts to ensure that the animals they house are properly maintained just as its sister location in Gatlinburg does. Both locations advocate for conservation beginning at home, including recycling, saving water, and saving electricity. As well as hitting hard that conservation begins at home, Gatlinburg centers also maintain a breeding program to ensure none of their animals are taken from the wild. They breed seahorses, clownfish, cownose sting rays, bamboo sharks, jellies, and more. They also work with a network of other marine centers to keep these programs growing. The Gatlinburg Tennessee location puts out equal efforts to educate and conserve marine life in the Great Smoky Mountains area. Whether you visit the location on the east coast or its sister center in Pigeon Forge / Gatlinburg TN, you can rest assured that conservation efforts, animal welfare, and the education of exotic sea creatures and underwater wonders are the top priorities. The Myrtle Beach aquarium cost goes to fund these programs. Other Ripley's Aquarium locations include one in Pigeon Forge, Myrtle Beach, and Toronto. Each location is dedicated to providing conservation and fun.
Sea Turtle Rescue & Release Program at Ripleys Aquarium
This Ripleys Aquarium Myrtle Beach SC location is also known for its efforts and work with green sea turtles. These beautiful creatures are on the endangered species list. In September, the center released their first loggerhead turtle which was rescued off the beaches in North Litchfield, stranded with no hope of surviving. They worked alongside various other institutions to bring Magnolia back up to health until she was ready to be released. Magnolia, the green sea turtle, fought long and hard and was released back into the wild. In January, eight little sea turtle babies were rescued. Cold-stunned, they washed up on the shore. For four weeks, the caregivers treated them for hypothermia and they were released into much warmer waters off the coast of St Augustine. There is nothing more rewarding for the crew than these conservation efforts and green sea turtle rescue.
Festival of Trees
Enjoy a new holiday tradition during the November and December months with the whole family as you explore over 100 unique and beautifully decorated Christmas trees to make your next holiday vacation an unforgettable Christmas celebration.
Get ready for some amazing fun and education at the Ripley Aquarium Myrtle Beach! Celebrating the largest expansion in the aquarium history, visitors will be able to check out the brand new African penguin habitat in the early months of 2020. See a brand new gallery called Oceans of the World, enjoy a 360-degree crawl tunnel, see floor-to-ceiling views of baby penguins playing in their penguin playhouse, and more! This exhibit features eight tanks and also houses a variety of fish and sea creatures. Other notable additions include African penguin encounters and the paint with penguins activity! Don't pass up a chance to visit this awesome penguin encounter attraction. Ripley's Penguin Playhouse is sure to be a hit!
Whether you love sting rays, want to see giant sharks, or want to learn about the life of the poison dart frog in the tropical rainforest, do not miss out on the opportunity to learn about sea life and the unique aquatic life that makes up the amazing underwater world! Just like its sister location in Gatlinburg is the best in the Smokies, it brings the best of the region to the table. Get your Myrtle Beach Aquarium tickets today to all the fun attractions and make it an adventurous family vacation!
And do not forget to check out some of the other awesome activities in the area including the haunted adventure experience, Ripley's mirror maze, the Odditorium, and the Moving Theater. Book your hotel and Ripley's Aquarium tickets Myrtle Beach today for an amazing adventure in the area where you will find many different attractions, including Ripleys Myrtle Beach, Grand Strand shows, Marvelous Mirror Maze, Ripley's Haunted and other Ripley's attractions Myrtle Beach. See a stunning coral reef, multiple exotic species, a mermaid swim show, Ripley Aquarium adventures, and kid friendly fun! This is the one of the best aquariums Myrtle Beach South Carolina offers so don't miss out!
No matter when you visit, you'll find some awesome things to discover from angel fish and sawfish to intricate aquarium exhibit displays all at Ripley's Myrtle Beach Aquarium. ripleys aquarium hours myrtle beach aquarium hours myrtle beach ripley s aquarium acuario en myrtle beach ripley's aquarium myrtle beach hours ripley s myrtle beach
Reviews

Kristal Anspach
Bardstown, Kentucky
✓
Verified Traveler
"Myrtle Beach Ripley's Aquarium was amazing."
Myrtle beach ripley's aquarium was amazing. The shark tunnel really put you up close and personal with the sharks. My husband and i thought it was absolutely fascinating.



Pamela Tanner
Groveport, OH
✓
Verified Traveler
Very nice attraction for the family, kids loved it. Vacations made easy was great experience too. No issues. Thank you



Tressa Walker
Wilmington, NC
✓
Verified Traveler
"This was an experience we would recommend to anyone"
This was an experience we would recommend to anyone. It was an extremely fun and educational family adventure. From our family to yours, thank you! For your assistance in achieving an awesome 1st father's day experience that will be remembered for many years to come... We are looking forward to being able to return.

Krystle Kitchen
Ivor, VA
✓
Verified Traveler
"A must see when you visit the beach"
Best aquarium walk through on the east coast hands down! A must see when you visit the beach.
Frequently Asked Questions for Ripley's Aquarium Myrtle Beach SC:
What is included in the admission price?

Includes all of the exhibits.

Approximately how long could a customer plan to spend here?

Guests spend about 2 hours here.

What amenities are available?

There is a gift shop.

Are wheelchairs and strollers available?

Wheelchairs are available at Guest Services.

Is the attraction handicap accessible?

Yes.

Is photography & video recording allowed?

Yes.

For what ages is the attraction appropriate?

All ages.

Is parking available? Is it free?

Yes. Parking is free.