Things to do in San Antonio
In this article you will find:
San Antonio Things to Do
Things to Do in San Antonio At Night
Fun Things to Do in San Antonio TX
Fun Things to Do San Antonio TX
What to Do in San Antonio
San Antonio Attractions
Attractions in San Antonio
Things to do In San Antonio Texas
Fun Things to Do San Antonio
Things to Do in San Antonio TX
Stuff to Do in San Antonio
San Antonio Activities
Fun Places in San Antonio
San Antonio Texas Things to Do
Things to Do Around San Antonio
Riverwalk Fun Things to Do in San Antonio
The Riverwalk draws hundreds of thousands of visitors each year and has plenty of San Antonio fun things to do. Dine, shop, and stroll down the beautiful winding path to experience the true culture of this city. This fifteen-mile waterway along the River is a city treasure and the largest urban ecosystem in the country! Tucked in the downtown area just steps away from the famous Alamo, the Riverwalk provides the best way to discover the area. Explore attractions like the Alamo, take a boat tour along the river, shop at the local spots, and try the mouthwatering local restaurants. The possibilities and activities in San Antonio at the Riverwalk are endless! It is a must-do while you are in the area.
Museums, San Antonio Tourist Attractions & Educational Fun Things in San Antonio - Educational Things to Do San Antonio TX
Since the city has so much history, it is no surprise that it is home to so many museums and San Antonio tourist attractions. From history to art, you will find it all at these awesome San Antonio Texas tourist attractions.
Theme Parks & Things to Do Near San Antonio Plus Adventure Parks and Things to Do Near San Antonio TX
These parks are great places to spend quality time with the whole family and are some of the most popular activities to do in SAan Antonio. Check out these awesome things to do in San Antonio for a memorable vacation.
Six Flags Fiesta: This park is home to thrill rides, family rides, kids rides, and water rides as well as live shows. Six Flags Fiesta Texas encompasses more than 200 acres of land; and with 49 total rides, Six Flags will have you and your family reeling for hours on end. You will also find many foods and shopping options available as well. With a little something for everyone, Six Flags is sure to give you the good time you were looking for!
Sea World: Discover the fascinating marine life at the family-friendly theme park, SeaWorld, where thrilling rides, exciting adventures, and enchanting encounters with some of the world's most amazing creatures are always right around the corner. In addition to the interactive exhibits, backstage tours, delicious eateries, and exciting rides, the shows also offer breathtaking majestic saltwater creatures like beluga whales, killer whales, Pacific white-sided dolphins, sea lions, and more! Not only will you be amazed at what these awe-inspiring animals can do, but you'll also have the opportunity to learn all about life underneath the ocean.
Other popular San Antonio Texas things to do include the natural bridge, natural bridge caverns, the children's museum,
Splashtown
, the wildlife ranch,
Legoland Discovery
, the Menger Hotel, the
mirror maze
, and so much more. You should also consider taking a guided tour of the area so that you can learn more! Experience the tons of fun things San Antonio offers with all of these awesome activities in San Antonio. Of course, you also cannot take a trip without taking the chance to visit the Alamo.
things to.do in san antonio things to do.in san antonio things to do in sanantonio thing to do in san antonio activities to do in san antonio
San Antonio Most Popular Activities
Guests of all ages will have an amazing time exploring San Antonio, TX with the VME Family Fun Pass. This amazing pass includes admission onto the Go Rio San Antonio River Cruises as well as admission to the San Antonio Aquarium.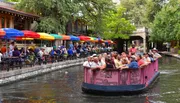 One-of-a-kind Rio San Antonio River Walk Cruises take you on exciting sightseeing tours along the famous San Antonio River Walk.
With a wide variety of underwater and desert creatures calling San Antonio home, visitors and locals alike find the interactive displays exhibits and shows to be a delight. Bring the kids for opportunities to let their imaginations soar as they watch sharks, tortoise, countless fish, and on select days, a whimsical mermaid swims through the tanks of the Aquarium.
Best Seller
This is one of our most popular activities. Be sure to book soon before it sells out!
The underwater experience at SeaWorld is one you won't want to miss with exhilarating rides, unique adventures, and incredible once-in-a-lifetime encounters with the most amazing marine life!
Sep 25
N/A
Sep 26
N/A
Sep 27
N/A
Sep 30
10:30 AM
to
11:00 PM
Oct 01
10:30 AM
to
10:00 PM
Oct 02
N/A
Oct 03
N/A
Oct 04
N/A
Oct 06
10:30 AM
to
10:00 PM
Oct 07
10:30 AM
to
11:00 PM
Oct 08
10:30 AM
to
11:00 PM
Oct 10
N/A
Oct 11
N/A
Oct 13
10:30 AM
to
10:00 PM
>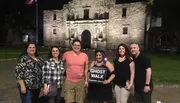 Take a spooky stroll around the city of San Antonio on an hour and a half walking ghost tour of the Alamo's grounds as well as walking the River in the center of the town to locate ghosts near haunted establishments.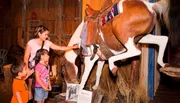 Enjoy a day in San Antonio, Texas at the Buckhorn Saloon and Museum filled with beautiful animal exhibits as well as a Texas Ranger museum to enjoy. There are great food and drinks for the whole family for an unforgettable vacation to Texas.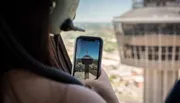 Take flight high over majestic San Antonio with a San Antonio Alamo Helicopter Tour where you have a wide selection of tour options, from the Alamo and More Tour, the Hill Country Tour, the Ultimate Tour, the Salt Like Charter Tour and the Flat Creek Winery Charter Tour. Your tour operator can even help you customize a special Sunset/Night Tour.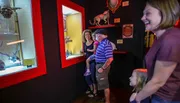 Explore San Antonio's vast history when you visit the Buckhorn Saloon & Museum and the Texas Ranger Museum. Don't miss out on the fun!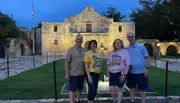 Explore the haunted history of San Antonio on the San Antonio Ghost Walk. You will embark on a historical tour through the city and visit some of the most haunted sites in the area. As you venture through the city, you will learn about the mysterious and spooky legends of San Antonio. Hear stories of ghosts and hauntings and learn about the city's history.
In 1930, the San Antonio Zoological Society established the foundation for the San Antonio Zoo. When it initially opened, it was in Brackenridge Park. It has been around the longest of the five significant zoos in San Antonio. The San Antonio Zoo is located in unincorporated Bexar County at 3903 N Loop 1604 W. About eight miles separate you from San Antonio's downtown from here. Of its long history, the zoo has seen many changes in ownership. This group is known by its alternative name, the San Antonio Zoological Society. The zoo was owned in the 2000s by Landry's Inc., which operates 27 other zoos around the United States. Buying this item entitles the buyer to a discount on a general admission ticket to the San Antonio Zoo. Many individuals are seeking these tickets on eBay. This is just one example of the fantastic deals discovered on eBay. You may buy it for yourself, as a gift for a loved one, or as an investment for your company. With this admission, the zoo will be a fantastic time for you.