Nightlife in San Antonio, TX
Get out and experience San Antonio, TX once the sun goes down. With these nightlife options, you will find a variety of pub crawls, shows, and plenty of adventures to embark upon. Book one for a fantastic adventure in Alamo City!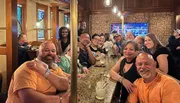 Nightlife in San Antonio just got spookier with the Death Warmed Over Haunted Pub Crawl. This 2-hour tour takes you on a ghostly journey of some of the city's most haunted pubs, bars and taverns. Along with your seasoned guide and fellow adventurers, you will wander through the streets of downtown San Antonio hearing stories of death, betrayal and strange occurrences that will send shivers down your spine. With stops at popular drinking establishments, you can also enjoy some refreshing drinks while on this creepy adventure. Guests are certain to have an amazing time as they learn all about the San Antonian history and lore. Add it to your adventures for an exciting time!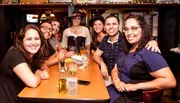 Nightlife in San Antonio takes on a spooky twist during the Haunted Evening San Antonio Bar Tour. Embark on a journey through some of the city's most haunted bars, where expert guides will regale you with spine-tingling stories of ghostly encounters that have occurred on the premises. Enjoy delicious drinks and soak up the eerie atmosphere on this unforgettable tour. Discover the darker side of the city and experience a thrilling and spooky night out.
Dec 11
N/A
Dec 12
N/A
Dec 13
N/A
Dec 18
N/A
Dec 19
N/A
Dec 20
N/A
Dec 25
N/A
Dec 26
N/A
>