San Antonio, TX Segway Tours
See San Antonio, Texas in style on a segway tour. The funny-looking, two-wheeled vehicles are a great way to sightsee a large city.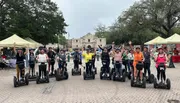 Segway Tours in San Antonio offer a unique way to explore the city's history. You'll glide seamlessly along the Riverwalk and into the heart of downtown, stopping at key landmarks like the Alamo, San Fernando Cathedral, and the Spanish Governor's Palace. With a knowledgeable guide leading the way, you'll learn fascinating details about the city's past and get an up-close look at some of its most iconic sights. Don't miss this opportunity to see San Antonio in a whole new way! This part of the country is extremely historic and absolutely beautiful, so it provides the perfect destination for those who want to explore rich history and plenty of fascinating times. Do not miss out on all of the fun.
Segway Tours come to life on the Haunted Ghost Segway Tour in San Antonio, TX. This unique experience takes you on a thrilling ride through the city's historical sites, with a spooky twist. You will ride your Segway through the streets while listening to spine-tingling tales of San Antonio's haunted past. The tour takes you to eerie sites, such as the Alamo and Emily Morgan Hotel. This activity is an unforgettable way to see San Antonio, while adding a thrilling scare factor.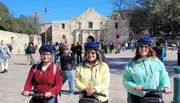 Segway Tours in San Antonio offer an exciting and unique way to explore The Alamo and its surrounding areas. With a knowledgeable guide leading the way, riders effortlessly glide along on Segways, learning about the history and culture of this iconic site. The tour covers significant landmarks like River Walk, La Villita, and HemisFair Park, giving visitors a comprehensive look at the city's attractions. Exploring San Antonio by Segway is a must-do activity for anyone seeking an engaging and unforgettable travel experience! Do not miss out on this brilliant adventure the next time you visit the coveted area of San Antonio.