Branson, MO Magic Shows
Magic Shows in Branson MO
Prepare to be astounded, dazzled, and amazed by the unbelievable illusions that these magic shows in Branson deliver during each production. Live animals, costumes, and showmanship will make this a show that the whole family will love. Check the magic show Branson options below and get tickets quick because they tend to disappear. branson magic show magician shows Read More
Top Pick
We are confident you and your family will enjoy this top pick.
An unforgettable afternoon or evening on Table Rock Lake awaits you with one of the Showboat Branson Belle Lunch & Dinner Cruises.
Sep 30
12:00 PM
4:00 PM
8:00 PM
Oct 01
N/A
Oct 02
N/A
Oct 07
12:00 PM
4:00 PM
8:00 PM
Oct 08
N/A
Oct 09
N/A
Oct 14
12:00 PM
4:00 PM
8:00 PM
Oct 15
N/A
Oct 16
N/A
>
Best Seller
This is one of our most popular activities. Be sure to book soon before it sells out!
Come one, come all to see for yourself amazing magical illusions and tricks that will blow your mind at a performance of Branson's own Reza Edge of Illusion Magic Show. Reza is an extremely talented magician who has been performing since he was a youngster. With so many amazing tricks to his name, you and your entire family are sure to be dazzled and left in awe. See the famous 'Oreo' trick and countless classic illusions all spiced up with Reza's signature flair. This incredible experience is one that you definitely do not want to miss out on, so get tickets today!
<
Oct 02
N/A
Oct 06
N/A
Oct 09
N/A
Oct 13
N/A
Oct 16
N/A
>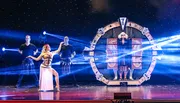 One of the best magic shows you will see on your next trip to Branson is part of Hamners' Unbelievable Variety Show, which also features acrobatics and feats of strength, and is appropriate for all ages. Get ready for an awesome endeavor right in the Ozarks with tickets to this impressive magical production. It stars the extremely talented Dave and Denise Hamner. Together, they bring some of the most brilliant illusions to the Branson stage, offering plenty of awe-inspiring displays. The show lasts approximately 2 hours and delivers a breath-taking experience that you will not be able to have anywhere else. Book it today to create the best getaway to the Ozark Mountain area yet!
<
Oct 01
N/A
Oct 02
N/A
Oct 06
N/A
Oct 09
N/A
Oct 13
N/A
Oct 15
N/A
Oct 16
N/A
>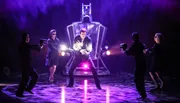 This magic show will leaves the guests in awe of the mystery. The show is up to two hours long and has handicap seating options for guests requiring them. There is a gift shop on site for the guests. The Magic Of Rick Thomas thrills audiences with tricks, big sets and showgirls who help Thomas deliver the kind of scintillating show that made him a big name in Vegas and now makes him a hit in Branson. Do not miss out on this thrilling and unique show the next time you visit Branson, MO. It is sure to be a blast and make your trip to the Ozarks memorable!
Oct 01
N/A
Oct 03
N/A
Oct 05
N/A
Oct 08
N/A
Oct 10
N/A
Oct 12
N/A
Oct 13
N/A
Oct 15
N/A
Oct 17
N/A
Oct 19
N/A
>