Branson, MO Gospel Shows
Sing along with your favorite gospel hits and hymns with the four-harmony vocals of the amazing performers in these Branson gospel shows. The warm notes projected from the stage really take gospel music to its height with songs like 'I'll Fly Away' and 'Turn Your Radio On.'
Top Pick
We are confident you and your family will enjoy this top pick.
An unforgettable afternoon or evening on Table Rock Lake awaits you with one of the Showboat Branson Belle Lunch & Dinner Cruises.
Dec 07
N/A
Dec 09
8:00 AM
12:00 PM
4:00 PM
8:00 PM
Dec 11
N/A
Dec 14
N/A
Dec 16
8:00 AM
12:00 PM
4:00 PM
8:00 PM
Dec 18
N/A
Dec 23
8:00 AM
12:00 PM
4:00 PM
8:00 PM
Dec 24
N/A
>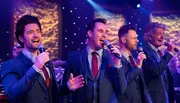 This musical group has been a sensation for fans all around the world. The group is performing live in Branson and is fun for the entire family. After the gospel show enjoy dinner at the restaurant and gift shop. Some of the most beloved gospel, oldies and country songs of all time take center stage in this musical journey that pays tribute to The Eagles, Rascal Flats, The Oak Ridge Boys, and other favorite American musicians. Be sure to witness some of the best musical talent in Branson, MO with this exciting show. Get your tickets before they sell out and see some of the greatest entertainment and stars in the Ozarks Mountain Region of Missouri.
Dec 08
N/A
Dec 09
N/A
Dec 10
N/A
Dec 11
N/A
Dec 12
N/A
Dec 13
N/A
Dec 14
N/A
Dec 15
N/A
Dec 16
N/A
Dec 17
N/A
Dec 18
N/A
Dec 19
N/A
Dec 20
N/A
Dec 21
N/A
Dec 22
N/A
Dec 23
N/A
Dec 24
N/A
Dec 25
N/A
Dec 26
N/A
>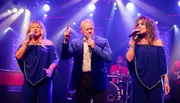 You will summon down blessings as you sing and worship at this Ozarks Gospel Shows praise at The Grand Country Music Hall presentation led by vocal greats Tonya and Tammy Bilyeu & Company performing inspirational hits such as 'Turn Your Radio On' and 'I'll Fly Away.' This production offers up an amazing opportunity for entertainment and fun in the Ozarks. At the Ozark's Gospel Music show, you will experience the musical talent of the famed Bilyeu sisters, long-time performers Tammy and Tanya, along with two of their friends, as they remake classics. You will enjoy dancing, music, and family fun! Get your tickets today to feed your soul in the Ozark Mountain Region of Branson, MO!
Dec 11
N/A
Dec 12
N/A
Dec 13
N/A
Dec 14
N/A
Dec 15
N/A
Dec 16
N/A
Dec 17
N/A
Dec 18
N/A
Dec 19
N/A
Dec 20
N/A
Dec 21
N/A
Dec 22
N/A
Dec 23
N/A
Dec 24
N/A
Dec 25
N/A
Dec 26
N/A
Dec 27
N/A
Dec 28
N/A
Dec 29
N/A
>