Branson, MO Comedy Shows
Branson is one of the funniest cities on the map due to the area's side-splitting comedy shows. Don't miss the popular Yakov Smirnoff show, which will have you rolling in the aisles, and be sure to clap, sing, and laugh along with a family favorite production, Comedy Jamboree. Comedy shows in Branson MO are the perfect addition to your vacation and these Branson comedy shows will Read More
Top Pick
We are confident you and your family will enjoy this top pick.
An unforgettable afternoon or evening on Table Rock Lake awaits you with one of the Showboat Branson Belle Lunch & Dinner Cruises.
Dec 07
N/A
Dec 09
8:00 AM
12:00 PM
4:00 PM
8:00 PM
Dec 11
N/A
Dec 14
N/A
Dec 16
8:00 AM
12:00 PM
4:00 PM
8:00 PM
Dec 18
N/A
Dec 23
8:00 AM
12:00 PM
4:00 PM
8:00 PM
Dec 24
N/A
Dec 25
N/A
>
At the Comedy Jamboree, you can enjoy a brilliant comedy show appropriate for all members of the family, combining jokes with slapstick silliness and great country music our audiences love. Visit the Comedy Jamboree, an incredible comedy event at the Grand Country Music Hall, for a nonstop dynamic performance of Country, Rock, and Gospel music, as well as humorous sketches by a cast of seasoned pros. With fully G-rated comedy that will undoubtedly impress, as well as amazing country tunes, audience involvement, and plenty of fun, the event is sure to be a blast for the entire family. Comedians, dancers, singers, and more perform in the show. Relax and unwind, or tap your toes in your seat! The Comedy Jamboree is a sure-fire way to add some laughter and fun to your Branson trip, whether you're 9 or 90.
Dec 07
N/A
Dec 10
N/A
Dec 17
N/A
Dec 24
N/A
Dec 25
N/A
>
Enjoy a night of fun and laughter at the Yakov "Make America Laugh Again" Comedy Show, located in the Yakov Smirnoff Theater in Branson, Missouri. Experience an unforgettable evening as Yakov shares his comedic perspectives on life, the American culture and the differences between men and women. The show lasts approximately two hours and is appropriate for all members of the family. The theater is handicap accessible and offers wheelchair seating as well as aisle seating. Non-flash photography is permitted in the theater. There is a gift shop on-site for those interested in souvenirs of their memorable night. The theater also offers free parking is available at the theater.
Apr 18
N/A
Apr 19
N/A
Apr 20
N/A
Apr 21
N/A
Apr 22
N/A
Apr 23
N/A
Apr 25
N/A
Apr 26
N/A
Apr 27
N/A
Apr 28
N/A
Apr 29
N/A
Apr 30
N/A
May 02
N/A
May 03
N/A
May 04
N/A
May 05
N/A
May 06
N/A
>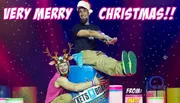 This is not your typical comedy show, instead, it is a face-paced energetic show that filled with backflips, tap dancing, drumming on buckets, body percussion, and comedic singing that will entertain the whole family. This production takes place at Dick Clark's American Bandstand Theatre and features the comedy and hilarious percussion acts of Matt Levingston and Gareth Sever. Get ready to laugh along with the comedic flair of this duo while equally enjoying the musical prowess and charisma of the pair. Regardless of your age or tastes in entertainment, this fantastic show is bound to be a hit with you and your loved ones.