Branson, MO Morning Show
Wake up and greet the day with one of Branson's popular morning shows that are sure to start your day right! Enjoy hits from the King himself, Elvis Presley, or prepare to have comedians put you in stitches. Look at the several different options below and make your morning one to remember.
Top Pick
We are confident you and your family will enjoy this top pick.
An unforgettable afternoon or evening on Table Rock Lake awaits you with one of the Showboat Branson Belle Lunch & Dinner Cruises.
Sep 30
12:00 PM
4:00 PM
8:00 PM
Oct 01
N/A
Oct 02
N/A
Oct 07
12:00 PM
4:00 PM
8:00 PM
Oct 08
N/A
Oct 09
N/A
Oct 14
12:00 PM
4:00 PM
8:00 PM
Oct 15
N/A
Oct 16
N/A
>
The Email Show - Down Home Country Show is a perfect blend of old-fashioned country music, humor, and down-home hospitality. The show takes you back to the good old days of country music, with foot-stomping tunes and good-natured comedy. This show features some of the best musicians and entertainers in the country, who are sure to get you up and dancing to their lively tunes. With a relaxed atmosphere, this is a show you won't want to miss. So, join us and get ready to experience the authentic, down-home country music and hospitality of the Email Show - Down Home Country Show.
Sep 30
N/A
Oct 01
N/A
Oct 07
N/A
Oct 08
N/A
Oct 14
N/A
Oct 15
N/A
>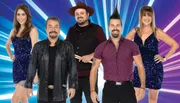 Have you ever have the opportunity to experience Doug Gabriel Show? If not what are you even waiting for? Doug Gabriel will impress and awe with his amazing and energetic morning show. This awesome show will last approximately 2 hours and 10 minutes. The price includes admission to the show. This is an amazing opportunity for you to spend time with your family because it is appropriate for all ages. It is handicap accessible and also has handicap seating options. Cameras are permitted so do not forget to bring it because it will be am awesome experience to capture. If you want to buy something to remember this amazing day and experience there is also a gift shop on site.
Sep 30
N/A
Oct 01
N/A
Oct 02
N/A
Oct 07
N/A
Oct 08
N/A
Oct 09
N/A
Oct 14
N/A
Oct 15
N/A
Oct 16
N/A
>