Haunted Ghost Activities in Orlando, FL
While Orlando, FL is often known for its theme parks like Disney World and Universal Studios, the city also has many exciting haunted ghost activities to enjoy. Learn about the spookier side of Orlando and the legends that it is known for on one of these adventures.
Orlando Haunted Ghost Activities
The Haunted Ghost Activities being offered at the Orlando Walking Ghost Tour will have visitors on the edge of their seats. Led by experienced guides, this 2-hour walking tour of downtown Orlando delves into the city's dark past and supernatural encounters. Guests will visit historical landmarks and learn about the ghosts that lurk there, such as the spirits of former residents and Civil War soldiers. With plenty of spine-tingling stories and mysterious occurrences, this tour is a must-do for ghost enthusiasts and history buffs alike.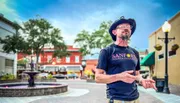 Experience a spooky yet thrilling adventure with the Haunted Ghost Activities Sanford Ghost Tour. This walking tour takes you through the historic city of Sanford, FL, as you learn about its dark past and hear chilling stories from experienced guides. You'll visit historic buildings and haunted hotspots, such as the haunted Webster House and the Old Jailhouse. Be on the lookout for paranormal activity and get your cameras ready for unexpected sightings. This ghostly tour is not for the faint of heart but guarantees an unforgettable and eerie experience.
Oct 01
N/A
Oct 02
N/A
Oct 03
N/A
Oct 04
N/A
Oct 05
N/A
Oct 08
N/A
Oct 09
N/A
Oct 10
N/A
Oct 11
N/A
Oct 12
N/A
Oct 15
N/A
Oct 16
N/A
Oct 17
N/A
Oct 18
N/A
>