Walt Disney World Theme Parks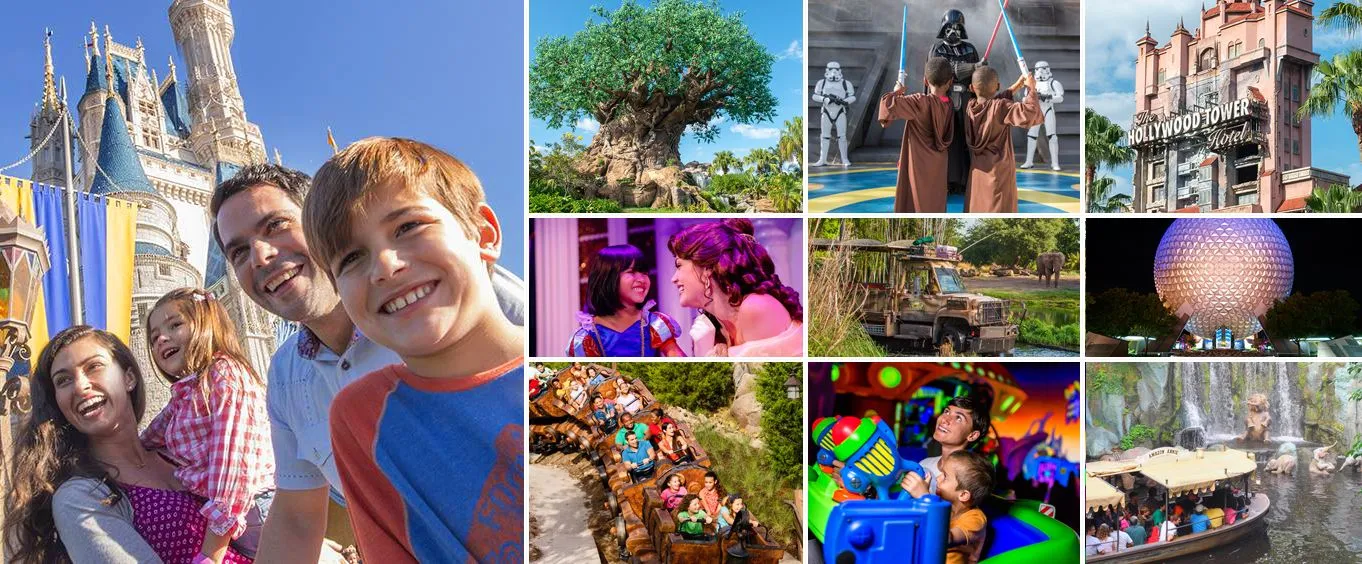 Description
Walt Disney World Theme Parks Photos (21)



Customer Photos (4)


There's no place on earth as magical and enchanting as the incredible Walt Disney World Resort theme park. Whether you want to experience the wonder of the Magic Kingdom Park, head onto the big screen at Disney-Hollywood Studios, take a walk on the wild side at Disney's Animal Kingdom Theme Park, or explore the incredible universe around you at Epcot, this ticket will allow you to custom-create your own, unforgettable Disney experience. Simply select how many days you would like to spend at the resort, and you'll be able to enjoy the ease of meeting Mickey, Cinderella, and all the gang at the Walt Disney World Resort in Orlando!
Discover Disney World tips and secrets, explore theme park guides, read editor's reviews, Orlando-area guides, and much more with our Complete Walt Disney World Vacation Guide! Book your next family vacation package Orlando for an unforgettable time!
MAGIC KINGDOM THEME PARK
The magic of Disney begins at the Magic Kingdom Park, where fairy tales filled with beautiful princesses and handsome princes come alive! The spectacular Cinderella Castle stands high against the Disney sky, as enchanting shows, rides, attractions, parades, shops, and, of course, the lovable Disney characters fill the streets of the Magic Kingdom Park. The New Fantasy Land attraction is expanding and features Storybook Circus, where guests can explore the world of Dumbo the Flying Elephant.
Magic Kingdom Rides and Attractions:

Pirates of the Caribbean: Set sail on a voyage to the 17th century to see pirate towns.
Splash Mountain: On this ride, you will get wet! Listen to classic songs as you ride through this adventure and drop five stories!
Space Mountain: Board a spaceship to blast into the furthest reaches of outer space.
The Haunted Mansion: Climb inside of a buggy for a private tour of a haunted estate.
'It's A Small World': On this classic ride, sing along to the well-known song as you pass vivid scenes that represent famous sights and sounds of all seven continents.
Mad Tea Party: Spin around in a teacup, inspired by the Mad Hatter's party scene in Alice in Wonderland.
The Barnstormer: Step foot inside of a homemade airplane to do some crazy flight stunts with Goofy!
Big Thunder Mountain Railroad: This speeding train takes you through a haunted gold mine.
Buzz Lightyear's Space Ranger Spin: Go through this indoor ride and aim your laser gun at the targets to defeat Evil Emperor Zurg.
Casey Jr. Splash 'N' Soak Station: This water play area is great for kid's to cool off! It's inspired by circus trains from Dumbo.
Dumbo the Flying Elephant: This classic ride takes you on a flying adventure with Dumbo himself!
Jungle Cruise: This river cruise takes you across South America, Asia, and Africa to see some exotic wildlife!
The Magic Carpets of Aladdin: Take a magic carpet ride through the world of Aladdin.
Cinderella Castle: This castle is the staple of the Magic Kingdom. Take amazing photos with the landmark as it welcomes you into Fantasyland.
Main Street Vehicles: Ride down Main Street in a vintage vehicle.
The Many Adventures of Winnie the Pooh: Experience the world of the Hundred-Acre Wood to see Winnie the Pooh and friends on this slow ride.
Peter Pan's Flight: Follow Peter Pan as he leads you on an amazing adventure. You'll fly over London and into Neverland on this slow, relaxed ride.
A Pirate's Adventure - Treasures of the Seven Seas: Hunt for treasure and fend off the enemies that are trying to get it. You'll participate in five different missions to find the treasure.
Prince Charming Regal Carrousel: Inspired by Cinderella, this 90-horse carrousel is a classic attraction.
Seven Dwarfs Mine Train: Hop about this train to travel through the diamond mine from Snow White and the Seven Dwarfs. This thrill ride has small drops and great views.
Sorcerers of the Magic Kingdom: This is an interactive scavenger hunt that takes you through the Magic Kingdom to located twenty different Magic Portals.
Swiss Family Treehouse: Visit the treehouse that the Swiss Family Robinsin built after being shipwrecked on an island. You will climb across a bridge and wooden stairs to get to the attraction.
Tomorrowland Speedway: This speedway allows you to drive a gas-powered car and cruise around the track.
Tomorrowland Transit Authority PeopleMover: On this slow ride, you'll travel around Tomorrowland on a 10-minute tour.
Tom Sawyer Island: Sit on a log raft to explore the world of Mark Twain's stories. You'll see mills, creaks, caves, and more.
Under the Sea - Journey of the Little Mermaid: Sit on a conch shell as you're transported through an underwater adventure to see the story of Ariel. See special effects, musical numbers, and all of your favorite characters.
Magic Kingdom Shows and Live Events:

Mickey's PhilharMagic: A 12-minute, immersive 3D concert hosted by Donald Duck, featuring your favorite Disney songs.
Country Bear Jamboree: Watch this funny and entertaining group of singing bears as they sing original and classic tunes!
Enchanted Tales with Belle: Take a tour of Maurice and Belle's cottage with Belle herself! You'll see Maurice's workshop and learn the story of how Belle and Beast met.
Walt Disney's Carousel of Progress: This show takes place in a revolving theater- you'll watch as four generations are transformed by the evolution of technology.
The Hall of Presidents: At this show, you will watch three massive projection screens as the story of America unfolds in this original 25- minute film.
Monster's Inc. Laugh Floor: This comedy show will have you laughing until you can't anymore. You'll get to hang out with Mike Wazowski and his pals.
Casey's Corner Pianist: This 20-minute show is a live and outdoor performance where you can request just about any song and this amazing pianist will perform!
Citizens of Main Street: Located on Main Street, these costumed characters welcome you to experience life in another era.
The Dapper Dans: This barbershop quartet sings classic Disney songs on Main Street!
Disney Festival of Fantasy Parade: Celebrate with Disney characters during this 12-minute parade that pays tribute to the tales of Fantasyland.
Electrical Water Pageant: Don't miss this 15-minute nighttime parade and watch sea creatures move across the water to classic Disney songs.
Flag Retreat: Make your way to the town square on Main Street to watch as the American flag is lowered for the night. This is a daily ceremony.
Happily Ever After: An amazing 18-minute firework show that concludes your day in Magic Kingdom!
Let the Magic Begin: The whole crew welcomes you to Magic Kingdom in this five-minute show.
Philharmonic: Hear an unbelievable marching band make their way through Main Street! They play famous songs that you can sing along to.
Main Street Trolley: Twelve dancers ride in a trolley car, hop out, and perform for the crowds in this 20-minute show.
Move It! Shake It! MousekeDance It! Street Party: This is a 35-minute parade that goes down Main Street and to Cinderella's Castle. Sing along and Dance with Mickey, Minnie, and their pals as they showcase their beautiful floats.
The Muppets Present...Great Moments in American History: Join the Muppets as they try to explain the history of America in a hilarious way.
Once Upon A Time: Don't miss this nighttime show at Cinderella's castle with music, special effects, and scenes from your favorite Disney movies.
Magic Kingdom Characters:

Mickey and Minnie
Alice in Wonderland
Buzz Lightyear
Ariel
Jasmine and Aladdin
Cinderella
Donald Duck, Pluto, and Goofy
Merida
Peter Pan and Tinkerbell
Rapunzel
Tiana
Winnie the Pooh, Piglet, Eeyore, and Tigger
The Muppets
Snow White
ANIMAL KINGDOM THEME PARK
This theme park is one wild adventure! The magic of Disney's favorite characters from the Lion King, Jungle Book, and other mingle together with a real African safari setting. You'll head out across the savannah as you encounter giraffes, elephants, rhinos, and many more exotic animals in their natural habitats. Of course, the thrilling rides, live shows, enchanting parades, and unique attractions make this experience a truly wild adventure into the Animal Kingdom!
Animal Kingdom Rides and Attractions:
The Animation Experience: Disney animators will give you instructions on how to draw popular Disney characters with 25-minute drawing courses.
Affection Section: Get an up-close look at many cute and adorable animals where you can brush, pet, and feed animals such as goats, sheep, donkeys, pigs, and cows.
Animals: Enjoy tons of amazing animals at multiple exhibits and enclosures around Animal Kingdom. Animals include birds, elephants, lions, butterflies, tamarins, flamingos, monkeys, giraffes, gorillas, hippos, invertebrates, rhinos, tigers, and zebras!
Avatar Flight of Passage: Enjoy a 3D theater adventure aboard your very own mountain banshee as you fly through the skies of Pandora viewing beautiful waterfalls and lush forests just like a Na'vi.
The Boneyard: Open-air space to be like a real paleontologist and dig for dinosaur bones.
Conservation Station: Get a deep look into the animal habitats where you can see the Veterinary Treatment Rooms and the Nutrition Center to see how the animals at the park are taken care of.
DINOSAUR: Travel back in time to rescue a dinosaur before the meteor that wiped them out strikes.
Discovery Island Trails: Enjoy a beautiful walk through lush landscapes, wooden bridges, and cavernous tunnels with an area filled with tons of wildlife.
Expedition Everest: Try to escape the Yeti as you ride a train through the Himalayan mountains.
Fossil Fun Games: Win prizes and play a variety of different carnival games.
It's Tough to be a Bug!: This 3D adventure ride is based on the film A Bug's Life that uses a variety of special effects for an incredible story connecting back to the popular film.
Kali River Rapids: This thrilling river rapid adventure puts you right in the action in the Asian jungles for a fun wet and wild experience.
Kilimanjaro Safaris: Explore the African savanna on an open-air vehicle guided tour where you can see 34 species of animals roaming free for an incredible animal adventure.
Maharajah Jungle Trek: This trail takes you through lush jungles featuring footbridges and rushing waterfalls to take you to multiple animal exhibits and an aviary where 50 bird species are free to fly.
Na'vi River Journey: Enjoy a mystical boat ride through the beautiful glowing rainforests of Pandora from the hit film Avatar.
The Oasis Exhibits: These walking trails take you to multiple animal exhibits while viewing beautiful streams and waterfalls.
Tree of Life: This huge 145 feet tree honors all of the animal kingdom with huge roots and animal carvings all around the tree to enjoy spotting your favorite animals.
TriceraTop Spin: This dinosaur carnival-themed attraction will take you and your little ones on a trip to prehistoric times.
Wilderness Explorers: Embark on nature challenges to becoming a Wilderness Explorer just like Russell from the hit film Up while you earn over 25 adventure badges throughout the park.
Wildlife Express Train: Board the train for a 1.2-mile expedition through the African savanna for a wonderful 7-minute journey.
Animal Kingdom Shows and Live Events:

Bollywood Beats: Enjoy the spirit of traditional Indian dance with this wonderful performance featuring the stylings of modern Bollywood music.
Festival of the Lion King: Listen to the sounds of Africa as beautiful colors fill the stage with huge puppets, acrobats, fire dancers, stilt walkers, and costumed dancers for an incredible Broadway modeled show.
Finding Nemo The Musical: Splash into the wonderful film of Finding Nemo with this live-action musical version of the film featuring musical performances, puppets, and amazing special effects.
Hakuna Matata Time Dance Party: Enjoy a wonderful dance party with popular Disney hits with some of your favorite Disney characters for a family-friendly groove session.
Harambe Village Street Band: Hear the beat fill the marketplace with wonderful rhythm while learning dance moves from some of the performers.
Pandora Drummers: Listen to the spirit of Pandora with creative musicians with one-of-a-kind rhythms featuring huge drums and organic musical elements.
Pandora Rangers: Journey to Pandora to meet a Pandora Ranger that is operating an Exo-suit. One of the military's scientific advancements to help traverse the jungle lands of Pandora.
Rivers of Light: We Are One: Celebrate nature with special effects and a beautiful musical score featuring gorgeous floats that light up the water with this Eastern festival.
Tam Tam Drummers of Harambe: Listen to African musicians dance and drum with a beat to get the crowd moving!
Tree of Life Awakenings: Experience the Tree of Life come to life with a wonderful light show with tons of brilliant colors and animated images for a deep performance.
UP! A Great Bird Adventure: Take an adventure with Russell and his furry four-legged friend, Dug, as they take you one a wilderness journey exploring various birds from all over the globe.
Winged Encounters: The Kingdom Takes Flight: Watch 6 different species of free-flying macaws take to the skies near the beautiful Tree of Life.
Animal Kingdom Characters:

Mickey and Minnie
Pocahontas
Russell from Up!
HOLLYWOOD STUDIOS THEME PARK
Step into the limelight and behind the camera at this fabulous theme park that pays tribute to the world of Hollywood film and the popular entertainment industry! Jam in your stretch limo on the heart-pounding Rock 'n Roller Coaster Starring Aerosmith, then prepare to be dazzled by the unbelievable display of stunt work at Lights, Motors, Action! Extreme Stunt Show. Other incredible stage shows, attractions, rides, and characters will help bring the movies to life for the entire family!
Hollywood Studios Rides and Attractions:

Alien Swirling Saucers: Enjoy a ride through space with this intergalactic journey with the aliens from Toy Story.
Lightning McQueen's Racing Academy: Lightning McQueen from the hit movie Cars will teach you everything he has learned from racing in his state-of-the-art simulator. There are also photo sections and DJ dances and games to enjoy.
Muppet Vision 3D: Explore an exact replica of the Muppet Theater from the classic television series. With this 3D experience, you will meet all the Muppets featuring music numbers and amazing special effects.
Rock 'n' Roller Coaster Starring Aerosmith: Head out through the city of Hollywood with the rock and roll band, Aerosmith. They are late for a concert and invite you along for the ride listening to their classic hits with over 120 speakers for an incredible rocking ride!
Slinky Dog Dash: Take a fun roller coaster ride inside the slinky dog from the hit film Toy Story. Spring through Andy's backyard as you take every twist and turn.
Star Tours: The Adventures Continue - Enjoy a 3D ride experience right out of the Star Wars saga. Hop in your very own star speeder as you escape from the Imperials to avoid being captured on this thrilling galaxy experience. The ride can change for various twists and storylines for a new adventure each and every time you ride!
Star Wars Launch Bay: Enjoy an exclusive short documentary about this incredible saga of films. After, head to explore a Star Wars Cantina and other locations from the films as well as see tons of movie props and authentic replicas with immersive exhibits.
Toy Story Mania!: Explore Andy's room as you see tons of toys and recognizable characters before grabbing your 3D glasses and boarding a tram ride to use your spring shooter to hit moving targets at 5 different games during the adventure.
Walt Disney Presents: Take a lovely journey through the years of Walt Disney's legacy through rare artifacts including photos, costumes, artwork, and interactive displays that showcase his life story.
Hollywood Studios Shows and Live Events:

Beauty and the Beast Live: Relive the tale as old as time with this Broadway-esque musical of the famous hit film Beauty and the Beast.
Citizens of Hollywood: These entertainers are from the Golden Age of Hollywood and are looking to hit the big-time but need help from citizens like you as they walk Hollywood Boulevard.
Disney Junior Dance Party!: Enjoy a high-energy music fest with your favorite characters such as Doc McStuffins, Mickey, Timon, and Vampirina!
Fantasmic: Spectacular evening show where Mickey's dream comes to life for an open-air musical featuring 50 performers, special effects, pyrotechnics, and massive sets for the whole family to enjoy.
For the First Time in Forever: Embark to Arendelle with this Frozen experience as different scenes play from the film and your favorite characters appear live to sing along with you and your family.
Indiana Jones Epic Stunt Spectacular!: Watch a live-action set take place with stunts, special effects, and pyrotechnics right in front of your very eyes with complex and suspenseful action scenes.
Jedi Training: Trials of the Temple: Learn how to use the Force and wield a lightsaber from Jedi masters so you can take your skills up against the Dark Side.
Star Wars: A Galactic Spectacular: Enjoy state-of-the-art effects and amazing musical scores from the Star Wars saga with this themed fireworks show featuring your favorite characters and starships.
Star Wars: A Galaxy Far, Far Away: Experience a live-action stage show featuring tons of your favorite Star Wars characters.
Voyage of The Little Mermaid: Embark "under the sea" with this beautiful musical performance featuring puppets, live performers, and amazing special effects.
Wonderful World of Animation: Enjoy an incredible journey through the many years of animation from Disney and Pixar with this exciting projection show featuring different themes from your favorite films.
Hollywood Studios Characters:
Chewbacca
Kylo Ren
BB-8
Toys from Toy Story
Mike and Sulley
Disney Junior Pals
Olaf
Mickey and Minnie
EPCOT THEME PARK
Explore the far reaches of the globe before heading out into the far reaches of the universe at this fantastic Disney theme park. Anyone who has ever dreamed of flying will love Soarin', one of the park's newest thrills that takes guests 40 feet high in the sky for breathtaking views of Yosemite National Park, Anza Borrego State Park, San Diego Harbor, and much more! If you're not interested in staying earthbound, be sure to blast-off on Mission: SPACE. This fully immersive 3-D experience will have you and your team of fellow astronauts piloting your spacecraft into the stars. The 3-D adventures, interactive experiences, rides and live shows all make Epcot an unforgettable Disney experience.
Epcot Rides and Attractions:

Spaceship Earth: Travel through time and see the history of human communications and technology.
Frozen Ever After: Take a musical tour of the world of Frozen.
Mission: SPACE: Find out what it's like to be an astronaut; navigate through spice, orbit Earth, and dodge meteorites.
Test Track: Create your own virtual car and then put it to the test on the track! Reach speeds of up to 65 mph and go up hills that are three stories high.
Journey into Imagination with Figment: Go through various labs and learn how the five senses work together.
Turtle Talk with Crush: Do you have questions that you've been wanting to ask this famous turtle? During this live, 15-minute chat, you can ask him almost any question and he's able to answer!
Advanced Trailing Lab: This is a high-tec play area that's perfect for all ages!
American Heritage Gallery: See beautiful Native American art and celebrate their culture.
Bijutsu-kan Gallery: A gallery that showcases Japanese 'cute' culture and art.
Gran Fiesta Tour Starring The Three Caballeros: Take a boat ride through the Mexican Pavilion with three feathered friends.
House of the Whispering Willows: See the wonders of the Shanghai Disney Resort and the amazing ways that Chinese culture is incorporated into this beautiful area.
ImageWorks - The 'What If' Labs: Great for young kids, this area is full of sensory games and activities that get their minds and bodies working.
Kidcot Fun Stops: Kids are provided with crafts to create a memorable souvenir.
Living with the Land: This is a slow boat tour that takes you through authentic harvest areas to learn growing techniques.
Project Tomorrow: Inventing the Wonders of the Future: Create and compete with new ideas as you bring technology to life with this interactive exhibit.
Reef Fish - Disney Animals: See the multi-level exhibits of fish that live in the reefs around the world.
Stave Church Gallery: Explore Nordic artifacts and see what the Vikings believed and how they lived their lives.
Epcot Shows and Live Events:

The American Adventure: Experience a retelling of America's history.
Bruce's Shark World: This is an interactive exhibit where you can take quizzes to test your sea knowledge with Nemo and friends.
Coral Reefs - Disney Animals: See an artificial Caribbean coral reef.
Music of Mexico: A 25-minute mariachi band performance.
Sergio: Watch as master juggler, Sergio, performs his 20-minute routine.
Disney and Pixar Short Film Festival: Watch three 4D short films from Disney and Pixar.
Impressions de France: Watch an 18-minute film that explores the history and culture of France.
Reflections of China: Enjoy a 14-minute 360-degree film that shows you the sights and sounds of China.
JAMMitors at Future World East: A 10-minute show that features talented drummers that use unique instruments!
Jeweled Dragon Acrobats: Watch amazing acrobats perform in this 20-minute show.
Matsuriza: A 15-minute display of ancient Japenese drumming.
Epcot Characters:

Anna and Elsa
Baymax
Belle
Daisy
Alice in Wonderland
Donald Duck
Joy and Sadness from Inside Out.
Mulan
Pluto
Princess Jasmine
Show White
Ralph and Vanellope
Mickey
Minnie
Goofy
Create an unforgettable vacation to Orlando, FL with a ticket to visit Walt Disney World Theme Parks!
Reviews

Nancy Myers
WV
✓
Verified Traveler
"We had the best Disney vacation!"
We had the best disney vacation!
Tip: Make sure to pick fast passes and check often because one could come available.

Anita Keen
KY
✓
Verified Traveler
"This was the best part of our trip"
This was the best part of our trip. The kids really enjoyed this as did the adults.

Enrique Serret Millán
Tlalnepantla, Estado De México,
✓
Verified Traveler
"This park is perfect"
This park is perfect, only perfect.We went 9 days and they didn't´t were enough to enjoy it, nice, clean, organizated and it's a complete unforgotable experience . The only comment it's that in hollywood studios it wasn't´t open the star wars ride and the narnia place it's insulting (we don´t want to see the trail of a movie we already saw, standing up and..That´s all)

Brandy Fisher
TN
✓
Verified Traveler
"It really is the most magical place on Earth!"
It really is the most magical place on earth! My husband, son and myself had a wonderful time in the magic kingdom. It was definitely a great way to spend mine and my sons birthdays!
Frequently Asked Questions for Walt Disney World Theme Parks:
Are wheelchairs and strollers available at Walt Disney World Theme Parks?

Strollers and wheelchairs are available for a fee.

What on-site amenities are available?

There plenty of shops, restaurants, and concession stands.

What style of dress is recommended?

Casual dress with walking shoes is recommended. You must wear shoes, a shirt, and family-appropriate clothing.

Is parking available on-site?

General parking starts at $25.

Are lockers available at Walt Disney World Theme Parks?

Yes, lockers are available for a small fee.

Do the theme parks accommodate guests with disabilities?

Yes! There are numerous ways that the parks will accommodate guests with disabilities. There are rental wheelchairs, assistive listening systems, handheld captioning, digital audio tours, braille guidebooks, and so much more.

How large is Walt Disney World Theme Parks?

Nearly 40 square miles, the size of two Manhattan islands, or 25,000 acres!

Is smoking allowed inside Walt Disney World Theme Parks?

Smoking is allowed at designated smoking areas.