Haunted Ghost Tour Options in Orlando, FL
Discover a spookier side of Orlando, FL with a haunted ghost tour. One of these walking tour adventures allow guests to get out and experience the history and paranormal tales of Orlando, making for an exciting time in the city. Book it today for an unforgettable adventure!
Orlando Haunted Ghost Tours
Haunted Ghost Tours in Orlando is a spine-chilling adventure that will take you on a journey through the city's haunted past. Led by a knowledgeable guide, you'll walk through the historic streets and hear tales of ghostly encounters, mysterious deaths, and unsolved crimes. This 90-minute walking tour is perfect for anyone looking for a unique and eerie experience in the heart of Orlando. Whether you're a skeptic or a believer in the paranormal, this tour is sure to leave you with goosebumps.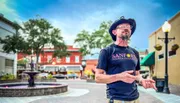 Embark on a spine-tingling adventure with Haunted Ghost Tours on the Sanford Ghost Tour in Orlando, Florida. This 1.5-hour guided tour takes you through the historic downtown area of Sanford, known for its supernatural activity. Hear chilling tales of murder, mystery, and mayhem as you visit haunted locations and hear personal accounts of ghostly sightings. Get ready for an eerie and unforgettable experience on this ghostly tour. Explore downtown Sanford and uncover an amazing city steeped with history and fun. The paranormal world is so fascinating, allowing guests of all ages to explore the wacky, wild, and wistful. Learn the legends of the paranormal ghosts that are said to haunt Sanford. Do not miss out!
Dec 03
N/A
Dec 04
N/A
Dec 05
N/A
Dec 06
N/A
Dec 07
N/A
Dec 10
N/A
Dec 11
N/A
Dec 12
N/A
Dec 13
N/A
Dec 14
N/A
Dec 17
N/A
Dec 18
N/A
Dec 19
N/A
Dec 20
N/A
>