Orlando, FL Day Trips
Day trips to Kennedy Space Center Tour from Orlando is a must-try activity for any space enthusiast. This insightful tour provided by Vacations Made Easy takes you to the KSC Visitor Complex where you get to explore space missions, see rockets, touch a moon rock, and experience space simulation. With an experienced guide leading you through the complex, you'll learn the history of space exploration as you take in the spectacular views of rockets, space shuttles, and launch sites.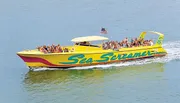 Day Trips to Clearwater Beach in Orlando, Florida, will never be complete without experiencing the thrilling Sea Screamer Boat Cruise. Departing from the Clearwater Beach Marina, this 1-hour narrated ride takes you on a speed rush through the Gulf of Mexico. Witness the world-renowned bottlenose dolphins and sometimes even manatees from the 72-foot long twin turbo-charged diesel engine boat. This activity includes round-trip transport from Orlando and is perfect for families, friends or solo travelers looking for an adrenaline-filled adventure amidst the stunning Clearwater Beach scenery.
<
Dec 05
N/A
Dec 06
N/A
Dec 08
N/A
Dec 09
N/A
Dec 10
N/A
Dec 12
N/A
Dec 13
N/A
Dec 15
N/A
Dec 16
N/A
Dec 17
N/A
Dec 19
N/A
Dec 20
N/A
Dec 22
N/A
Dec 23
N/A
>
Day Trips to the Kennedy Space Center with Airboat Ride from Orlando are a must-do for any space enthusiast! Get up close to the historic spacecraft from NASA's Apollo missions, see the largest rocket ever made, and even touch a piece of the moon. The experience continues with an airboat ride through natural Florida wetlands, spotting alligators, bald eagles, and more. Transportation to and from Orlando is provided, making this full-day adventure comfortable and convenient.
Dec 02
N/A
Dec 03
N/A
Dec 05
N/A
Dec 07
N/A
Dec 09
N/A
Dec 10
N/A
Dec 12
N/A
Dec 14
N/A
Dec 16
N/A
Dec 17
N/A
Dec 19
N/A
>
Day trips just got more exciting with the Deep Sea Fishing Day Tour from Orlando. Gather your friends or family for an unforgettable adventure as you hop on a fully-equipped fishing vessel and venture into the Atlantic ocean. With the help of an experienced crew, you could land a variety of fish such as mahi-mahi, kingfish, and sailfish. The tour includes all the fishing gear, bait, and fishing license, so all you need to bring is your sense of adventure. Don't miss out on the opportunity to catch the big one!
<
Dec 05
N/A
Dec 06
N/A
Dec 08
N/A
Dec 09
N/A
Dec 10
N/A
Dec 12
N/A
Dec 13
N/A
Dec 15
N/A
Dec 16
N/A
Dec 17
N/A
Dec 19
N/A
Dec 20
N/A
Dec 22
N/A
Dec 23
N/A
>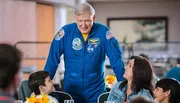 Day Trips to Kennedy Space Center Deluxe Experience is a must for any space enthusiast visiting Orlando. This experience offers a guided tour of the center, lunch with an astronaut, and an up-close look at the space shuttle Atlantis. The tour takes visitors through the history of space exploration and the future developments in space technology. The highlight of the tour is surely the opportunity to chat with an astronaut about their experiences in space, making this a once-in-a-lifetime experience.
Day Trips don't get much more exciting than cruising down to Miami from Orlando. This action-packed day tour starts with a pick up from your hotel before heading south across Florida. Once in Miami, you will enjoy a full city tour including a visit to the famous Biscayne Bay and a trip to South Beach. There will also be free time to shop and explore before returning to Orlando. It's the perfect way to experience the magic of Miami without having to book a separate trip.
Day trips to Orlando are always filled with fun and adventure! Paddleboard Beginner Lesson of Winter Park's Chain of Lakes is one such activity that you can't afford to miss. Explore the interconnected lakes through private boathouses and remarkable flora and fauna while stand-up paddleboarding. These beginner lessons in Winter Park, Orlando, are ideal for all ages and levels of fitness. Don't forget to carry a waterproof camera to capture the breathtaking views!