Sightseeing Tour Options in Williamsburg, VA
There are so many unique things to see in Williamsburg, VA. From the historical sites to the awesome landmarks, you can have a remarkable adventure in the area. Book a sightseeing tour and see what makes Williamsburg so special during your next vacation to the area.
Williamsburg Sightseeing Tours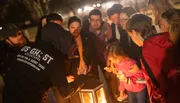 Sightseeing Tours has a new offering for history buffs and lovers of the American Revolution. The Secrets of Williamsburg Tour is a 2-hour walking tour of the beautiful Colonial Williamsburg that takes you through the historical locales and revives the era of George Washington, Thomas Jefferson, and Patrick Henry. The tour guides are well-informed, and you get a chance to experience the colonial era first-hand through sight and sound, as they talk about the life of the people and the politics of the time. A must-try for anyone who wants to have a date with history.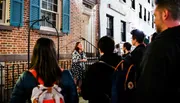 Sightseeing Tours provides an eye-opening experience with the "We Shall Overcome" Black History walking tour in Williamsburg, VA. The knowledgeable guide leads the way through the historic town center, offering insights into the African-American struggle for freedom and justice. Stops include the oldest black church in America, the site of Gabriel's Rebellion, and the First Baptist Church, where renowned civil rights leader Dr. Martin Luther King Jr. once preached. This tour is a must-do for those seeking to understand the rich cultural and social history of Williamsburg's Black community. Visitors are certain to have a memorable and fascinating time exploring the history of the area.
Sightseeing Tours offers a full-day historic guided tour to Jamestown and Yorktown with lunch, providing a comprehensive look into the history of Colonial Virginia. Visit the Jamestown Settlement and explore its replicas of ships, cabins and forts from the 17th century. Then head to Yorktown and learn about the role it played in the Revolutionary War, with highlights including the Surrender Field and the Yorktown Victory Monument. Lunch is included, making this tour a hassle-free way to experience Virginia's rich history.
<
Sep 27
N/A
Sep 28
N/A
Sep 29
N/A
Sep 30
N/A
Oct 01
N/A
Oct 02
N/A
Oct 04
N/A
Oct 05
N/A
Oct 06
N/A
Oct 07
N/A
Oct 08
N/A
Oct 09
N/A
Oct 11
N/A
Oct 12
N/A
Oct 13
N/A
Oct 14
N/A
Oct 15
N/A
>