Williamsburg Sailing Cruises
Williamsburg Sailing Cruises
Embark on a memorable and fantastic journey on an amazing 3-hour sailing cruise as you head down the York River for beautiful views of the historic Williamsburg area. You'll have a personal experience that the whole family will love. Take the helm or sit back and relax as you head down the York River's sparkling pathway. You can learn the bare bones and basics of sailing and even navigate the boat yourself! The boat is captained by a knowledgeable local guide who can answer any questions the crew may have. Do not miss out on the opportunity for fun and historic learning near Williamsburg, Virginia with this amazing sailing cruise.
Available 349 days between Now & Dec 31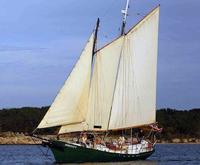 Do you want to sail the high seas as if it were over 300 years ago? Here's your chance. On this two-hour sailing cruise, you'll sail aboard the Schooner Alliance, much like the ship Capt. John Smith used when trading with the Powhatan Indians. You'll see the Yorktown Battlefield, Victory Monument, the banks of the York River, and more. While you pass these amazing sights, your captain and crew will tell you about the history of the land. Don't miss the opportunity to see the sights, experience the history of sailing, and learn why Yorktown is such a popular tourist spot.
Available 212 days between Apr 4 & Nov 1

By Date: