Orlando, FL Aquariums & Zoos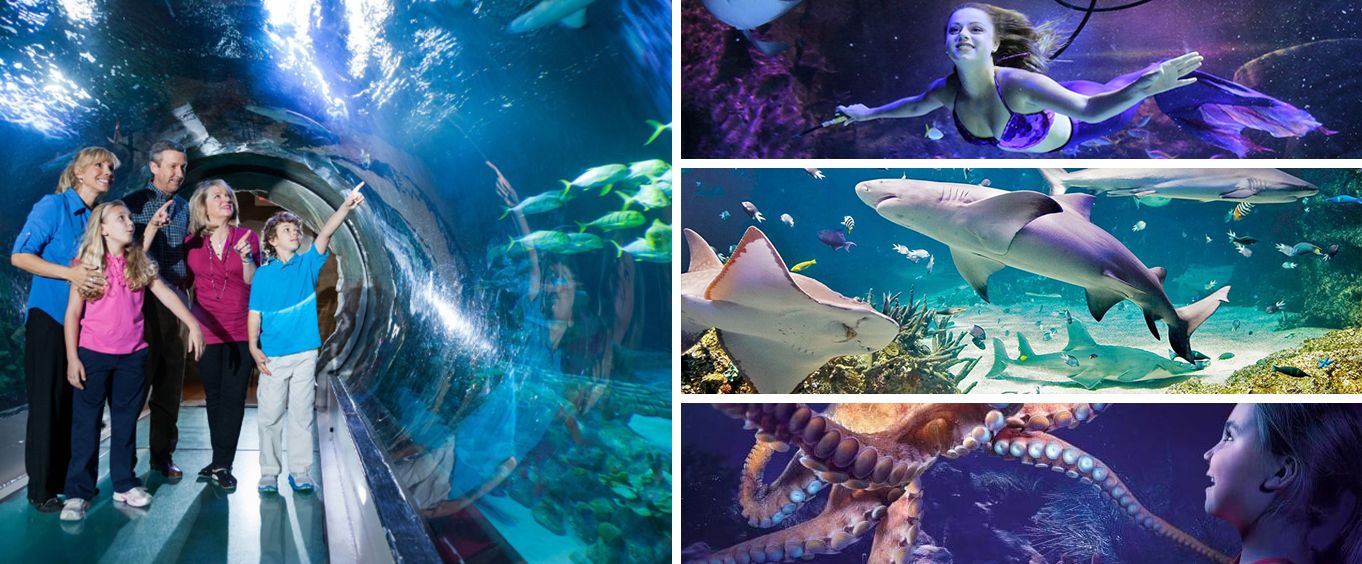 Visit one of the many aquariums and zoos in the Orlando, Florida area. From the budding marine biologist to the young zoologist, a trip to one of these animal kingdoms is sure to blow the mind of any animal-lover. Take a cool trip to one of the beautiful water sanctuaries or for a more broad spectrum of animal species, visit a zoo to get glimpses of your favorite wildlife.
Sea Life in Orlando, Florida, is an aquarium filled with a variety of spectacular creatures that are sure to grab everyone's attention. People of all ages will enjoy exploring and learning about all of the creatures that live under the water. Just some of the creatures that can be found in the aquarium include sharks, sea turtles, jellyfish, stingrays, seahorses, octopi, and more. In the 360 degree tunnel, the marine life will be swimming above you, around you, and under you. Guests are welcome to attend feeding sessions, exhibits, and talks such as the Pacific Ocean Dive Show, the Jellyfish Wall Exhibit, the Shaoling Ring, and a lot more.
Available 78 days between Now & Dec 31
Wild Florida Airboats & Gator Park, situated in the historic Central Florida Everglades, is a unique animal park where you can do many exciting and fun things: watch alligator-handling shows, take boat tours, see tropical birds in an aviary, pet many types of animals at the petting zoo, and much more. During your visit in the Everglades area, you can enjoy a one-hour airboat ride in the subtropical wetland area of southern Florida and your admission into the Gator and Wildlife Park where you can eat a basket lunch with fellow nature enthusiasts at the Chomp House Grill. And, you can enjoy great entertainment: All activities are appropriate for all age groups and all cameras including video cameras are permitted.
Available 22 days between Oct 16 & Dec 28
Oct 17
N/A
Sold Out
Oct 18
N/A
Sold Out
Oct 20
N/A
Sold Out
Oct 21
N/A
Sold Out
Oct 22
N/A
Sold Out
Oct 24
N/A
Sold Out
Oct 25
N/A
Sold Out
Oct 27
N/A
Sold Out
Oct 28
N/A
Sold Out
Oct 29
N/A
Sold Out
Oct 31
N/A
Sold Out
Nov 01
N/A
Sold Out
Nov 03
N/A
Sold Out
Nov 04
N/A
Sold Out
>
Get up close and personal with an animal of choice at the Wild Florida's Gator and Wildlife Park in Kenansville, Florida. The Wild Florida Animal Encounter includes admission into the park and allows for a twenty minute animal encounter. Animals to choose from include a sloth, a gator, an albino gator, a tamandua, an African crested porcupine and a ring-tailed lemur. Each encounter has a knowledgeable team member who will help in the handling and feeding of these wild animals. The park itself is host to more than 200 animals on display as well as a petting zoo and a covered playground. Bird watchers will enjoy visiting Cypress Swamp for sightings of birds, owls and hawks.
Pricing and schedule are currently unavailable.