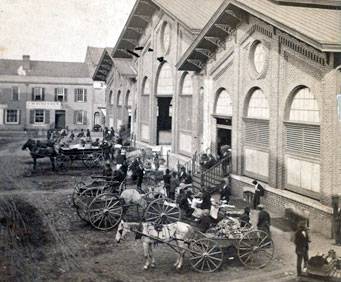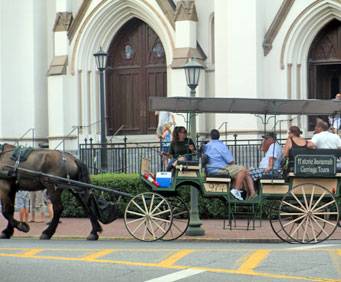 City Market in Savannah, GA
219 W Bryan St Savannah, , GA 31401
If you're traveling through Savannah Georgia, there'll be many different places you'll want to stop, each offering you something different.
If, however, you want a place that has a little of everything, don't forget to stop at the City Market. The City Market was first started in 1755 when fishermen and farmers would bring their fish, seafood, vegetables and other wares into town for the public to buy. Although eventually the original City Market was destroyed, it was rebuilt and is still thriving today. You won't just visit it and take pictures like at most tourist attractions. You'll spend the day exploring and discovering something different around every corner and behind every wall. These are the qualities that make City Market so unique and special. Whether it's dining, entertainment, shopping or art and culture, you'll discover a little of everything here. You'll have your choice of different types of cuisine at The Bar Bar, Rooftop Tavern, Plantation Carriage Company, Old Town Trolley, John's & Friends.
Guests can also be entertained by a number of folk music festivals or Fun Walks and 5K Runs. Special activities and events for holidays such as New Years and Christmas are filled with food, drink and activities for adults and children. Shopping here at the City Market is not your typical shopping as they have many specialty shops offering some of the most unique items you'll ever see. Individuals with an interest in art and culture can spend days browsing through the many galleries that include Jim Pennington Fine Art, Albert J. Seidl Fine Art, City Market Art Center, Signature Gallery, Raffine Galerie Fine Art & Antiques, The Gallery, Barbara Gentry, Maxine Helmey, Thomas Kinkade City Market Gallery and more.
The following tours visit City Market:
The following tours go by City Market:
4/21/2019 - 11/27/2019
11/29/2019 - 12/24/2019
12/26/2019 - 12/31/2019

The Savannah Historic Overview Trolley Tour offers a fascinating look at Savannah's Historic District by way of open-air trolley for a thorough and informative sightseeing experience in the cultural setting of Georgia.
City Market is a Tour Stop / Pick Up for the following tours:
4/21/2019 - 11/27/2019
11/29/2019 - 12/24/2019
12/26/2019 - 12/31/2019

With this Savannah Narrated Trolley Tour, you can enjoy and appreciate Savannah's charm and hospitality while enjoy a full day of hop-on hop-off capabilities.
4/21/2019 - 11/27/2019
11/29/2019 - 12/24/2019
12/26/2019 - 12/31/2019

With the Savannah Historic Trolley Tour, you can see all the sights this quaint town has to offer at your own pace.