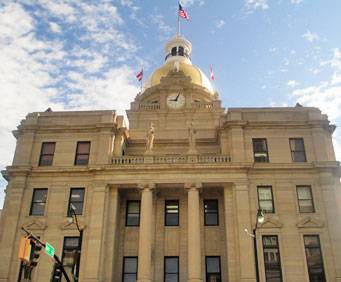 City Hall in Savannah, GA
2 E Bay St Savannah, GA 31401
With its rich history, decadent food and perfect climate, there are an abundance of reasons to visit Savannah, Georgia. On the lists of places to see while in the city is the Savannah City Hall. Located at Two East Bay Street, the building is in the heart of downtown Savannah and nearly sits on the Savannah River. The building was the first of its kind constructed only for use by the city's governing body, and on January 2, 1906 the building housed its first City council meeting.
Constructed in 1901, the current City Hall structure replaced one built in 1799. City Hall was designed by architect and Savannah resident Hyman W. Witcover and built by the Savannah Contracting Company. The building was constructed in the Renaissance Revival style of architecture. The top of the building features a 23-karat gold coated dome structure which extends 70 feet into the sky. Prior to the construction of the City Hall building, the City Exchange, which housed the newspaper, post office and more, occupied the site.
In order to gather a complete understanding of Savannah's history it is important to visit the City Hall building. The City offers free behind-the-scenes tours of the historic building every month for adults, high schoolers and elementary classes. Touring the historic building will help visitors gain a greater appreciation for Savannah and its history in municipal government.