Ghost Trolley Tour with Pirates House Tour & Dinner

250 Martin Luther King Blvd Savannah , GA 31401
1-800-987-9852
Description
Ghost Trolley Tour with Pirates House Tour & Dinner Photos (4)
This tour begins with a trolley ride through Savannah's historic district, where a guide will point out the many haunted homes.
Guests will learn the startling and tragic stories behind some of the most well-known paranormal hot-spots, such as Wright Square, where the ghost of hanged Alice Riley is said to forever search for her lost child. Many haunted locations will be visited, but the exact itinerary is determined by the guide for a more personalized and unique experience.
Detailed Tour Itinerary
STOP 1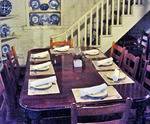 Includes Admission to
Includes Admission to
The Pirates' House
The last stop of the tour is the Pirates' House, where guests will hear about the house's sordid past involving the seedy underbelly of the sea that once stayed there and the disappearance of several sailors. Take a tour of the house's rum cellar to check out the mysterious tunnels, and afterward, sit down in this now well-known restaurant for a delicious buffet in the house's beautiful upper quarters for a meal that often includes Southern-style favorites like fried chicken, mashed potatoes, string beans, and rolls.
Stops may change due to traffic, weather, maintenance, etc.
For those of you who want to learn about the people of Savannah's past—and perhaps meet them—this tour is a chilling and entertaining journey.
Reviews
4.3 |
40 reviews
deborah wilson
IN
✓
Verified Traveler
"We love our tour guide."
We love our tour guide. She was very knowledgeable and had a great sense of humor. I would recommend this tour to others.
Evelyn Cordell
NC
✓
Verified Traveler
We have taken this tour 3 times. It is an excellent tour. Our tour guides on each tour was very informative about the ghost and history of the city. The first 2 trips we had a special buffet at the pirate's house. Excellent food. It was something like fried chicken, bbq and fish. When we took this tour this past august the tour was good but the food was awful. I say this because there wasn't enough of us on this trip to warrent the buffet so we were given a special menu of things we could chose from. None to my liking. As we were leaving a larger group was coming in to have the buffet. So they do still have the buffet.
Kim Dailey
TN
✓
Verified Traveler
Chris, our guide was awesome!!!! We loved the dinner at the pirate's house was superb! We would do it again!
Thomas Bumgarner
Waxhaw, NC
✓
Verified Traveler
Our driver kathleen was awesome, very funny and knowledgeable. Tour is fun and dinner was good. Enjoy hearing the ghostly stories of haunted savannah.
SAVANNAH GA
HOTELS & VACATION PACKAGES
Book Now!