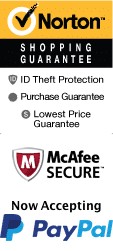 Ghost Trolley Tour with Pirates House Tour & Dinner
215 West Boundary Street Savannah, GA 31401
1-800-987-9852
Chat Now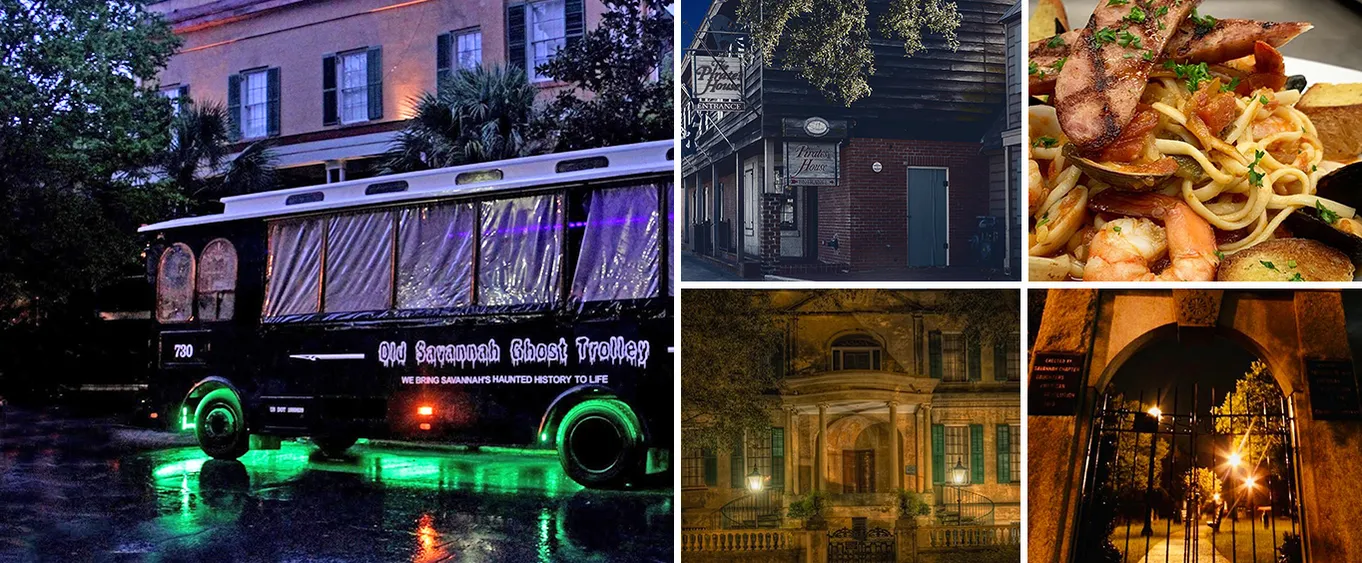 The Savannah Ghost Tours Trolley is sure to impress with its ghost stories, history, and a fun haunted ghost tour style view of the city. It offers a unique way for aspiring paranormal investigators and guests who are interested in the tales of the past to enjoy a fun history adventure in true Savannah fashion. Savannah GA is known as one of the most haunted paranormal places in the world, as it has a rich and bloody history with the Civil War. These experiences run the city to give guests unique insight into the spooky and historic parts of this Southern city. From cemetery stories to spotted apparitions, there is definitely something underneath Savannah's haunted history to discover on these Savannah Ghost Trolley Tours.
This spooky evening begins with a fun trolley ride through Savannah's historic district with the Ghost Trolley Tour Savannah, where a guide will point out the many haunted homes. Savannah GA is home to so many different haunted places attracting even shows such as Ghost Hunters and Ghost Adventures to town. Just a few of the haunted locales include Bonaventure Cemetery, Colonial Park Cemetery, American Prohibition Museum, and Telfair Academy. Visitors will learn the heart-stopping stories behind many well-known hot spots for paranormal activity, including the Wright Square, where the ghost of the hanged Alice Riley is said to be forever walking and searching for her lost child. Many haunted locations will be visited on the walking adventure, but the exact itinerary is determined by the guide for a more personalized and unique walking experience.
Includes Admission to The Pirates House
The last stop Savannah Trolley Ghost Tours stop in Savannah is the Pirates' House, where guests will hear about the house's sordid past involving the seedy underbelly of the sea that once stayed there and the disappearance of several sailors. Take a haunted pub stroll of the Pirate House rum cellar to check out the mysterious tunnels, and afterward, sit down in this now well-known restaurant for a delicious buffet in the house's beautiful upper quarters for a meal that often includes Southern-style favorites like fried chicken, mashed potatoes, string beans, and rolls. Be also sure to bring your camera so you can possibly capture some ghosts in your Pirates' House Photos.

For those of you who want to learn about the people of Savannah's past—and perhaps meet them—this experience in Savannah is a chilling and entertaining journey. Explore tons of fun things to do and enjoy a visit to Savannah, Georgia today with this Ghost Tour Savannah Trolley! There are so many experiences in Savannah to choose from. From the haunted trolley and hop-on hop-off trolley options to Savannah Riverboat Cruises, Segways, carriage and horse-drawn carriage adventures, and brewing company explorations, there are many things to see. Make Savannah Ghost Tour Trolley reservations today to explore Savannah and everything unique about it!

alice riley wright square ghost picture



Reviews

Barbara Peters
Dearborn Heights, Michigan
✓
Verified Traveler
"The entertainment on the tour was GREAT."
I would recommend this company...Hands down. The entertainment on the tour was great. Character actors got on at several stops and added to the history of the city. We used old savannah tours and i have never had such interesting tour guides. The company we booked with was simple to use.

Mary and Bill
Glenfield, NY
✓
Verified Traveler
"Do not hesitate to take this tour"
Fantastic!!! Guide and driver wonderful, dinner, tour and pirate house itself wow!!! The price was really good too!!Do not hesitate to take this tour

Jayne Roberts
Marianna, Florida
✓
Verified Traveler
"I highly recommend this tour to anyone visiting Savannah. "
This was a great experience. They picked us up at the hotel and dropped us off at the hotel when the tour ended. The driver was very knowledgeable about the area and the special guest were excellent and convincing the meal at the pirates house was delicious and the private visit to the rum cellar provided a lot of insight about the history of the pirates house. I highly recommend this tour to anyone visisting savannah.

Brandy Thomason
Boone, IO
✓
Verified Traveler
"I don't know what was moving the light above our table, but it wasn't the wind."
This was our first tour and we really had a great time. We didn't experience much until we got to the pirate house. I don't know what was moving the light above our table, but it wasn't the wind.
Frequently Asked Questions for Ghost Trolley Tour with Pirates House Tour & Dinner:
What is included in the admission price?

The price includes the trolley adventure, admission into the Pirates' House, and dinner.

Is there any walking involved?

There is minimal walking inside of the Pirates' House.

Approximately how long does it last?

The entire experience lasts about 2.5 hours

For what ages is it appropriate?

It is appropriate for all ages.

What type of dress & footwear are recommended?

Wear comfortable clothes and walking shoes.

Where does it depart from?

Savannah Visitor Center, or traveler pickup is offered from hotels in the Historic District.

Is photography / video recording allowed?

Of course! Don't forget your camera.

Is it handicap accessible?

Yes. There are handicap accessible vehicles if needed.

Are any meals included?

Dinner is included.

Is transportation to the departure location available?

Yes, there is hotel pickup available.
Book Now!