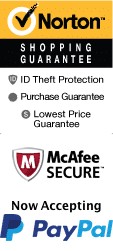 Old Presque Isle Lighthouse near Mackinac Island, MI
5295 E Grand Lake Rd. Presque Isle , MI 49777
Old Presque Isle Lighthouse lies in northern Michigan along beautiful Lake Huron.
The name Presque Isle is French for 'almost an island'. The area itself is only a short sail away from historic Mackinac Island or a short jaunt off of Interstate 75 in Cheboygan.
The 1840s lighthouse boasts as one of the oldest lighthouses in Michigan, while the 'newer' 1870s lighthouse is the tallest on the Great Lakes. A climb to the top of either light is sure to give you breathtaking views of Lake Huron and beyond. While on the isle, take a chance to learn more about the maritime history of the Great Lakes by visiting the Keeper's House Museum.
For those looking for an other-worldly experience while on the isle, the experience may just find you. Many believe the Old Presque Lighthouse to be haunted. Eerie shadow figures, women's screams, and mysterious lights are all old tales linked the lighthouse. Catch up with a local on these spooky tales or see them for yourself, if you dare!
No matter where your trip takes you while in northern Michigan, make time for a stop by the Old Presque Isle Lighthouse. Take a picnic lunch to enjoy on Sunshine Shore or visit one of the local restaurants in town. The trip will give you a chance to learn more about the area's maritime history as well as provide a gorgeous background for your perfect getaway.