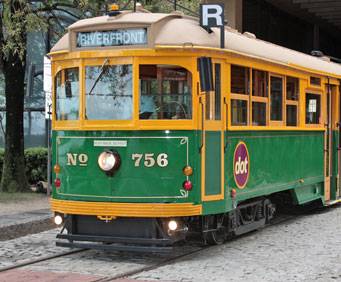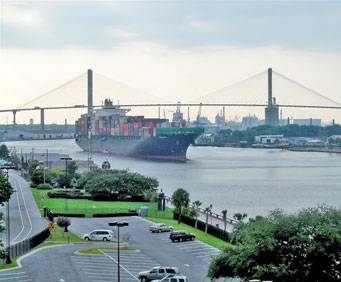 River Street in Savannah, GA
River St Savannah, GA 31401





(

3.0

)


Based on

4

reviews

Located in the famous Historic District of Georgia's premier city, River Street is an apt representation of the exuberance and vivaciousness that is typical of Savannah.
Paved with quaint, old-world cobblestones, River Street weaves through nine blocks of renovated cotton warehouses, each of which houses an eclectic array of specialty stores and art galleries. Here, visitors can treat themselves to some delicious handmade candy treats, view impressive exhibitions by some of the most renowned names in the realm of art and even browse through an exhaustive array of gift stores.
From nautical themed apparel, to accessories, and even quaint curios, there's plenty here to take home with you as a souvenir of your Savannah sojourn or as thoughtful gift ideas. Gourmet food lovers can take their pick from sumptuous seafood delicacies at Bernie's River Street or Boar's Head, mouthwatering Caribbean fare at the Cobblestone Conch House or even a juicy steak at the Dockside Seafood Restaurant and Steakhouse. While those languid afternoons away with a hot cup of foamy latte at the Bayou Café, or even top up an exciting day with a few relaxing drinks at Chuck's Bar or Fiddler's Crab House.
And if you're simply looking to take a break and get away from it all, simply head to the waterfront and watch the cargo ships, tug boats and sailing ships chug away in the sun-kissed waters of the river and soak in the verve and enthusiasm that renders this locale as one of the most frequented and popular tourist district in the country. While here, don't forget to stop by the Waving Girl Memorial, which dates back to 1971 and greets inbound visitors at the port, while also the edifice constructed for the 1996 Olympics which were hosted in Savannah.
The following tours go by River Street:
4/22/2019 - 11/27/2019
11/29/2019 - 12/24/2019
12/26/2019 - 12/31/2019

The Savannah Historic Overview Trolley Tour offers a fascinating look at Savannah's Historic District by way of open-air trolley for a thorough and informative sightseeing experience in the cultural setting of Georgia.
River Street is a Tour Stop / Pick Up for the following tours:
4/22/2019 - 11/27/2019
11/29/2019 - 12/24/2019
12/26/2019 - 12/31/2019

With this Savannah Narrated Trolley Tour, you can enjoy and appreciate Savannah's charm and hospitality while enjoy a full day of hop-on hop-off capabilities.
4/22/2019 - 11/27/2019
11/29/2019 - 12/24/2019
12/26/2019 - 12/31/2019

With the Savannah Historic Trolley Tour, you can see all the sights this quaint town has to offer at your own pace.