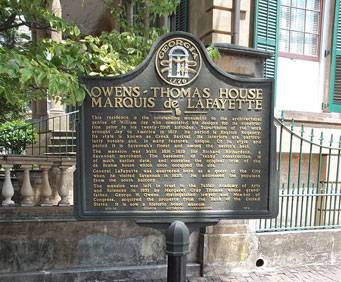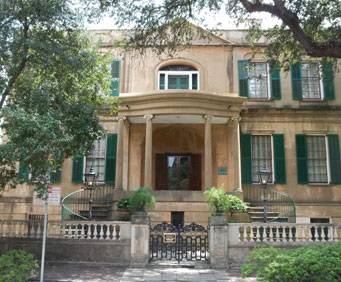 Owens-Thomas House in Savannah, GA
124 Abercorn St Savannah, , GA 31401
The following tours visit Owens-Thomas House:
4/4/2020 - 11/25/2020
11/27/2020 - 12/24/2020
12/26/2020 - 12/31/2020

With the Savannah Historic Trolley Tour, you can see all the sights this quaint city has to offer at your own pace with this hop on & hop off tour.
4/4/2020 - 12/31/2020

Adventure to Georgia today for a variety of haunted ghost walking tours that are some of the best tours in the area. See why Savannah is viewed by some as America's Most Haunted City with this riveting evening walking tour through some of the most haunted buildings in the area while hearing some of the gritty tales of the city's past.
The following tours go by Owens-Thomas House:
4/4/2020 - 11/25/2020
11/27/2020 - 12/24/2020
12/26/2020 - 12/31/2020

The Savannah Historic Overview Trolley Tour offers a fascinating look at Savannah's Historic District by way of open-air trolley for a thorough historical tour and informative sightseeing experience in the cultural setting of Georgia.
4/13/2020 - 12/31/2020

Only courageous souls will stand a chance on this Ghosts & Gravestones of Savannah Tour, so if you have what it takes, then prepare to experience this haunted ghost tour of the city from a treacherous seat in the Trolley of the Doomed.
The Owens-Thomas House is considered by architectural historians to be one of the finest examples of English Regency architecture in America. Inspired by classical antiquity, this style of architecture takes its name from England's King George IV, who ruled as Prince Regent from 1811 to 1820.
The house was designed by the young English architect William Jay (1792-1837), one of the first professionally-trained architects practicing in the United States. The elegant residence was built from 1816-1819 for cotton merchant and banker Richard Richardson and his wife Francis Bolton. Mr. Richardson's brother-in-law was married to Ann Jay, the architect's sister.
Three years after the house's completion, Richardson suffered financial losses and sold his house, which later came under possession of the Bank of the United States. For eight years, Mrs. Mary Maxwell ran an elegant lodging house in the structure. Revolutionary War hero Marquis de Lafayette was a guest of the city in 1825 and stayed at the home. On March 19, he is believed to have addressed a throng of enthusiastic Savannahians from the unusual cast-iron veranda on the south facade.
In 1830, planter, congressman, lawyer, and mayor of Savannah, George Welshman Owens, purchased the property for $10,000. It remained in the Owens family until 1951 when Miss Margaret Thomas, George Owens' granddaughter, bequeathed it to the Telfair Museum of Art.
A National Historic Landmark, the stately former residence is now a historic house museum. It boasts a decorative arts collection comprised primarily of Owens family furnishings, along with American and European objects dating from 1750-1830. The site also includes a beautiful English-inspired parterre garden and an original carriage house-which contains one of the earliest intact urban slave quarters in the South.

By Date: