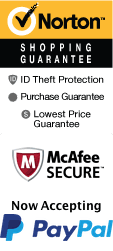 YOUR PEACE OF MIND IS OUR TOP PRIORITY
Should you need to cancel at any time, you have up to 48 hours from your vacation start date to do so for a 100% future travel credit.
Things to Do in Myrtle Beach in December 2020
Christmas time is here, and visitors will enjoy the holiday-themed events of Myrtle Beach. From shows celebrating the season to fun sightseeing adventures, this city is brimming with amazing opportunities to create memories and new traditions along the way. Do not miss out and combine it with hotel accommodations to complete your vacation.

Top December Things To Do In Myrtle Beach
Dec 1, 2020
to
Dec 31, 2020
Ripley's Aquarium Myrtle Beach
Schedule
Explore a truly amazing aquarium that is home to numerous different forms of sea life from all over the world and the winner of the 1999 SC Governor's Cup at the Ripley's Aquarium. The vast aquarium is 87,000 square feet and holds so many fascinating, informative and of course, incredible exhibits,it can be hard to take it all in one visit but it is certainly worth a try. Marvel at the sight of walking along vast Danger Reef Tunnel and see ten feetlong killer sharks swimming on all sides of you as you venture down the 330 feet moving pathway. Enjoy the fun interaction of the Discovery Center, and the amazing Rainbow Roch, which houses some of the most colorful tropical fish you will even see first hand. The entire experience is ideal for the whole family at an exhibit that not only showcases incredible marine life but takes part in Marine Science as well, ensuring the future of the undersea world as it should be.
Dec 1, 2020
to
Dec 29, 2020
Legends In Concert Myrtle Beach
Schedule
This December bring your loved ones to see one of the best tribute shows in Myrtle Beach, SC. This two-hour show with 15-minute intermission will have the incredible impersonations of your favorites like Tina Turner, Michael Jackson, Elvis Presley, Blue Brothers, and Alan Jackson with skilled singing and dancing. This production originally ran in Las Vegas and is one the longest-running shows around and one of the best shows you can see in the Grand Strand area. These talented performers will make you believe they are the real deal not only with their vocal talent but with their dazzling costumes, amazing sets, and you'll be very impressed with special effects with lights and lasers. You might also get nostalgic with the star impersonations of the Blues Brothers, Martina McBride, and Frank Sinatra. Bring your family this December to see one of the most amazing tribute concerts the Carolina coast has ever seen.
Dec 1, 2020
to
Dec 31, 2020
The Carolina Opry
Schedule
The Carolina Opry takes place at the Calvin Gilmore Theater which is located on North Kings Highway. This theater is beautifully decorated and the minute you walk in you will be taken away by its's beauty. This show has been recognized by several major newspapers and it's been entertaining guest for many years. This musical show will keep your attention the entire time. They also have different shows available during the Christmas season to give the audience different performances and different variety. This show is appropriate for all ages of your family or group and it's also handicap accessible for any of your special needs. This show will last for about two hours and you can purchase your tickets online in advance to ensure you get the best seat. Feel free to bring your camera along to this show so that you can capture your favorite moments.
Dec 1, 2020
to
Dec 30, 2020
The Souths Grandest Christmas Show At The Alabama Theatre
Schedule
Guests who want to view the South's Grandest Christmas Show at the Alabama Theatre should consider waiting until December since that's the time of the holiday. The stage is decorated with trees, lights, and other festive details as performers sing and dance to classic carols and modern tunes. Performers dress as ornaments and other Christmas decorations so that there is a bit more life on the stage. With all of the Christmas details, the show is one that is fun for all ages, especially children as they might get a glimpse of Santa. Songs that are performed include "Jingle Bells" and "Deck the Halls" along with other festive favorites. Guests are encouraged to sing along with the songs and interact with some of the characters as they sometimes go into the crowd when they aren't performing on the stage. While in the area, guests can visit some of the stores to get an ornament or gift to take home.
Dec 1, 2020
to
Dec 31, 2020
Christmas on Ice
Schedule
Who says Myrtle Beach is just for the summer? This December treat you and your family to a fun and festive evening at Christmas on Ice in Myrtle Beach SC. Christmas on Ice is a spectacular ice skating display that will wow every ticket holder in the stands. New tricks and ice skating phenomena appear every year and you will surely leave there feeling even more festive than you were when you came. With over 850 seats available there is plenty of room for everyone to enjoy this holiday event that can soon become your new tradition. There is an array of classic Christmas music accompanied by beautifully choreographed ice skating routines. If you hurry and don't delay buy your tickets now and receive one free ticket for every ticket purchased which really is a deal you can't beat. So HO HO hurry over to Myrtle Beach South Carolina today and get your ticket today!
Dec 1, 2020
to
Dec 31, 2020
Hollywood Wax Museum Myrtle Beach
Schedule
Put a special twist on the holiday cards this December, and create a card that has pictures of celebrities. The Hollywood Wax Museum located in Myrtle Beach, South Carolina, is filled with celebrity figures. The two-story building is filled with plenty of famous people waiting for selfies. The figures are so lifelike that you may feel the urge to poke them to make sure that they are not real. You will be able to pose with superstars, music superstars, Academy Award winners, and pop icons. Pick and choose to stand next to your favorites, or you can take a picture with all the figures. After spending time in the Hollywood Wax Museum, enjoy taking the family through the Hannah's Maze of Mirror's. See how long it takes for everyone to get through. There is also the Outbreak - Dread the Undead activity. Can you escape from the zombies and manage to make it through the outbreak? Make sure to bring a camera to capture all of the fun.
View all events occurring during your stay