Surfing in Myrtle Beach, SC
A surfing adventure in Myrtle Beach, SC is just what you and your family need to make this a memorable vacation! Don't miss out, book your surfing experience today.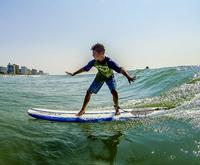 As a beginner in surfing, learn with Jack's Surf Lessons in Myrtle Beach, S.C., by getting some important surfing instructions in one-hour or two-hour intervals, then you should be able to paddle out into the ocean with a new perspective.
Available 22 days between Dec 10, 2018 & Dec 31, 2018
View Schedule
Dec 10
7:45 AM
7:45 AM
10:00 AM
10:00 AM
12:15 PM
12:15 PM
2:30 PM
2:30 PM
4:45 PM
4:45 PM
Dec 11
7:45 AM
7:45 AM
10:00 AM
10:00 AM
12:15 PM
12:15 PM
2:30 PM
2:30 PM
4:45 PM
4:45 PM
Dec 12
7:45 AM
7:45 AM
10:00 AM
10:00 AM
12:15 PM
12:15 PM
2:30 PM
2:30 PM
4:45 PM
4:45 PM
Dec 13
7:45 AM
7:45 AM
10:00 AM
10:00 AM
12:15 PM
12:15 PM
2:30 PM
2:30 PM
4:45 PM
4:45 PM
Dec 14
7:45 AM
7:45 AM
10:00 AM
10:00 AM
12:15 PM
12:15 PM
2:30 PM
2:30 PM
4:45 PM
4:45 PM
Dec 15
7:45 AM
7:45 AM
10:00 AM
10:00 AM
12:15 PM
12:15 PM
2:30 PM
2:30 PM
4:45 PM
4:45 PM
Dec 16
7:45 AM
7:45 AM
10:00 AM
10:00 AM
12:15 PM
12:15 PM
2:30 PM
2:30 PM
4:45 PM
4:45 PM
Dec 17
7:45 AM
7:45 AM
10:00 AM
10:00 AM
12:15 PM
12:15 PM
2:30 PM
2:30 PM
4:45 PM
4:45 PM
Dec 18
7:45 AM
7:45 AM
10:00 AM
10:00 AM
12:15 PM
12:15 PM
2:30 PM
2:30 PM
4:45 PM
4:45 PM
Dec 19
7:45 AM
7:45 AM
10:00 AM
10:00 AM
12:15 PM
12:15 PM
2:30 PM
2:30 PM
4:45 PM
4:45 PM
Dec 20
7:45 AM
7:45 AM
10:00 AM
10:00 AM
12:15 PM
12:15 PM
2:30 PM
2:30 PM
4:45 PM
4:45 PM
Dec 21
7:45 AM
7:45 AM
10:00 AM
10:00 AM
12:15 PM
12:15 PM
2:30 PM
2:30 PM
4:45 PM
4:45 PM
Dec 22
7:45 AM
7:45 AM
10:00 AM
10:00 AM
12:15 PM
12:15 PM
2:30 PM
2:30 PM
4:45 PM
4:45 PM
Dec 23
7:45 AM
7:45 AM
10:00 AM
10:00 AM
12:15 PM
12:15 PM
2:30 PM
2:30 PM
4:45 PM
4:45 PM
Dec 24
7:45 AM
7:45 AM
10:00 AM
10:00 AM
12:15 PM
12:15 PM
2:30 PM
2:30 PM
4:45 PM
4:45 PM
Dec 25
7:45 AM
7:45 AM
10:00 AM
10:00 AM
12:15 PM
12:15 PM
2:30 PM
2:30 PM
4:45 PM
4:45 PM
Dec 26
7:45 AM
7:45 AM
10:00 AM
10:00 AM
12:15 PM
12:15 PM
2:30 PM
2:30 PM
4:45 PM
4:45 PM
Dec 27
7:45 AM
7:45 AM
10:00 AM
10:00 AM
12:15 PM
12:15 PM
2:30 PM
2:30 PM
4:45 PM
4:45 PM
Dec 28
7:45 AM
7:45 AM
10:00 AM
10:00 AM
12:15 PM
12:15 PM
2:30 PM
2:30 PM
4:45 PM
4:45 PM
Dec 29
7:45 AM
7:45 AM
10:00 AM
10:00 AM
12:15 PM
12:15 PM
2:30 PM
2:30 PM
4:45 PM
4:45 PM
>