Myrtle Beach Fishing
There is fishing tours at Myrtle Beach that are made for all the tourists to enjoy with their family and friends taking pictures as their tour guide explains how deep sea fishing works and how to become a great fisherman. Whether you are a longtime angler or want to share this fun with beginners, this cruise offers up the opportunity to do some of the best fishing in the Myrtle Beach, South Carolina area. Deep sea fishing offers some of the best fishing adventures out there and you are sure to have an amazing time trolling in the waters off Myrtle Beach. Whether you are a longtime angler or are simply wanting to get out on the water and try something new during your trip, this activity will help you have a blast.
Jun 08
8:30 AM
11:00 AM
6:00 PM
>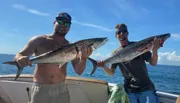 The stunning coasts and excellent fishing in the Myrtle Beach area are well-known. Whether you've been fishing for a long time or are new to the sport, Myrtle Beach is a terrific place to visit! Get out on the sea with our Myrtle Beach Private Fishing Charter and see what all the hype is about. The fishing trip is completely private, providing you and 5 other people with the ultimate VIP experience. The boat can accommodate up to 6 guests, making it an ideal addition to your Myrtle Beach vacation. The boat will take you out on the Atlantic Ocean, where you can fish with your line. You can have plenty of fishing time whether you wish to catch snapper or grouper.