Mackinac Island Carriage Tours

7278 Main St Mackinac Island, MI 49757
1-800-987-9852
Description
Mackinac Island Carriage Tours Photos (8)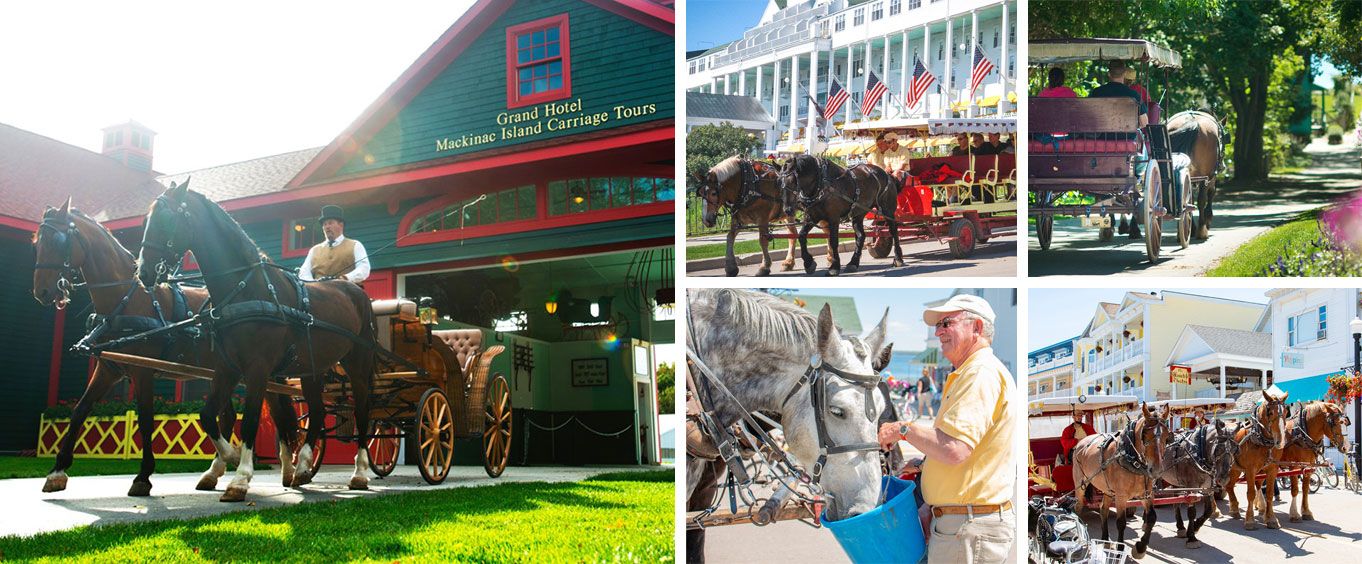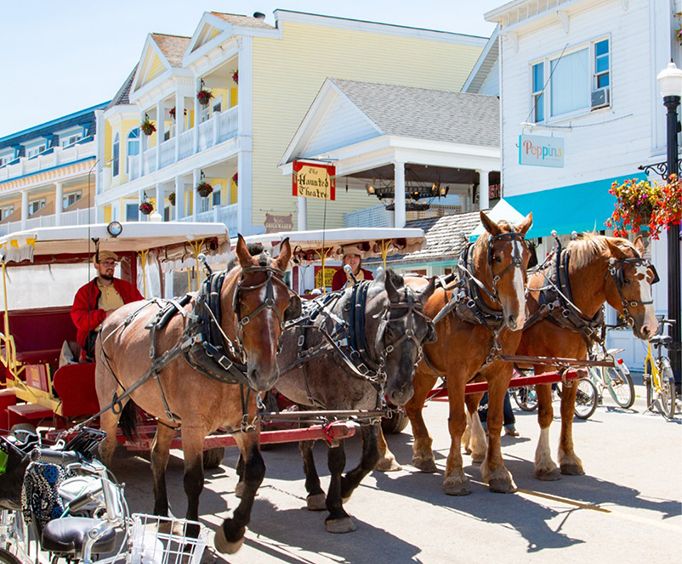 Customer Photos (2)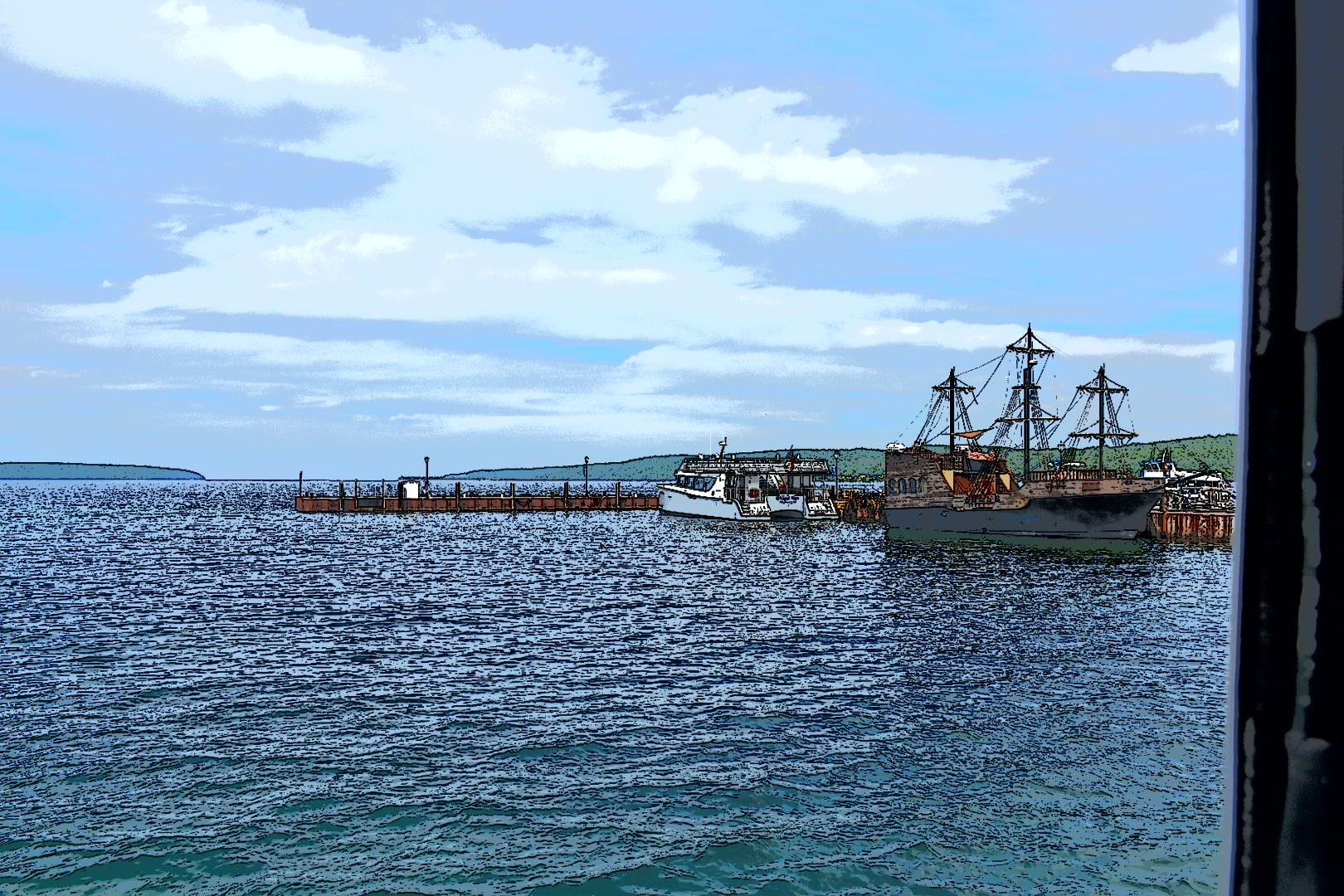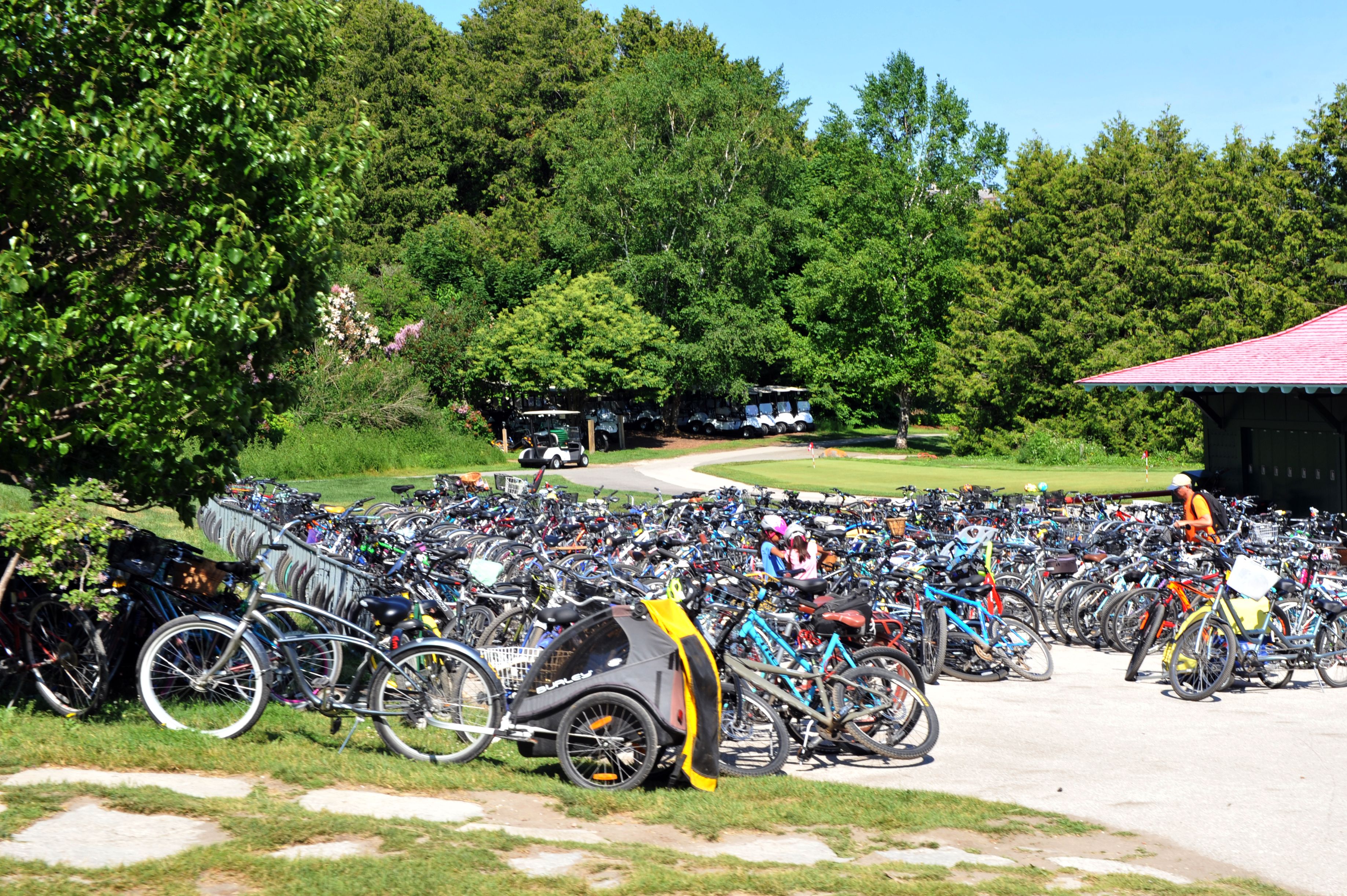 Take off on a relaxing horse-drawn carriage tour for the perfect start to your vacation as you explore the many sights of Mackinac Island Michigan including popular landmarks such as Arch Rock and the Avenue of Flags at Fort Mackinac.
A horse-drawn carriage tour of the area will provide an amazing time. These tours officially began in 1869 when the first city carriage license was issued, and this carriage tour is one of the oldest carriage ride options on the Island. On this one-hour-and-45-minute tour, you will experience a tour like no other! This is by far the most enjoyable and authentic way to view the Island, and a carriage tour is a perfect way to orient yourself on Mackinac Island during your stay. See some of the best sights and attractions on the Island with this beautiful and historic carriage tour.
About the Area
This gorgeous island in Michigan is located on the sparkling Lake Huron, one of the Great Lakes. As well as offering rides, the area provides tons of other activities. See the gorgeous city of St Ignace, cruise under the Mackinac Bridge on one of the ferry rides from Mackinac Island Ferry or Shepler's Ferry, and see all of the gorgeous views along the Straits of Mackinac. There are so many amazing things to do outside of one of the horse and buggy ride options, so be sure to ask your friendly tour guide for suggestions on where to stay, play, or eat after your trip.
Book this activity for the perfect way to view this gorgeous destination - and it is made even better when you purchase a combination ticket to gain admission to the Wings of Mackinac Butterfly Conservatory where you can see hundreds of unique butterflies in a beautiful environment setting. Trade in a run-of-the-mill adventure on motor vehicles for a fairy tale experience. Ride on a horse drawn carriage, see the gorgeous horses, and explore like never before!
Detailed Tour Itinerary
STOP 1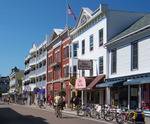 Stop at
Stop at
Historic Downtown Mackinac Island
Start off your tour at 7278 Main Street in Historic Downtown, and your two-horse hitch carriage will take you down Main Street and back along Market Street past many shops and attractions, including the Benjamin Blacksmith Shop, the city hall, and John Jacob Astor's American Fur Company Office. The tour will then head north out of the Historic Downtown area.
STOP 2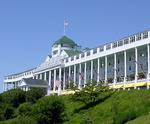 Stop at
The tour then stops at the Grand Hotel, a beautifully designed hotel with lush green lawns and vibrant colored flowers. The outside porch runs along the whole front side of the hotel to give you a chance to sit and enjoy the beauty that surrounds you. Please note that casual resort wear is appropriate during the day, but no tank tops or cut-offs are permitted. After 6 p.m., evening wear is required in all areas of the hotel: coat and tie for gentlemen, and dresses or pantsuits for ladies.
STOP 3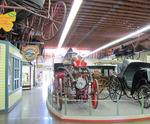 Includes Admission to
Includes Admission to
Surrey Hills Carriage Museum
Next, the tour makes a stop at the Surrey Hills Carriage Museum, where you will leave the two-horse hitch carriage for a three-horse carriage that fits 35 passengers. Here, you can enjoy access to restrooms, snack shops, and gift shops, as well as enjoy the beautiful antique carriages on display in the building, including a horse-drawn hearse that is still used for funerals today. You can spend as much time as this stop as you like before boarding the 35-passenger carriage.
STOP 4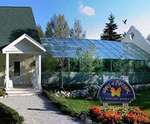 Stop at
Stop at
Wings of Mackinac Tropical Butterfly Conservatory
Immediately beside the Surrey Hills Museum is the Wings of Mackinac Butterfly Conservatory, which you can visit for an additional admission fee. Here, you can discover life's most beautiful insects as you stroll among hundreds of butterflies dancing and chasing each other in the climate-controlled conservatory filled with lush flowers. Inside the conservatory, there are over 200 different species of butterflies. When you purchase the combination ticket, you can enjoy admission to the Butterfly Conservatory.
STOP 5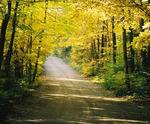 Drive By
Drive By
Mackinac Island State Park
After boarding the 35-passenger, three-horse hitch carriage, the tour will take you through the interior of the area and its State Park. Along the way, your driver will point out wild flowers and other islands features. The Mackinac Island State Park was the second U.S. National Park, but it was transferred to the State of Michigan in 1895 and became the first Michigan State Park.
STOP 6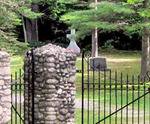 Drive By
Drive By
Mackinac Island Cemetery
As you're traveling through the State Park, you will see many interesting features and attractions, including this Protestant Cemetery. One of the three cemeteries on the island, this cemetery is most often referred to as the Mackinac Island Cemetery. Across the way is the Catholic Cemetery known as the Ste. Anne's Cemetery.
STOP 7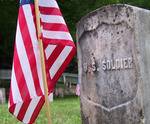 Drive By
Drive By
Fort Mackinac Post Cemetery
The Post Cemetery is the third cemetery on the Island and the final resting place for Fort Mackinac soldiers and their families. The exact founding of the cemetery is unknown, but local tradition is that both American and British soldiers from the War of 1812 are buried there. In addition to the soldiers and their families, six civilians are interred in the Post Cemetery.
STOP 8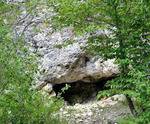 Drive By
Carved during the Algonquin post-glacial period, Skull Cave is a small and shallow cave and is primarily of interest for its historical significance. Used by Native Americans as a site for human remains, the cave was also used as a refuge in 1763 by fur trader Alexander Henry, a survivor of the capture of Fort Michilimackinac during Pontiac's War.
STOP 9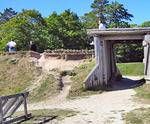 Drive By
Take in glimpses of Fort Holmes from your carriage. Originally built in 1814 by British forces during the War of 1812, this fort was originally known as Fort George, but when the U.S. forces reacquired the fort in 1815, they renamed it Fort Holmes in honor of Major Andrew Holmes, a casualty in the 1814 Battle of Mackinac Island. Afterward, the fort was abandoned and has since been reconstructed to bring it back to its original condition.
STOP 10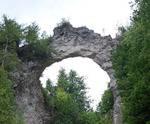 Stop at
The next stop is at Arch Rock for a five- to ten-minute visit of the beautiful natural limestone arch. Located at the top of a bluff, Arch Rock is 145 feet above the Straits of Mackinac and offers spectacular views of the water below. You can take this opportunity to take a restroom break, but you will need to re-board the same carriage when your driver calls for the third time.
STOP 11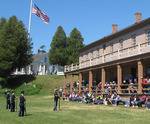 Stop at
At the next stop, you can experience the sights and sounds of living history preserved in this American Revolutionary era fort. Walk to the Avenue of Flags of entrance to see the fort from the outside, and you can also visit Fort Mackinac for an additional admission fee. Afterward, you may re-board another tour carriage as space is available.
STOP 12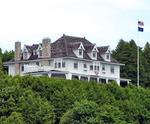 Drive By
Drive By
Governor's Summer Mansion
On your way back, take in sights of the Governor's Summer Mansion, a three-story structure built in 1902 on a bluff overlooking the Straits of Mackinac. This beautiful home was added to the National Register of Historical Places in 1997, and it features many beautiful rooms, including eleven bedrooms, nine and a half bathrooms, and a full basement.
Stops may change due to traffic, weather, maintenance, etc.
Reviews
Lynda Lowery
MI
✓
Verified Traveler
"highly recommend taking this tour"
Would highly recommend taking this tour. We started out our trip on the island with this tour and glad we did. It made us realize what we did and didn't wanted to check out and showed us places we may not have noticed on our own. We did not do the butterfly house, maybe next time. Driver was very informative and nice. He was also right about the best fudge in town. I tried many and he suggested joanns - right on the money! I did not know the tour was broken up into 2 parts, it was a nice way to break it up. I loved that you could get off, walk around and catch a different tour back if you wanted to.
Linda Beckner
WI
✓
Verified Traveler
"The tour was excellent."
The tour was excellent. The information about the island is not to be forgotten. You could get off the coach and spend as much time looking at things as you wanted.
Mary Fisk
MI
✓
Verified Traveler
"carriage tour was excellent"
The carriage tour was excellent. We had two different guides and both did a very good job. We were able to get the row of seats behind the driver on both carriages which gave us a good view of everything. This was also a good way to view part of the island since we were three adults, one child and one toddler. The butterfly house was extremely interesting for my eleven year old grand-daughter. We left with her parents and ended up going back in for another hour. The butterflies would land on you. My fifteen month old grand-daughter liked the butterflies, the rock walls and water ponds.

Shellie Legler
CA
✓
Verified Traveler
"The Mackinac Island Carriage Tour was a great way to see the island "
The mackinac island carriage tour was a great way to see the island for the first time. Our carriage drivers were knowledgeable and the horses had personality. Mackinac island was a delightful place that had a cheerful atmosphere as soon as we stepped off the ferry.
Tip: Check out murdick's fudge, the oldest fudge shop on the island.

Frequently Asked Questions for Mackinac Island Carriage Tours:
Is there any walking involved?

Yes, if you choose to look around at each stop or by choosing the combo pass with the Wings of Mackinac Butterfly Conservatory.

Approximately how long does the experience last?

It lasts approximately 1 hour and 45 minutes.

For what ages is it appropriate?

Appropriate for all ages.

What type of dress & footwear are recommended?

Comfortable outdoor clothing.

Where does it depart from?

It departs from the Historic Downtown area at 7278 Main St.

Is photography / video recording allowed?

Both photography and video cameras are permitted.

Is the activity handicap accessible?

Yes, there is a handicapped accessible carriage depending on availability previous reservations.