Mackinac Island Sightseeing Tours & Cruises
Mackinac Island Area Sightseeing Tours & Cruises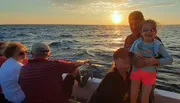 Sightseeing Tours & Cruises offers an unforgettable Mackinaw City Sunset Cruise that takes you on a charming journey through the gorgeous Lake Michigan. The two-hour voyage begins by sailing past the iconic Mackinac Bridge and then moves towards nearby islands where the vibrant colors of the sunset illuminate the sky. As you explore the waters, you'll get up close to stunning rock formations, historic lighthouses, and local wildlife. Don't miss the opportunity to capture stunning photos and create unforgettable memories on this delightful cruise adventure in Michigan.
This amazing cruise offers the opportunity to learn about the rich history of the iconic Mackinac Bridge with their Mackinac Bridge History Cruise. During this 90-minute guided tour, guests will travel underneath the bridge and learn about its construction and significance to the region. The knowledgeable and friendly guides also share interesting tidbits about the surrounding islands and shoreline. The stunning views and informative narration make this cruise a must-do activity for anyone visiting the Mackinac Island area.
Sightseeing Tours & Cruises offers an extraordinary experience on Mackinac Island with their horse-drawn carriage tours. With a rich history and stunning views, this tour offers something for everyone. The 1.5-hour ride takes visitors past beautiful gardens and historic homes, while informative guides share fascinating details about the island's past and present. Feel transported back in time as the gentle walk of the horses sets a leisurely pace through the charming streets and scenic countryside. A must-do for anyone visiting Mackinac Island.