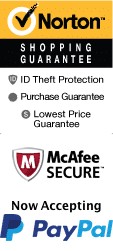 Mount Rushmore & Black Hills Tour
540 Deadwood Avenue , Ste 211 Rapid City, SD 57702
1-800-987-9852
Chat Now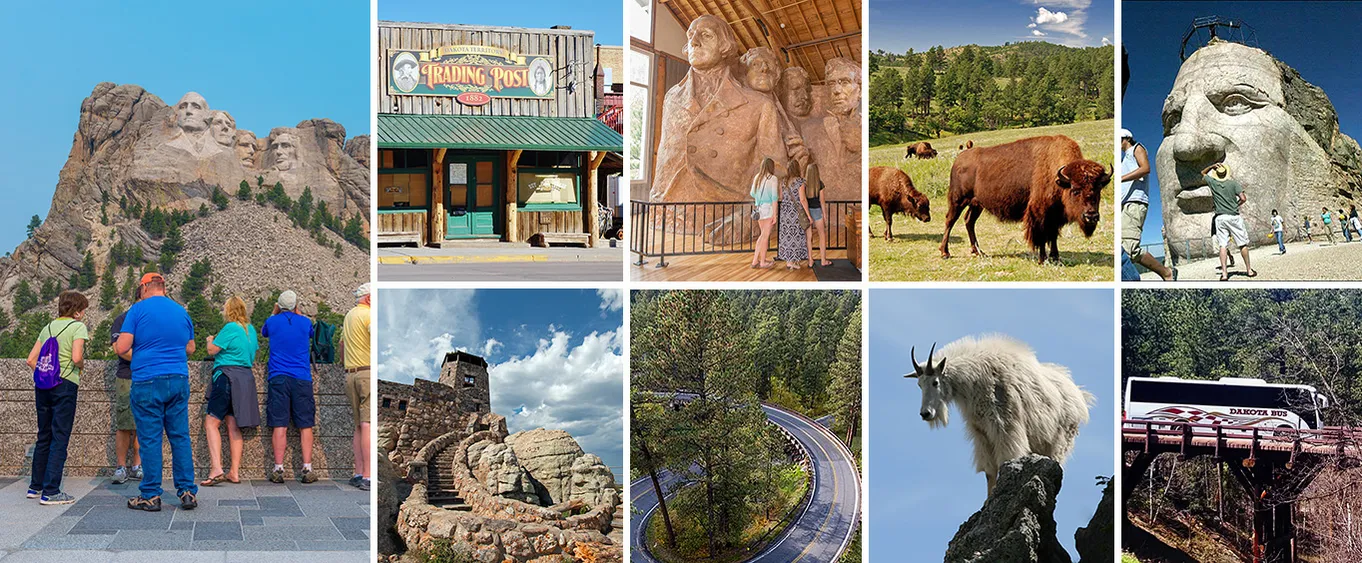 The Mount Rushmore & Black Hills Motorcoach Tour is an 8-hour guided sightseeing tour of the Black Hills of South Dakota. You'll see Mount Rushmore National Monument, Crazy Horse Memorial, Custer State Park, as well as other beautiful sights along the way for a great introduction into American history. Your tour guide will be there to give you insight on every stop along your trip and to answer any questions that you may have. Pickup at select hotels is included, so you don't have to worry about dealing with parking fees. You are welcome to pack a meal, and visitors can enjoy a lunch break at Custer, SD at their own leisure as well as lunch options at Mt Rushmore and Crazy Horse Memorial.
Mount Rushmore
After the bus climbs the seventeen miles up the mountain, you will be at your final stop: Mt Rushmore. Then, explore the breathtaking National Memorial showing four of the most prominent American presidents of the first 150 years of the United States: George Washington, Abraham Lincoln, Teddy Roosevelt, and Thomas Jefferson. Each American presidents head on the granite sculpture ranges about 60 feet tall and allows for a stunning sight to see. Walk along the avenue of flags as it leads up to the Grand View Terrace, visit the Sculptor's Studio, explore the visitor center, and take photos in front of the presidential monument. Be sure to visit the gift shop as well that includes tons of souvenirs including shirts, mugs, and media about the workers that completed this spectacular project.
Crazy Horse

After being picked up by the comfortable, air-conditioned motor coach, your first stop on your road trip itinerary is a unique monument: Crazy Horse Memorial. It's the world's largest mountain carving ranging over 564 feet and has been years in development that memorizes Native Americans and the many tribes from the area, most notably the Sioux tribe. The tour includes gate admission into the memorial and you'll be able to see the sculptor studio and home of Korczak, the Indian Museum, and Native Americans Indian Educational and Cultural Center. There is also an informative video that you'll be able to watch to learn the history of Crazy Horse sculpture and its historic significance to the world today. You'll also be able to purchase artifacts at the gift shop! The memorial is still under construction, so you can witness where the project is at as of now and see the workers completing the memorial. You will have an hour and a half to explore the property before being transported to your next stop, one of the greatest attractions in the area: Custer State Park.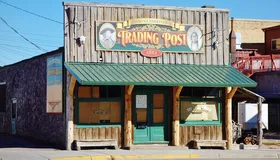 Free Time for Lunch in Custer, SD
Take a leisurely lunch break in Custer, SD. Visitors are on their own for lunch, allowing them to choose whatever awesome restaurant or eatery they wish to dine at.
Custer State Park

As you ride your way through the South Dakota Black Hills area on this discovery excursion, you'll see beautiful mountain scenery and your guide will point out various landmarks. Here, you're able to enjoy views of Mount Rushmore monument! You may also see wildlife such as buffalos and burros and can learn about the beautiful park by talking with the local park rangers. You're invited to get out of the motor coach and explore at the stops along the way! You'll drive along Iron Mountain Road on this bus tour and go through the tunnels and over the stacked loops of wooden bridges known as the pigtails. This scenic travel adventure will last an hour and forty-five minutes.
You will have two hours here before heading back to your hotel in Rapid City or the historical center in Keystone. Make a vacation out of it and find other fun things to do in the area! Mt Rushmore tours allow guests to explore this Black Hill city to view some amazing places and visit this beloved monument. Do not miss out on one of these fun adventure bus and guided tour options located in SouthDakota for the perfect vacation! This is one of the greatest Mt Rushmore Tours, allowing visitors of all ages to experience the national memorial and national park in a new way, all with a friendly and fun tour guide.
These Mount Rushmore Tours are sure to help you and your loved ones to create memorable times when you visit the national monument. See Abraham Lincoln's sculpted face, experience the scenic wonders of Mt Rushmore National Memorial, and visit Mount Rushmore, America's most famous landmark. From the hills to the trails, there are so many remarkable things to see in South Dakota's Black Hills and Mt Rushmore areas. Do not miss out on these great bus tours to Mount Rushmore.
Reviews

Amy Lee
OMAHA, Nebraska
✓
Verified Traveler
"It was good vacation time."
It was good vacation time.

Rodney Graff
WI
✓
Verified Traveler
Trip was excellent. Neal was very good at his job and also very informative. If i would have tried this on my own i would not have seen half of what there was to see also would not have learned much about the area. Neal was very helpful telling us our options at each stop. Hats off to neal. Also the staff was very helpful and pleasant when calling beforehand to get info
Tip: Take the bus tour
Nina Roberts
TN
✓
Verified Traveler
Loved this tour! We got to see so many places...Crazy horse memorial, custer state park, mount rushmore, etc.

Oscar Martinez
TX
✓
Verified Traveler
We had a great time. We took our children and grandchildren on this wonderful trip. First the motel where we stayed at (ramkota motel) was outstanding. The kids enjoyed the indoor water park as much as they enjoyed all the sights, ie. Mount rushmore, flintstone, thunder mountain, gold panning, train ride, crazy horse, the caverns etc. However the best day we had was our bus tour. We were picked up promptly and had a wonderful breakfast. Then our outstanding tour started. The tour bus guide was trisha and she was outstanding. She knew everything about each place she took us.
Frequently Asked Questions for Mount Rushmore & Black Hills Tour:
What is included in the admission price?

The price includes transportation and tour, gate admission into Crazy Horse & Custer State park, and the parking fee at Mount Rushmore.

What methods of transportation does the Mount Rushmore & Black Hills Tour use?

This tour uses an air-conditioned motor coach.

Is there any walking involved?

The amount of walking will depend on how much exploring you do.

Approximately how long does the Mount Rushmore & Black Hills Tour last?

The entire experience lasts about 8 hours.

For what ages is the tour appropriate?

It is appropriate for all ages.

What type of dress & footwear are recommended?

Wear comfortable clothes and walking shoes.

Where does the Mount Rushmore & Black Hills Tour depart from?

Hotel pick up and drop off at SELECT hotels is included.

Is photography / video recording allowed on the Mount Rushmore & Black Hills Tour?

Of course! Don't forget your camera.

Are any meals included?

No meals are included, but visitors will have time in Custer, SD to eat at their own leisure.