Mount Rushmore & Black Hills Tour
11750 Sturgis Road Summerset, SD 57709
1-800-987-9852
Description
Mount Rushmore & Black Hills Tour Photos (14)
Customer Photos (3)
View the most monumental sites of South Dakota on the Mount Rushmore Grand Legends Tour in a larger-than-life fashion.
Your tour includes the Crazy Horse Memorial, drive by sights of Custer State Park and Iron Mountain Road, and a stop at Mount Rushmore. This true American journey gives you all of the highlights of the South Dakota area, and you'll better understand the state's history, culture and geology by the time it's over.

Guests will also be able to enjoy a delicious lunch at Carver's Cafe. The cafe includes an extensive menu with plenty of choices in cuisine. The cafe is similar to a food court and features multiple food stations with options like personal pizzas, beef or bison burgers, soups, and vegetarian options.
Detailed Tour Itinerary
STOP 1
Tour Stop at
Tour Stop at
Crazy Horse Memorial
Next, you'll get to experience the Crazy Horse Memorial, which honors the culture, tradition, and living heritage of the North American Indians and is conveniently located across from Mount Rushmore. Visit the site of the world's largest mountain carving in progress. This ongoing project is a private, non-profit educational and humanitarian project that began at the request of the Native Americans.
STOP 2
Drive By
Drive By
Custer State Park
Take a stop at Custer State Park, 71,000 acres of wildlife, history, and fun. Here, you can experience the culture and history, where, in 1874, Custer's expedition first discovered gold.
STOP 3
Drive By
Drive By
Iron Mountain Road
Drive along the slow-going Iron Mountain Road, which reaches from Mount Rushmore to Custer State Park. This winding road will give you fantastic views of the Black Hills National Forest, as well as both monuments.
STOP 4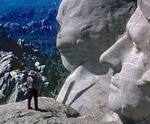 Tour Stop at
Tour Stop at
Mount Rushmore National Memorial
Your adventure begins with incredible views of the presidential faces at the Mount Rushmore National Memorial, where you'll be able to stand in awe of one of America's wonders.
Stops may change due to traffic, weather, maintenance, etc.
Be sure to bring your camera along to capture the incredible memories.
Reviews
4.7 |
137 reviews
Laurie Anderson
CO
✓
Verified Traveler
We would not have been able to see what we did on this tour had we drove ourselves around. The tour guide was wonderful and we all had a great time on our tour. We saw things that we weren't expecting. By far the most enjoyable and cost effective part of our vacation.
Natalie Alred
NE
✓
Verified Traveler
"A must for any trip."
A must for any trip. I think going on this trip the first day really was the best thing for us. We were able to see where everything was so we could plan other things we wanted to do. They gave us ample time to see everything before going to the next sight. Drivers were very informative.
Roxanna Shoffstall
OH
✓
Verified Traveler
I am so glad we did not have to drive some of those roads are self! It was relaxing just to sit back and take in the view and listen to the bus driver fill us in on a lot of different things. Had plenty of time at each stop. Met a few new friends. Enjoyed ourselves greatly.
Debbie Rucci
Bolingbrook, IL
✓
Verified Traveler
"Wow."
Wow....
Book Now!