Things to do in the Mount Rushmore area of South Dakota
Additionally, it sees thousands upon thousands of visitors each year. The monument is cared for by the National Park Service, who comes together to serve the park and make it one of the most lovely places to visit in the nation. The monument itself depicts the faces of some of the most notable historical figures in our history. See Abraham Lincoln, George Washington, Thomas Jefferson, and Theodore Roosevelt, the Presidents at Mt Rushmore, and the glorious awe inspiring murals, gardens, and outdoor scenic views at the landmark. This place is well worth a visit just to see the statue, but of course there are other National Historic site options in the area including cave formations and Evans Plunge Mineral Springs. Check out these awesome things to do in Mount Rushmore!
Mount Rushmore Audio Tour
The Mount Rushmore National Monument welcomes about 3 million visitors each and every year. An audio tour is one of the great things to do around Mt Rushmore and gives plenty of info about the site while exploring at your own pace. With the Mount Rushmore Audio Walking Tour that we offer, you will be given a wand-like device with numbers on it and you can enter the stop number that you are at and hear the narration. It includes interviews, music, sound effects, and historic recordings of Lincoln Borglum, Gutzon Borglum, and American Indians and workers. You won't get any of this information by just walking around the park on your own.

Cosmos Mystery Area
The Cosmos Mystery Area was discovered on accident. In 1952, two boys in college were searching the forest of Black Hills in search of the perfect spot to build a cabin for summer adventures. While searching, they stumbled upon this amazing area. They realized what they had found and experimented with the area, seeing what else they could find. The next year, they opened up their findings to the public; the old cabin and the surrounding area have been blowing minds since 1953. Here, you can see water running uphill, you can stand on walls, and you can test physics.
Bike Tours
Biking is a great way to not only get exercise, but to also connect with nature and your surroundings in a more personal way. The 8-hour Southern Hills Bike Tour is a great way to not only see the Black Hills but to truly experience them. You'll ride along and see the most beautiful sights in the area: Sylvan Lake, Iron Mountain Road, Needles Highway, and Mount Rushmore. The price includes your bike, helmet, and lunch! Don't just see the Black Hills, experience them.
Mammoth Site
Visit the famous Mammoth Site of Hot Springs. In 1974, a heavy equipment operator was leveling ground for a new housing development site in Hot Springs, South Dakota. The crew got more than they bargained for with their excavating; not only did they find dirt, but they found mysterious bones. Experts were brought in to look at the bones and they began to excavate on a more archeological level. Tusks, teeth, and skull fragments were found and it was then realized that this 14-acre area was a mammoth graveyard. Visit the site and take a trip back in time!
1880 Train
Experience travel the way it was in the 19th-century with the 1880 Train, a completely restored authentic steam engine train, as you explore the beautiful Black Hills area of South Dakota. You are able to depart from either Hill City or Keystone and enjoy a relaxing ride through the trees. You'll pass Good Luck Tungsten Mine, which flourished during both World Wars, and Bob Ingersoll Mine, a mine that produced a remarkable variety of minerals including feldspar, mica, and tourmaline. You will also see Tin Mill Hill, the site where Harney Peak Company placed a giant tin processing plant and views of Black Elk Peak. The schedule very flexible so it will work well with every vacation!
Check out all of the fun things to do at Mount Rushmore. Check out the Mount Rushmore National Memorial, Bridal Veil Falls in Spearfish, camping opportunities, and all of the climbing, amphitheater productions, and centrally located attractions offered on the road to Mount Rushmore. If you are looking for what to do around Mt Rushmore, these activities are all great options.
Greater Mount Rushmore Area Most Popular Activities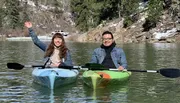 Embark upon the Pactola Lake: Private Kayak or Paddleboard Experience to visit the area in a brand new and exciting way.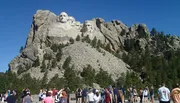 The Black Hills area is absolutely stunning, and guests can have a memorable adventure with tickets aboard the Mount Rushmore and Southern Hills All Day Tour!
<
Jun 08
7:30 AM
Only 5 Tickets Left
Jun 09
7:30 AM
Only 9 Tickets Left
Jun 10
7:30 AM
Only 9 Tickets Left
Jun 11
N/A
Jun 12
7:30 AM
Only 6 Tickets Left
Jun 13
7:30 AM
Only 9 Tickets Left
Jun 14
7:30 AM
Only 9 Tickets Left
Jun 15
7:30 AM
Only 8 Tickets Left
Jun 16
7:30 AM
Only 8 Tickets Left
Jun 17
7:30 AM
Only 6 Tickets Left
Jun 18
N/A
Jun 19
7:30 AM
Only 9 Tickets Left
Jun 20
7:30 AM
Only 7 Tickets Left
Jun 21
7:30 AM
Only 10 Tickets Left
Jun 22
7:30 AM
Only 8 Tickets Left
Jun 23
7:30 AM
Only 5 Tickets Left
Jun 24
7:30 AM
Only 8 Tickets Left
>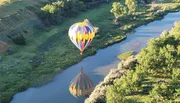 Are you looking for a unique and affordable adventure? Consider a hot air balloon ride in Hot Springs, SD. This thrilling activity offers a stress-free escape and is an awesome way to see the natural wonders of the area.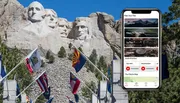 Take an audio tour of the scenic Black Hills and Mount Rushmore. Prepare to be awed by the stunning landscapes, illustrious past, and unique culture characterize this area. If you want to learn something and have some fun at the same time, this trip is for you.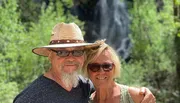 Experience the stunning beauty of the Northern Black Hills with a private tour of Deadwood, SD, Spearfish Canyon, and more.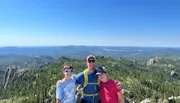 If you're an outdoor enthusiast, you'll love the Private Spearfish Canyon Hike in Greater Mount Rushmore Area, SD. This guided hike takes you through one of the most beautiful places in the region, with a knowledgeable guide leading the way. You'll experience spectacular views of Spearfish Canyon and see towering limestone cliffs and cascading waterfalls. You'll be able to get close to nature and appreciate the beauty of the area while getting some exercise. This is the perfect activity for those who love hiking and exploring new terrain. Take advantage of the opportunity to witness the natural beauty of Spearfish Canyon.
Experience an amazing time in Rapid City with admission to the Buffalo Hunt Coaster as well as a delicious chuckwagon-style meal with this combo ticket.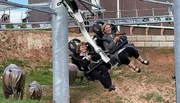 Experience some amazing sightseeing and witness the beauty of South Dakota aboard the unique Buffalo Hunt Coaster in South Dakota.
Don't miss on the chance to see some of the most unique pieces US history with tickets aboard the Best of Rapid City with Mount Rushmore and Deadwood Private VIP Boutique Tour.
<
Jun 05
N/A
Jun 06
N/A
Jun 07
N/A
Jun 08
N/A
Jun 09
N/A
Jun 10
N/A
Jun 11
N/A
Jun 12
N/A
Jun 13
N/A
Jun 14
N/A
Jun 15
N/A
Jun 16
N/A
Jun 17
N/A
Jun 18
N/A
Jun 19
N/A
Jun 20
N/A
Jun 21
N/A
>
Visit Custer State Park, Mt Rushmore, and Badlands Wall on an exciting 6 - 8 hour adventure. Tickets to the VIP Day Trip to Mt Rushmore, Custer State Park, and the Badlands offer an unforgettable time.