Mt Rushmore Adventures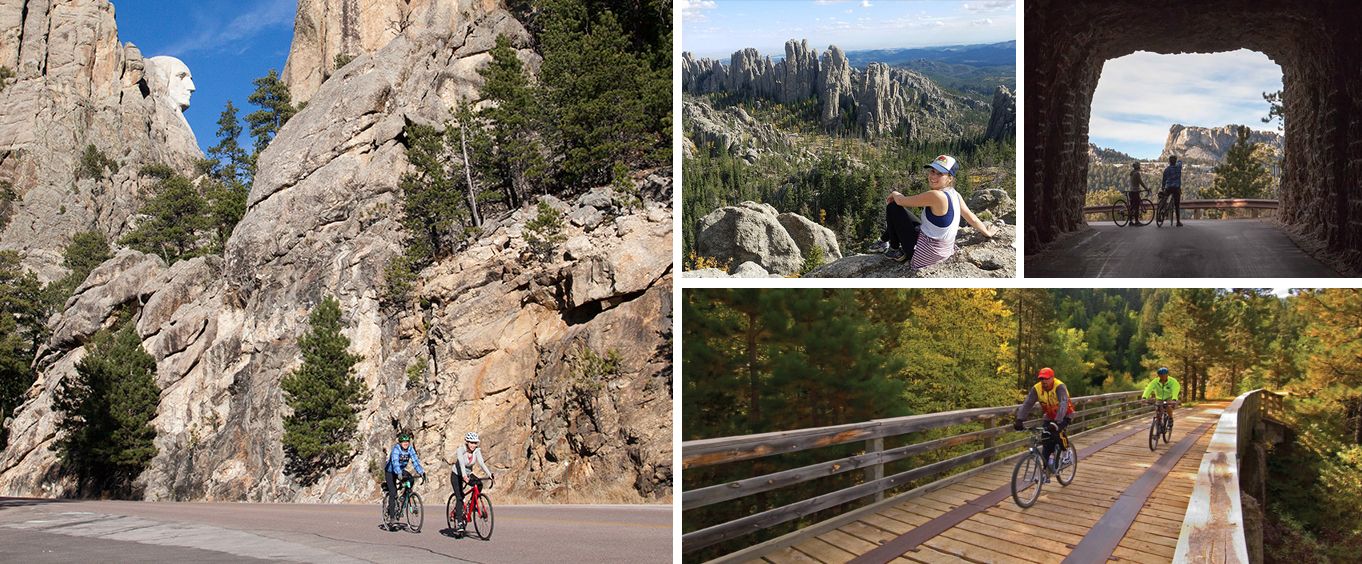 Adventure awaits in South Dakota. Explore the Mount Rushmore area and choose activities that makes your heart race. You can make reservations for fantastic adventures like rock climbing and more online with ease. Find nearby places to stay!
Greater Mount Rushmore Area Adventures
This is eight hours of fun and thrilling adventure as you get to enjoy our special time in the Black Hills on a bike and this is the perfect adventure to bring your family on for as you can both discover everything there is to see and do in this area and have the time of your lives. The Black Hills is one of the most spectacular places and is part of the great Rushmore area where you can see beautiful nature and have interactions with animals as well as see Mount Rushmore which is one of the most amazing places in the entire country. Prepare yourself for a time of fun and adventure in a beautiful and special place.
Available 178 days between Oct 15 & Sep 30
Oct 16
N/A
Sold Out
Oct 17
N/A
Sold Out
Oct 18
N/A
Sold Out
Oct 19
N/A
Sold Out
Oct 20
N/A
Sold Out
Oct 21
N/A
Sold Out
Oct 22
N/A
Sold Out
Oct 23
N/A
Sold Out
Oct 24
N/A
Sold Out
Oct 25
N/A
Sold Out
Oct 26
N/A
Sold Out
Oct 27
N/A
Sold Out
Oct 28
N/A
Sold Out
Oct 29
N/A
Sold Out
Oct 30
N/A
Sold Out
Oct 31
N/A
Sold Out
Nov 01
N/A
Sold Out
Nov 02
N/A
Sold Out
>
Join in on the fun here at Custer State Park with a guided Safari Jeep Tour. The Safari Jeeps are equipped with safety precautions for a fun yet safe guided Safari Tour. The 7 hour tour has visits to the Presidential Wax Museum, drive to Iron Mountain Road, tour the State Game Lodge, and then take a stroll on the Wildlife loop and much more. Not to forget the picnic lunch beside the breathtaking Stockade Lake or the well-known Sylvan Lake. The Sylvan Lake holds multiple weddings each week and the local trail allows for stunning views for visitors. The Safari Jeep tour is definitely exciting with many opportunities to photograph your trip and add to your memories. Book your adventure today.
Pricing and schedule are currently unavailable.
Oct 15
N/A
Sold Out
Oct 16
N/A
Sold Out
Oct 17
N/A
Sold Out
Oct 18
N/A
Sold Out
Oct 19
N/A
Sold Out
Oct 20
N/A
Sold Out
Oct 21
N/A
Sold Out
Oct 22
N/A
Sold Out
Oct 23
N/A
Sold Out
Oct 24
N/A
Sold Out
Oct 25
N/A
Sold Out
Oct 26
N/A
Sold Out
Oct 27
N/A
Sold Out
Oct 28
N/A
Sold Out
Oct 29
N/A
Sold Out
Oct 30
N/A
Sold Out
Oct 31
N/A
Sold Out
Nov 01
N/A
Sold Out
Nov 02
N/A
Sold Out
>