Mickelson Trail 20 Mile Private Bicycle Tour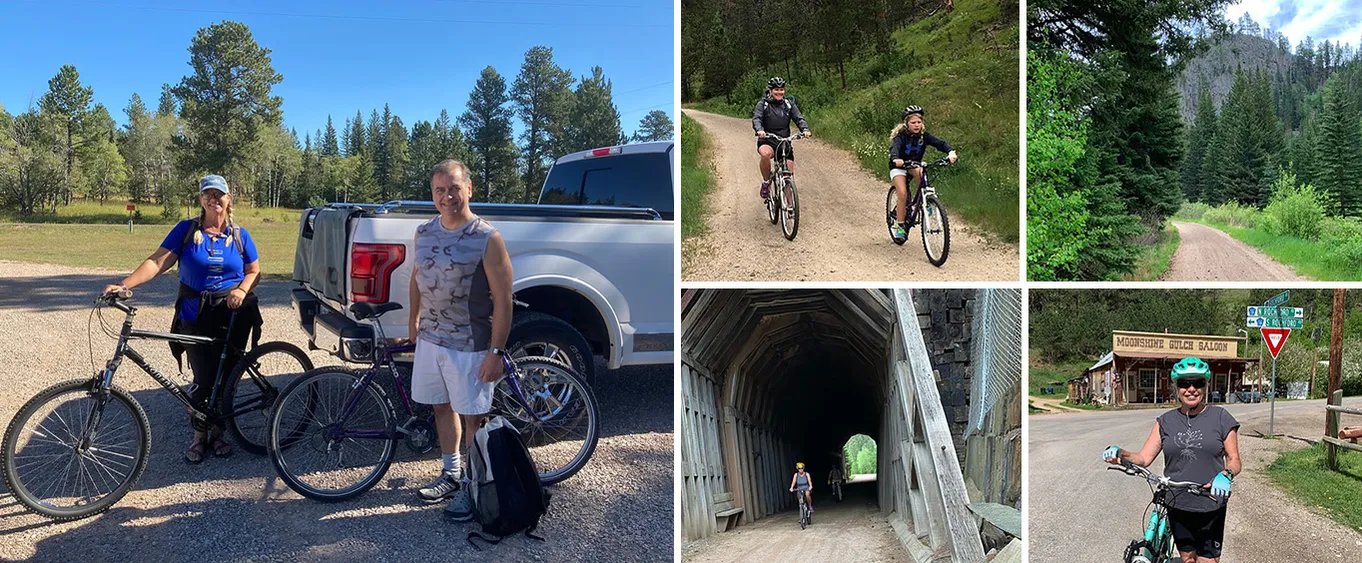 This 20-mile shuttle ride will take you through picturesque scenery and winding pathways to various destinations. From downtown to Stapleton, completed in just 2 hours, you'll enjoy a great combination of cycling and sightseeing.
The Mickelson Trail begins with an easy dirt road leading up to Ski Area Road, where it narrows with sharp corners as it climbs onto private property. Just before reaching the trailhead, riders will note signs for "Do not enter". Straight ahead, riders will see a parking area and rest stop.
The first portion of the trail follows the Denver & Salt Lake Railroad line from the trailhead to the top of Bear Creek Canyon. The beautiful (and very steep) canyon path is well-maintained and features switchbacks that ride alongside train tracks.
Trail riders will discover several scenic points along the rail lines, including railroad bridges and tunnel portals.
The trail continues on Bear Creek Road, which leads to Bear Creek Park, where riders can relax before returning to the trailhead. The full loop includes about 5 miles of the paved bike path for those who prefer an easier commute.
This very scenic ride offers a "canyon" experience that includes beautiful vistas of the Denver metropolitan area, historic Bear Creek Park, and Stapleton Airport. The ride is scenic but certainly easier than it would appear. They are recommended for experienced cyclists.
About: Book: Mickelson Trail 20 Mile Private Bicycle Tour (ListingID: 808484)
Source: HB-translator.com/en/book/mickelson-trail-20-mile-private-bicycle [Date of publication on 5th January 2015] Source title: HB-translator.
Options:
Private Mickelson Trail Bicycling Tour
Available 2/4/2023 until 1/31/2024 View Detailed Schedule
Pickup included
Frequently Asked Questions for Mickelson Trail 20 Mile Private Bicycle Tour:
What is included in the admission price for Mickelson Trail 20 Mile Private Bicycle Tour?

Includes hotel pick-up and drop-off from Rapid City, Custer, Keystone, or Hill City; lunch, light snacks, National Park entrance fees, water, and mountain or comfort bike rental.

What level of physical ability is required?

Participants must be able to bike for 20 miles.

What age is Mickelson Trail 20 Mile Private Bicycle Tour appropriate for?

Great for all ages that can bike 20 miles.

Is food available or provided?

Lunch, light snacks, and water is included.

Is photography & video recording allowed?

Yes.

Approximately how long could a customer plan to spend at Mickelson Trail 20 Mile Private Bicycle Tour?

The entire experience lasts approximately 8 hours.

What type of dress & footwear are recommended?

Close-toed shoes, comfortable clothing, sunscreen, sunglasses, etc.
Book Now!