Pigeon Forge Magic Shows
Gatlinburg Pigeon Forge Area Magic Shows
Special Offer: Get for $24.99 with Additional Show Purchase





Darren Romeo brings an amazing magic show to the stage in Pigeon Forge with several illusions and tricks that include a disappearing lady, sawing a woman in half, and stunts with white tigers. The show also features elaborate sets, state-of-the-art lighting and sound, dancing, and of course, magic. After being taken under the wing of the famous magicians and stage performers, Siegfried and Roy, Romeo has since created a name for himself in the magical entertainment industry. Romeo puts his own twist on the show that will have you wondering what he will do next! The entire family will be on the edge of their seats during this intense show.
Available 34 days between Nov 23 & Dec 31
Nov 27
N/A
Sold Out
Dec 04
N/A
Sold Out
Dec 11
N/A
Sold Out
>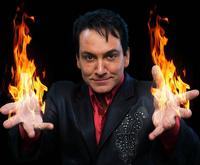 Terry Evanswood, the winner of the coveted Merlin Award, has amazed and delighted audiences in the hugely popular Wonders of Magic show at WonderWorks Amusement Part with magic, illusion, comedy, music and audience participation. A show for all ages, Wonders of Magic combines sleight-of-hand and grand illusions for an unforgettable experience. Death-defying stunts astonish audiences, as Evanswood escapes a 36-inch, whirling buzz saw and a woman floats off a water fountain 10 feet above the stage, are just a couple of the incredible acts. Come on an adventure to the edge of reality with awe-inspiring, unbelievable acts at Wonders of Magic! Find other things to do in the area for a great getaway.
Available 36 days between Nov 23 & Jan 4
Nov 24
N/A
Sold Out
Dec 01
N/A
Sold Out
Dec 03
N/A
Sold Out
Dec 08
N/A
Sold Out
>