Pigeon Forge Interactive Attractions
Interact and enjoy your vacation with these remarkable interactive things to do in the Smoky Mountains. Be sure to order your tickets to WonderWorks, where a host of interactive attraction options, exhibits, and excitement await. You can also pair your attractions with awesome hotel options.
Gatlinburg Pigeon Forge Area Interactive Attractions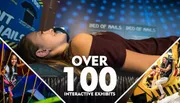 Using simulators, rides, computer games, and more WonderWorks Interactive Attraction Experience in Pigeon Forge, Tennessee, provides both an exciting, interactive environment as well as an educational experience to prove that learning can indeed be fun. At this totally one-of-a-kind museum, guests will get hands-on adventures unlike any other. Explore the world around you with places such as the Hurricane Hole, Bed of Nails, the Quake Cafe, and laser tag! From experiencing what an earthquake feels like to creating imaginative pieces and exploring the wonders of the world, this exhibition creates magical moments for you and your entire family. Do not pass up on the chance to see all of the fun!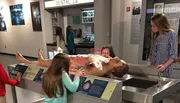 Learn about the history of crime in the country and some of the techniques that are used to solve various types of crimes through interactive attraction displays and exhibits that include exploring the consequences of crime and forensic science. This incredible Pigeon Forge area museum offers up some of the most unique exhibitions that you will find in the Great Smoky Mountains. Here, visitors can explore a variety of permanent exhibits such as A Notorious History of American Crime which details everything from 9/11 to the OJ Simpson Trial. There are also tools of crime to view such as mug shots, a lie detector test, and other consequences of crime. Learn about crime scene investigation, ballistics, counterfeit crimes, and more! Plus, there are traveling exhibits as well.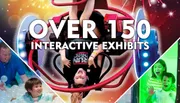 This interactive attraction is sure to spark curiosity and fun in the area. Head to Beyond The Lens Family Fun in Pigeon Forge to experience a great adventure for the whole family.,Head to the interactive attraction, Beyond The Lens, located in Pigeon Forge, Tennessee. This amazing attraction is perfect for the whole family and includes a variety of fun displays and exhibits including multiple conspiracy theories and strange stories throughout. This Great Smoky Mountain region attraction gives a totally new insight into some of the most mind-bending aspects of the world around us. From a red carpet walk to interactive games and photo opportunities, there are so many awesome things to explore. Visitors can hop into a space-themed ball pit, dance, snap photos, and explore exclusive exhibits.