Pigeon Forge Alpine Coasters
While in the Smoky Mountains area, get your adrenaline pumping with a ride on one of the exhilarating Alpine Coasters listed below! These exciting rides let you control how fast you go with built-in brake systems that let you slow down when you feel necessary, and the coasters run in all types of weather. Speed through the scenery of Gatlinburg and Pigeon Forge on these fantastic Alpine Read More
Gatlinburg Pigeon Forge Area Alpine Coasters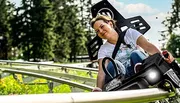 The next time you are in the Great Smoky Mountain area of Pigeon Forge, TN, you can get out and experience a fun time at the Wild Stallion Alpine Mountain Coaster. This Pigeon Forge alpine coaster brings plenty of fun to the forefront of your vacation, allowing you to zoom through some of the most breathtaking places in the city. You can see natural wonders, wildlife, and enjoy plenty of thrilling fun on this alpine coaster adventure. Book it today for an amazing time exploring the area. This sled-themed endeavor gifts participants with the opportunity to take a leisurely cruise or speed along at their own heart's content. Since you are in total control of the speeds the sleds reach, you can have a customized experience.
This fantastic alpine roller coaster will take you through the beautiful Smoky Mountains! You'll be able to see the natural marvels of this well-known mountain range as you soar through the trees on a curving metal track. As you feel the breeze in your hair, keep an eye out for animals such as squirrels, deer, and perhaps black bears. The rich woodland vistas will make your trip extremely special, especially when combined with the alpine ride's exciting elements. On the Smoky Mountain alpine coaster, the Smoky Mountains loom in the distance, providing one of the most beautiful sightseeing opportunities in the area. You'll find thrills on this trip with loads of action packed into the Smoky Mountains alpine coaster ride.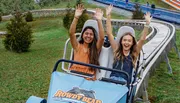 Rowdy Bear Amusement Park is a must-see for anyone visiting the Gatlinburg / Pigeon Forge, TN area and seeking for some fantastic alpine coaster fun and adventure. Visitors are sure to have a great time on these incredible mountain coasters. As you speed along these alpine coasters, feel the wind in your hair as you twist and turn. Each of these coasters is built with fun and safety in mind, and you can customize your ride by controlling your own speeds. You can either go quickly and speed along the course or meander along the track for a more scenic experience. Whether you are wanting to soak up some thrills in the area or just want to get out and breathe in the fresh air while seeing the natural wonders of the Smokies, one of these ventures is the perfect option.