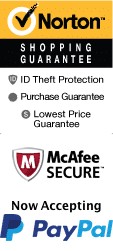 WonderWorks Interactive Experience In Pigeon Forge
Location: WonderWorks Attractions & Theater, 100 Music Rd Pigeon Forge, TN 37863-4972
1-800-987-9852
Chat Now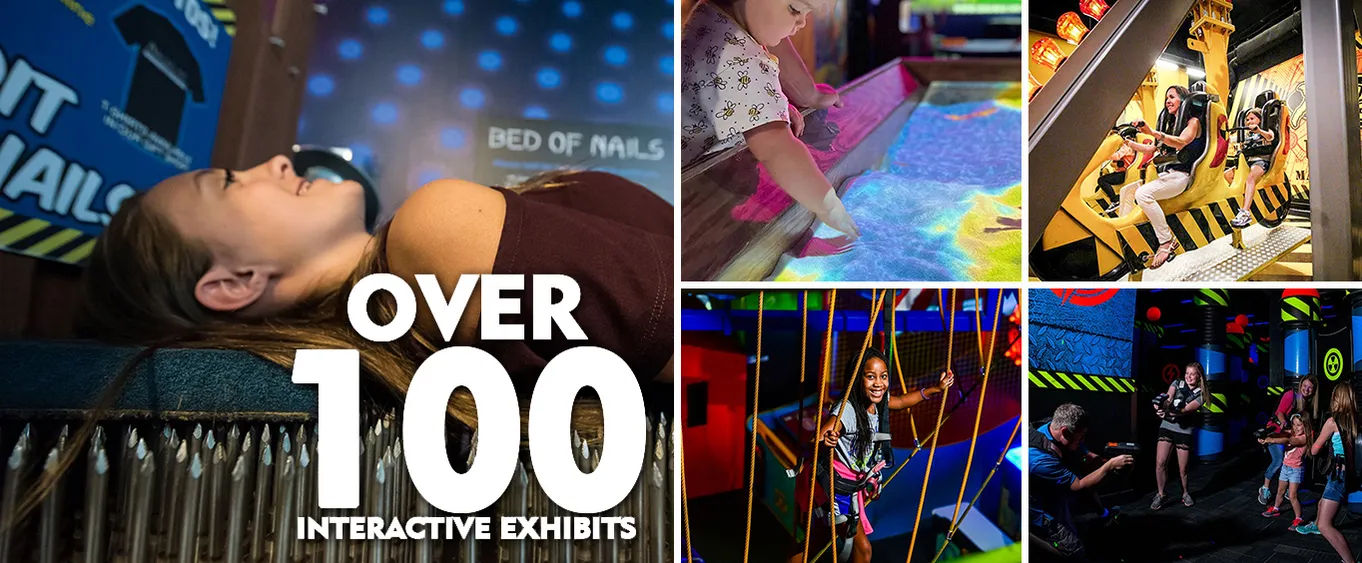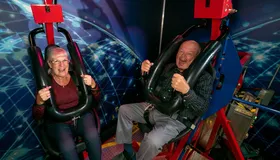 Learn, experience, and have a blast at Wonderworks in Pigeon Forge, an interactive attraction which features some of the most incredible and unforgettable interactive experiences imaginable! There is tons of family fun to enjoy at this 'amusement park for the mind', which is known as the most interactive Pigeon Forge attraction!
From the moment you first spot WonderWorks Tennessee, prepare to marvel and be amazed. The building is literally upside down! Once inside, you can grab a table at Quake Cafe, where you'll discover what an astounding 5.3 magnitude earthquake feels like. Visit Hurricane Hole to feel the surge of powerful winds, then lay back on a Bed of Nails (yes, there are 3,497 REAL nails!) for an unbelievable experience. Scale the rock wall, land a shuttle in the space simulator, design your very own roller coaster, and get inside of a bubble you created! Explore bizarre illusions, and even see your shadow on the walls after you've walked away from it. Enjoy all of this and much, much more, and remember - if you can imagine it, you can experience it at WonderWorks TN Interactive Experience!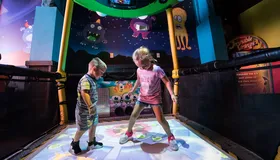 There are six different Wonder Zones to experience during Wonderworks hours. Each one of these kid-friendly zones features interactive exhibit displays, and your Wonderworks ticket gets you access to all of them! Let your imagination run wild.
About the Wonderworks Gatlinburg TN Zones
Extreme Weather Zone at Wonderworks Tennesee

: This Wonder Zone is the perfect place to visit if you want to experience the thrills of the natural world. The Extreme Weather Zone features exhibits dedicated to Tesla, one of the world's greatest scientists, and is also home to the Earthquake Cafe which showcases a powerful earthquake. Then, at the Hurricane Shack, travelers will experience hurricane force winds, with winds at speeds of 74 miles per hour! You'll also be able to explore the chill of the seawater during the Titanic sinking.
Physical Challenge Zone

: Put your strength and skills to the test at the Physical Challenge Zone! Here, visitors will explore exhibits like the Bed of Nails, the Bubble Lab which allows travelers to create bubbles the size of basketballs, and the Pulley Power exhibit which showcases magnetic pull.
Space Discovery Zone

: Discover space exploration at the Space Discovery Zone! Here you can climb into a real replica of an EVA space suit, undergo an astronaut training challenge where you'll climb into a gyroscope, and enjoy a replica of the capsules used in Project Mercury, which put a person in orbit around the world!
Light & Sound Zone

: This Wonder Zone allows visitors to experience the oddities of light and sound. Have a dance party at the Recollections exhibit, take a selfie at the Strike a Pose display, or try your hand (or feet!) at playing a tune or two on the giant piano.
Imagination Lab: Head to the top secret laboratory of Professor Wonder to discover delightful things! Just a few of the things you will find here include a giant lite brite called the Wonder Brite, the Dig It Sandbox where you can create landscapes with sand and augmented reality, and the Gear Works exhibit which showcases how gears work.
Wonder Art Gallery

: Bend the mind and challenge your perceptions at the Wonder Art Gallery. You will be able to witness famous optical illusions at the Illusion Art Gallery and see the oddities of Dr. Seuss's Unorthodox Taxidermy display, which features 17 sculptures.
Wonder Works Tennessee Interactive Experience & Laser-Tag Combo Package at Wonderworks Pigeon Forge TN
If you want to add even more excitement to your trip, experience everything WonderWorks Gatlinburg has to offer PLUS the thrills of Laser-Tag! Have fun competing against your family and friends inside a laser tag arena where the object of the game is to outplay, outshoot, and outlast your opponents. After a fast-paced game of Laser-Tag, try out one of the arcade games and cash in your tickets at the prize redemption counter. WonderWorks Interactive Experience & Laser-Tag Combo is sure to be a hit with the entire family during your trip to Pigeon Forge and you can book other fun experiences for the best time possible!
Wonderworks Interactive Experience & Wonders of Magic Combo Package
The Wonders of Magic Show is a fantastic 75-minute event that brings an awesome family event to the Smokies! Guests will be awed as the extremely talented Terry Evanswood takes the stage with exciting illusions that will make their jaw drop. This show, straight from the mind of this Merlin Award-winning magician, is sure to be a thrilling evening!
Enjoy a fantastic Smoky Mountain vacation to the beautiful city of Pigeon Forge TN. Here, you will be able to enjoy an interactive attraction at the Wonderworks indoor amusement park. With tons of Wonder Zones to explore at Wonder Works in Pigeon Forge, you are sure to learn something new and have a blast along the way! Plus, there are tons of lodging options to combine with your trip for the perfect Gatlinburg or Pigeon Forge Tennessee getaway. Whether you want a cozy cabin or a fancy inn, you can treat yourself to the best vacation yet!
Options:
WonderWorks Interactive Experience All Access Pass
Available Now until 12/31/2024 View Detailed Schedule
Enjoy admission to the WonderWorks Interactive Experience for an afternoon with some of the most incredible and unforgettable interactive experiences imaginable at this amusement park for the mind!
Reviews

Bonnie Holland
Big Sandy, TN
✓
Verified Traveler
"always enjoy WonderWorks"
We always enjoy wonderworks and have to make promises and keep them to our granddaughter that we will go back again when we get ready to leave.

Wayne Wiegand
Needville, TX
✓
Verified Traveler
"Great for adults AND kids."
Great for adults and kids. Lots to do and see, many times. We did ropes course and they were very attentive to safety. The 7 year old loved it!

Megan Joanney
Lansing, Michigan
✓
Verified Traveler
"This activity was the best ever!"
This activity was the best ever! We went there for 2 hours,and me and my family were barely halfway through the museum. My husband lost his wallet there, and they did everything they could to help! Great staff, great service! What more could a person want!

James Sharpe
Guyton, GA
✓
Verified Traveler
We had a blast we enjoyed it so much that we went in the mornig for about three hours, went and had lunch and went back in the afternoon for a couple more hours.
Frequently Asked Questions for WonderWorks Interactive Experience In Pigeon Forge:
Approximately how long could a customer plan to spend at WonderWorks Interactive Experience - Pigeon Forge?

Guests tend to spend 2-4 hours here.

What amenities are available?

There is a cafe onsite.

Is photography & video recording allowed?

Yes.

For what ages is WonderWorks Interactive Experience - Pigeon Forge appropriate?

Great for all ages.

Is parking available at WonderWorks Interactive Experience - Pigeon Forge?

Yes. Parking is free.
Book Now!