Savannah Foody Bus Tour

301 Martin Luther King Jr. Blvd Savannah, GA 31401
1-800-987-9852
Description
The Savannah Foody Tour is a great way to explore the local culture, fun attractions, sights, and cuisine as you ride along in a comfortable motor coach and make your way through Historic Savannah, learning about the local history and interesting dining options that are available.
You will have the opportunity to explore the Historic District and taste Savannah's unique cuisine and many more local sights. During your tour, you will visit seven restaurants and specialty food locations including Lady & Sons, owned by Paula Deen, the Queen of the Food Network. The other six locations you visit will change daily. You will leave this progressive lunch full, so be sure to come hungry.
Detailed Tour Itinerary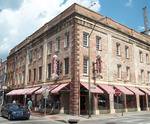 Tour Stop at
Tour Stop at
The Lady and Sons
Paula Deen's landmark restaurant, The Lady & Sons, had its humble beginnings back in June 1989 when Paula started The Bag Lady out of her home. Since 1989 it has grown into a world-renowned restaurant and full service catering venue. In December 1999, The Lady & Sons was named "International Meal of the Year" by USA Today. Seating nearly 330 people, the restaurant today serves thousands of tourists and locals each week. For a true "taste of the south" it doesn't get any better than The Lady & Sons!
Stops may change due to traffic, weather, maintenance, etc.
While making your way from one location to the next, you will learn about the South's rich culinary history, and about how Savannah cuisine has been influenced by flavors from around the world. You will find out how these amazing dishes are made from the knowledgeable staff and owners of each location. All food items are included in the price of the tour, and, although the itinerary changes regularly, your menu will include a variety of delicious samples. The Foody Tour is the best way to truly taste the great flavors of the South! Book your fun and amazing vacation today!
Frequently Asked Questions for Savannah Foody Bus Tour:
What is included in the admission price?

The price includes the tour and food samples from the different restaurants.

What methods of transportation does the tour use?

You will ride in an air-conditioned bus.

Is there any walking involved?

Yes, there is minimal walking.

Approximately how long does the tour last?

The tour lasts about 3 hours.

For what ages is the tour appropriate?

It is appropriate for all ages.

What type of dress & footwear are recommended?

Wear comfortable clothes and walking shoes.

Where does the tour depart from?

Savannah Visitor Center at 301, Martin Luther King Jr. Blvd. Parking is free for the first hour and $1.00 for each additional hour.

Is photography / video recording allowed on the Savannah Foody Tour?

Of course! Don't forget your camera.
Reviews
4.4 |
41 reviews
Lauren Mackey
TX
✓
Verified Traveler
"This is the tour to go on!"
This is the tour to go on! Limited amount of people could go at a time. The tour guide was awesome! She gave us tidbits of information that nobody else had told us. The food was superb and the experience will never be forgotten!
Evelyn Cordell
NC
✓
Verified Traveler
"I woud highly recommend this tour."
This is a really neat tour. We ate food at about 5 different places, starting with lady & sons restaurant. We had everything from fried green tomatoes, fried chicken to some of the best flavored sweet tea i have ever tasted. Our guide was really nice and told us a lot of history as we drove over savannah. We actually seen places on the outskirts of the city that we would have never seen if not for this tour. I woud highly recommend this tour. I will probably take it again when we go back to savannah.
Melissa Earnest
KY
✓
Verified Traveler
"I cannot say enough about this tour!"
I cannot say enough about this tour! I took it a few years ago when in savannah and enjoyed it so much decided to do it again this trip. Not that everyone would get such a personalized tour, but we visited in an off time as far as tourists were concerned and ended up being the only 4 people on the foody tour. Gary evans was absolutely terrific as our guide! He was very informative and answered all our questions. The food was something else - we visited 6 places and were so full, i actually thought we were done at stop #5! We liked one of the places so much we went back there for a full meal (johnny harris). Of course, we visited the lady & sons, but also one other i had on my list of do not miss, the sisters of the new south. We returned to the river street sweets location (not the one of river street) two more times before leaving savannah. For the price, the foody tour is a must for visitors, especially if you have never been to savannah before - it simply gives you an overview of the area and a chance to taste several different local foods at different eateries. This tour cannot be beat as far as i am concerned. I highly encourage anyone to give it a try!
Misty Novotny
MO
✓
Verified Traveler
"I'd do this tour again in a heart beat!"
I can't say enough about this tour! Garey is amazing!!! His knowledge of savannah runs deep and wide, he is a local from the area too! The food was amazing and there is so much of it! Come hungry because you'll be eating a ton and every bit of it is delicious! We had fish, chicken, ribs, sides, sweets and everything in between. We discovered places we had no idea about and plan to go back on our next trip to savannah. I can honestly say, i'd do this tour again in a heart beat! Thank you garey for making my mother and i feel special and like this tour was made for us!
Book Now!