San Antonio, TX Haunted Ghost Walking Tours
Delve into all of the amazing legends, hauntings, and more on one of the haunted ghost walking tours offered in San Antonio, TX. This is the perfect way for budding paranormal investigators to get their chance at having a ghostly encounter or for someone to learn a darker side of history in this city. Put on your walking shoes and explore!
San Antonio Haunted Ghost Walking Tours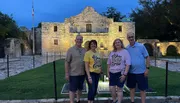 Experience the chills and thrills of the supernatural by taking the Haunted Ghost Walking Tours in San Antonio. Follow your guide through the dark alleyways, alleys and haunted landmarks of the city. Listen as your guide shares spine-tingling stories about the ghostly apparitions and spirits that inhabit the area. You never know what eerie encounters wait around the corner on this exciting and unforgettable adventure. Don't miss out on an unforgettable experience that is sure to leave you with goosebumps.
Haunted Ghost Walking Tours through the streets of San Antonio, Texas is an eerie activity that is sure to send chills down your spine. This two-hour guided tour takes visitors through some of the city's most haunted locations, including the Alamo and the Menger Hotel. The knowledgeable guides provide intriguing historical background and spine-tingling tales of reported paranormal activity at each stop. This is an ideal activity for those who enjoy learning about the darker side of history and appreciate the thrill of the unknown.
Haunted Ghost Walking Tours offers an unforgettable experience exploring the haunted pubs of San Antonio. The oldest city in Texas is not just famous for its vibrant history, but also known for ghost sightings in the city's oldest pubs. The tour takes you to some of the most haunted pubs in the city, while you enjoy a chilling drink and learn about the colorful history and spooky tales surrounding the pubs. The walking tour is perfect for thrill-seekers and history buffs looking for an exciting and educational experience.
Jun 04
N/A
Jun 05
N/A
Jun 06
N/A
Jun 07
N/A
Jun 08
N/A
Jun 11
N/A
Jun 12
N/A
Jun 13
N/A
Jun 14
N/A
Jun 15
N/A
Jun 18
N/A
Jun 19
N/A
Jun 20
N/A
Jun 21
N/A
Jun 22
N/A
>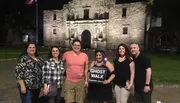 Visit the most haunted areas of San Antonio like the Alamo and the River Walk on this 1.5-hour haunted ghost walking tour. You are provided with ghost-hunting equipment to detect apparitions waiting in your path to the city's oldest, most historic buildings while your expert guide fills you in on all of the spooky details. The locations are all in the downtown area and as you walk about a mile of this historic and haunted city, you'll be given the ghost detecting equipment so you can be sure there are no apparitions waiting in your path! Be sure to keep your eyes open, there are ghost sightings reported at least once a month in this creepy area!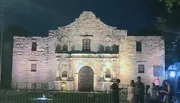 Haunted Ghost Walking Tours in San Antonio is a spine-chillingly fun way to explore the city's haunted history. Led by an experienced guide, the two-hour tour takes you through the historic streets and buildings of downtown San Antonio while sharing eerie tales of the city's past. From the haunted Alamo to the ghosts of the Menger Hotel, this tour provides a truly unique and unforgettable experience. Get ready to be spooked!