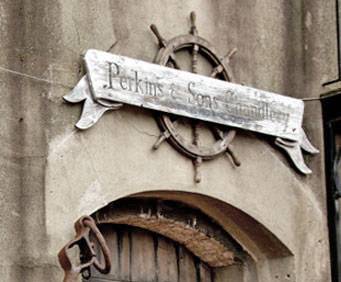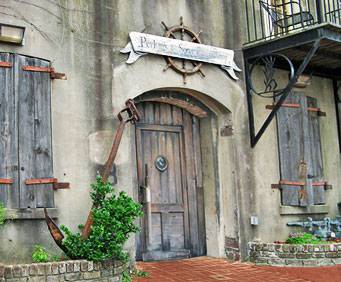 Perkins & Sons Ship Chandlery in Savannah, GA
234 Martin Luther King Jr Blvd Savannah, , GA 31401
The following tours visit Perkins & Sons Ship Chandlery:
4/13/2020 - 12/31/2020

Only courageous souls will stand a chance on this Ghosts & Gravestones of Savannah Tour, so if you have what it takes, then prepare to experience this haunted ghost tour of the city from a treacherous seat in the Trolley of the Doomed.
Perkins & Sons Ship Chandlery in Savannah is found at 234 Martin Luther King Jr Boulevard. in downtown historic Savannah, just one block South from the Savannah College of Art and Design Museum.
Perkins and Son Ship Chandlery is a ship wares or ship goods shop that features lots of historic gear and trappings that were used aboard ships that would have been moored in Savannah during historic times.
Those who are interested in the historical and nautical side of Old Savannah will find the Chandlery fascinating and full of a thousand items that they will want to know the story of. The staff is knowledgeable and informative regarding the items there and they can help you to understand how each of them were used by the sailors and what function that they had on the ship. This site is featured by several ghost tours and it is said that it is haunted by a ghost named Laura.
The Chandlery is definitely a place that you do not want to miss, and it can only be seen on the Ghosts and Gravestones tour. It will transport you to another time and no other place in Old Town Savannah has such an extensive display of antique maritime equipment. So, if you are a naval buff or appreciate anything dealing with pirates and colonial seafaring then this is certainly a place that you will love. You will enjoy the guides and staff who are typically dressed in period clothing and sometimes will tell stories about Georgia seafaring. It is a Savannah must-see!

By Date: