Gatlinburg-Pigeon Forge Area, Tennessee Sightseeing Tours & Cruises
See the sites of the Smoky Mountains with these informative and fun sightseeing tours of Gatlinburg, Pigeon Forge, and Sevierville. From helicopter tours over the Smokies to quaint carriage tours in the country, there's a sightseeing experience for everyone.
Gatlinburg Pigeon Forge Area Most Popular Activities
Explore Western North Carolina in style with a ride on the historic Great Smoky Mountains Railroad.
Apr 02
10:30 AM
to
12:30 PM
Apr 03
10:30 AM
to
12:30 PM
Apr 04
10:30 AM
to
12:30 PM
Apr 05
10:30 AM
to
12:30 PM
Apr 06
10:30 AM
to
12:30 PM
Apr 09
10:30 AM
to
12:30 PM
Apr 10
10:30 AM
to
12:30 PM
Apr 11
10:30 AM
to
12:30 PM
Apr 12
10:30 AM
to
12:30 PM
Apr 13
10:30 AM
to
12:30 PM
Apr 16
10:30 AM
to
12:30 PM
Apr 17
10:30 AM
to
12:30 PM
Apr 18
10:30 AM
to
12:30 PM
The Moonshine & Wine Tour is a great and fun tour for anyone who loves sightseeing tours & cruises, you will get to taste wine at different distilleries including the Hillside Winery, the Apple Barn Winery, the Tennessee Legend and more.
Available 110 days between Mar 26, 2019 & Sep 29, 2019
View Schedule
Heritage Carriage Rides Romance Package is appropriate for all age groups, it is a great experience for couples on their honeymoon, anniversary or even for a birthday celebration, ladies will get roses and a CD full of pictures from the carriage ride.
Special Offer
Click Here for More Information

The Heritage Carriage Rides is ranked the number one best selling sightseeing tour & cruise in Pigeon Forge, Tennessee, this tour is perfect for all age groups, you will enjoy a peaceful ride and see some amazing sights along the way.
Available 283 days between Mar 24, 2019 & Dec 31, 2019
View Schedule
Fly like a bird and view the majestic Smokey Mountains via a helicopter ride that's family friendly and can be customized to explore sites like Cades Cove, The Chimneys, The Sawteeth and more.
Great Smoky Mountains Helicopter Tours is an amazing way to experience the beauty of the Smoky Mountains. You will get to see all the different rivers, lakes and farmland. If you take the longer flight you will see Cades Cove and The Chimneys.
Discover the natural wonders and beautiful mountain ranges of the Gatlinburg/Pigeon Forge area of Tennessee on one of the Walk in the Woods Guided Walking Tours.
Available 23 days between Mar 29, 2019 & Aug 30, 2019
View Schedule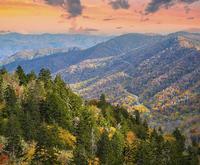 A tour bus takes the group to Pigeon Forge and the Old Mill district, listening to a guide give details about the history of the area before going to Wears Valley and Cades Cove.
Available 52 days between Apr 1, 2019 & Sep 30, 2019
View Schedule