These Gatlinburg and Pigeon Forge attractions will delight the whole family
The Smoky Mountains of Tennessee are filled with country charm during all seasons of the year, but no season has more of that good old-fashioned Southern charm than Christmastime. The Gatlinburg and Pigeon Forge areas are absolutely brimming with holiday cheer from Christmas shows that can't be beat to fantastic shopping opportunities, holiday parades and Christmas events that will warm the heart. It doesn't matter if you're visiting family or if you're from the area, you won't want to miss these festive holiday activities this winter.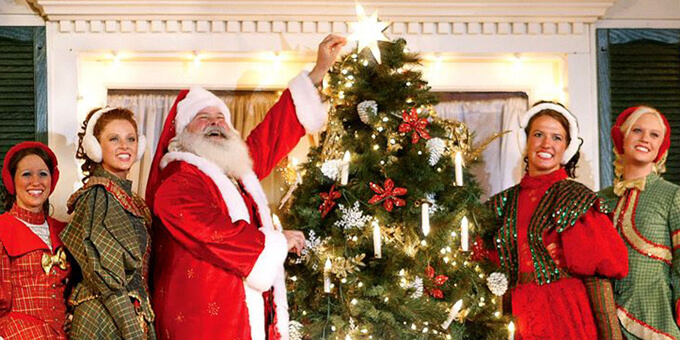 A perfect Tennessee show to go along with your meal: Dolly Parton's Stampede in Pigeon Forge gets you in the spirit of Christmas during this attraction which features a delicious four-course meal. Toys will come to life before your eyes, including a sugar plum fairy and toy soldier with his real horse! Dine to the music of The Nutcracker, twinkling lights, and all of your favorite Christmas characters, including Santa Claus, at The Dolly Parton Stampede arena. As one of the best dinner shows in Pigeon Forge, this is a must!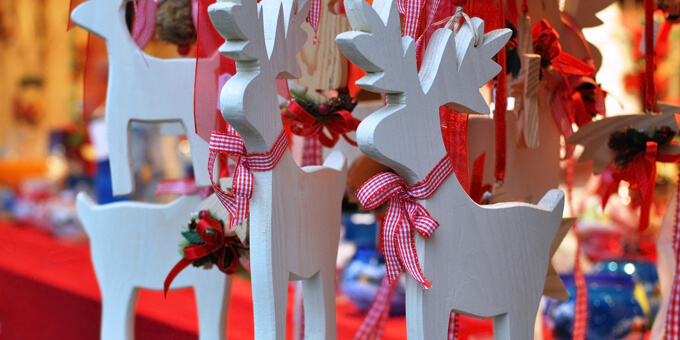 Great Smoky Christmas Arts & Crafts Show
[1]
An event managed by Gatlinburg's Arts and Crafts Community, the Great Smoky Christmas Arts and Crafts Show draws in all ages with decorations for your home and tree. Many of the vendors are local artisans who handcraft the goods they sell, and homemade treats such as breads and cookies are available for the hungry shopper. Check out this annual event at the Gatlinburg Convention Center to get in the crafty holiday spirit!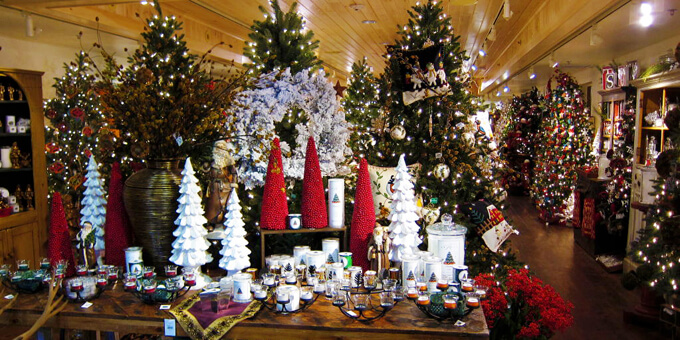 Christmas and Candle Shop[2]
Sevierville, TN
Located on the bank of the Little Pigeon River in The Apple Barn Village, Christmas and Candles is decked out in all things Christmas. As implied in the name, the 6,000 square feet of trees, lights and ornaments is coupled with the aroma of freshly-poured candles in more than 30 scents. After taking some whiffs of Holiday Cheer and Baked Apple Candles, make sure to wander through the themed shopping sections, such as the cowboy boot stockings in the Western section or the snow and winter themed corner complete with welcoming snowmen. After all the delicious smells at the Christmas and Candle Shop, you'll probably be ready for some delicious snacks. Visitors should be sure to indulge in some delicious smelling (and tasting) food at the Applewood Farmhouse Restaurant and Farmhouse Grill[3], a local favorite that only a few minutes away.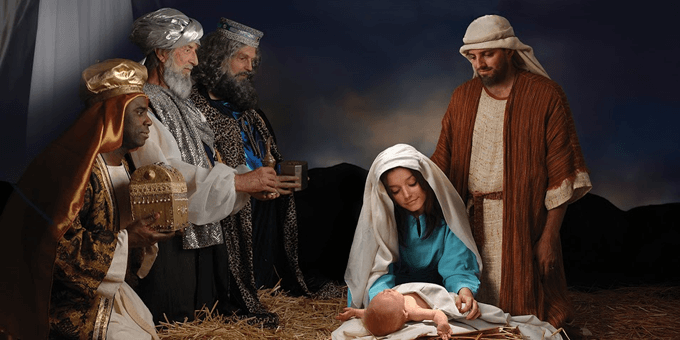 This performance of The Christmas Story is like you've never seen before, told through the eyes of the prophet Simeon. The first half of the performance delights with a 7-item meal and traditional and contemporary Christmas music, while the second half performs a twist on The Christmas Story with an award-winning cast. The show will last through the end of December. Amid all of the secular attraction, this show can be a great way for Christians to celebrate the true meaning of Christmas.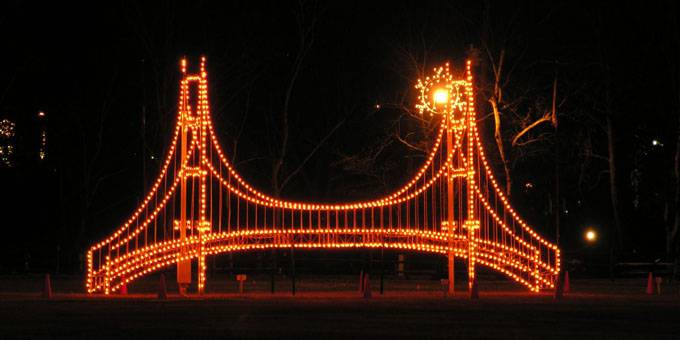 Gatlinburg Winter Magic Trolley Ride Of Lights
[4]
Take a seat in one of Gatlinburg's trolleys and enjoy a light show through the town! The Gatlinburg Winter Magic Trolley Ride of Lights takes its guests through downtown and adjacent Highway 321 on a heated, enclosed trolley to see the more than $1.6 million lighting display. Gatlinburg recently replaced its bulbs to more eco-friendly lighting, allowing the city to run the full 120 days of rides for the electricity it once took for only three days. If you need some extra sugar in the deal, children under three ride for free! For another fun ride through the Smokies, book tickets to ride the Gatlinburg Mountain Coaster which operates all year round!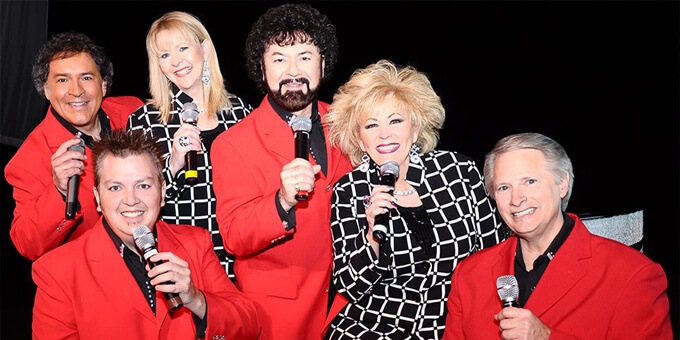 Blackwood Morning Variety Show Christmas Show
Held at The Smoky Mountains Opry, Pigeon Forge hosts the Blackwoods Tuesdays through Sundays. With plenty of holiday tunes to sing along to, the Blackwoods Morning Variety Show has been voted the Best Morning Show in the Smokies, and has gained some local stardom. Make sure you see the this holiday season before they move their show out of Tennessee next year! This great morning show still leaves visitors plenty of time to find something fun to do in the afternoon, including visiting places like The Island in Pigeon Forge[5], which has plenty of shopping and entertainment.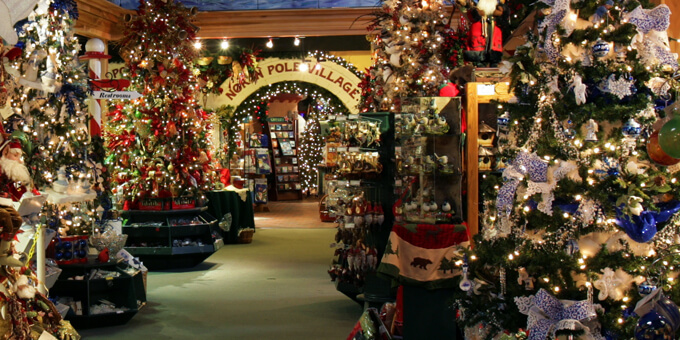 The Incredible Christmas Place[6]
The Incredible Christmas Place is filled with decor from Christmas lights to personalized ornaments and everything you need to create your own Christmas village. Kids can peruse the toy section while their parents gather festive items to decorate the home for the holidays. Before leaving this Christmas shopping village in the foothills of the Smoky Mountains, you can have a look at the 60+ designer-themed Christmas trees and stop by the tree lot pick one out to trim with the family.
Santas Claus-et[7]
Think rustic cabin in the woods meets Christmas at this holiday store. Santa's Claus-et provides all the pantry items to put together a holiday basket. Jams and jellies, fruit spreads and cheese ball mixes are just a few of the gourmet foods this store has to offer, with enough old-fashioned charm to help anyone stay in the holiday spirit. If you can't find everything you need there, The Village[8] has 27 unique old-time shops with plenty of gifts and it's only a few minutes away. Make sure you head back to Santa's Claus-et around nightfall to catch one or all of the four different outdoor light shows set to beloved Christmas songs at this Gatlinburg favorite.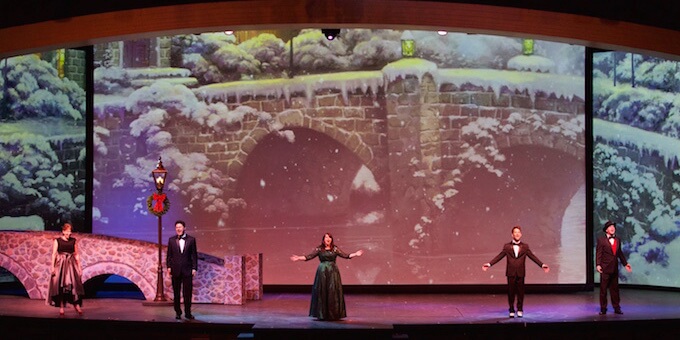 Thomas Kinkade's Christmas of Lights
This holiday show features live music for the whole family! Thomas Kinkade's Christmas of Light is showing at the recently renovated Smoky Mountain Palace in Pigeon Forge and features newly-written holiday music. The show aims to bring the masterpieces of The Painter of Light to the stage for a live audience to enjoy. Shows run Monday through Saturday, with matinee performance on Tuesdays and Saturdays.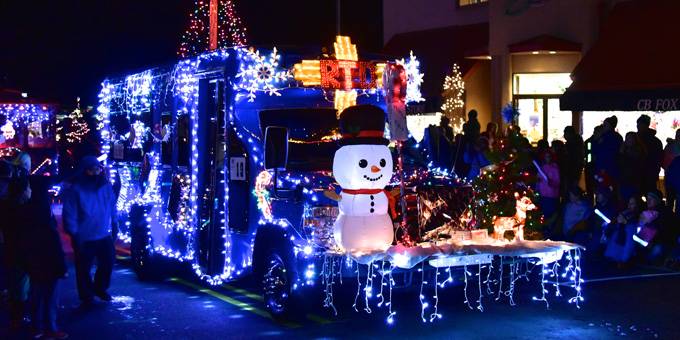 Gatlinburg Fantasy of Lights Christmas Parade
[9]
Gatlinburg's annual Fantasy of Lights Christmas Parade has been a Gatlinburg tradition for 40 years and has established itself as an award-winning event in the area. Decked-out floats and marching bands lead the processional ahead of the man all 60,000 viewers are there to see… Santa Claus. Every year a different Grand Marshal is chosen, and it's not uncommon that a celebrity name will be leading the way down Highway 321.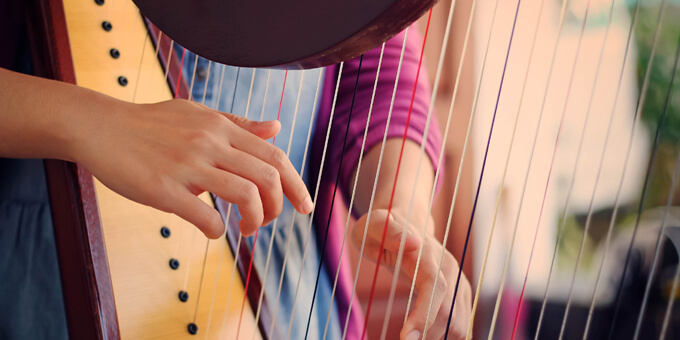 Festival of Christmas Past
[10]
For more than four decades, the annual Festival of Christmas Past event has returned for the Christmas season at the Sugarlands Visitor Center in the Great Smoky Mountains National Park in Tennessee. Bring the family to experience what past Christmases in the Smoky Mountains were like with crafts such as quilting, making apple butter, weaving baskets, and live harp music. Stories from years ago are told before Santa himself joins the party. Running from the middle of December through the Christmas season, this event is free for all!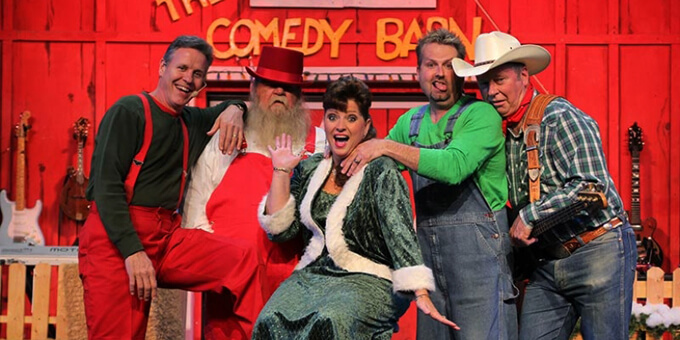 Comedy Barn Variety Show's Christmas Show
Winner of the Funniest Show, the Comedy Barn puts on a Christmas Show event each holiday season, complete with Christmas songs, costumes and skits to leave you in stitches. The theater is decked out with lights, trees and snow, and the show is known for their 'clean comedy', so all ages are welcome. The Christmas Show at the Comedy Barn Theater in Pigeon Forge runs through the holiday season and is the perfect mix of the holidays and the South. There are plenty of great holiday shows in Gatlinburg & Pigeon Forge, so be sure to book one!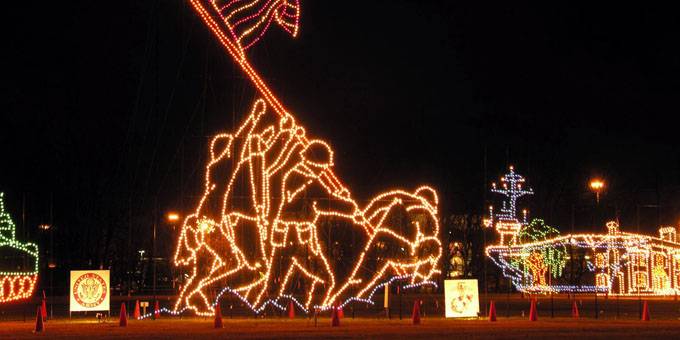 Winterfest Trolley Tour of Lights
[11]
Traffic often makes Christmas light tours stressful. On the Winterfest Trolley Tour of Lights, Pigeon Forge has designated the city's trolleys to make this family holiday event of over 5 million lights even more enjoyable. While cruising along for the hour-long show in your heated trolley, you'll learn historical information about the city's buildings and hear folklore passed down through generations.
Christmas in the Smokies Bluegrass Festival[12]
Christmas in the South isn't quite the same without a little bluegrass music. This Pigeon Forge festival is usually in mid December and past performers like Eddy Raven and Carolina Road have graced the stage. Twenty acts will play over the course of Christmas in the Smokies Bluegrass Festival, and this event welcomes all ages.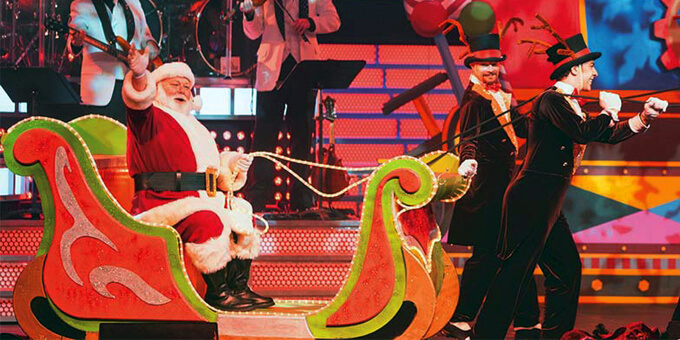 Smoky Mountain Opry Christmas Show
Acrobats, music and real, live figure skaters! See angels flying and world champion ice skaters soaring at the Smoky Mountain Opry this holiday season. The Opry boasts the largest living nativity in the area, alongside singers, dancers, comedians, live animals and a band playing to the tune of your favorite Christmas songs. The Smoky Mountain Opry Christmas Show has performances seven days a week at either 3 p.m. or 8 p.m. and is a Southern holiday tradition you won't want to miss.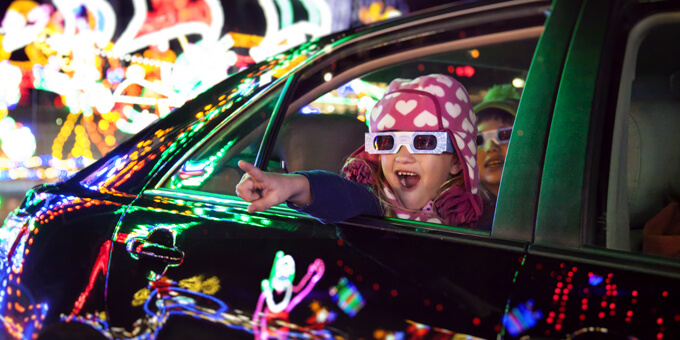 Shadrack's Christmas Wonderland
[13]
Shadrack's Christmas Wonderland is a celebration of lights held at The Smokies Stadium near Pigeon Forge. As one of the largest fully-computerized light shows in America, your family will watch a dazzling performance from the comfort of your car. This one-mile-long show lasts about 20 minutes and is accompanied with the melodies of the Shadrack team themselves. After the show, stop by Santa's Village[14] for holiday refreshments and photos with Santa. All of the proceeds benefit local area charities.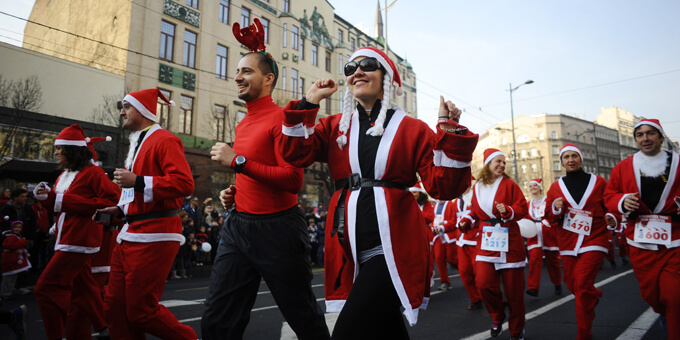 Santa Hustle Half Marathon and 5K
[15]
What better time of year to go for a run than the holiday season? Not only do you get to dress up as Santa along with thousands of other runners while you make your way through a holiday-themed course, but the Santa Hustle has partnered with charity Keep Sevier Beautiful to promote a greener environment in the town you love. And of course, upon completion, each Santa earns his or her hat, beard and Dri-Fit half-zip.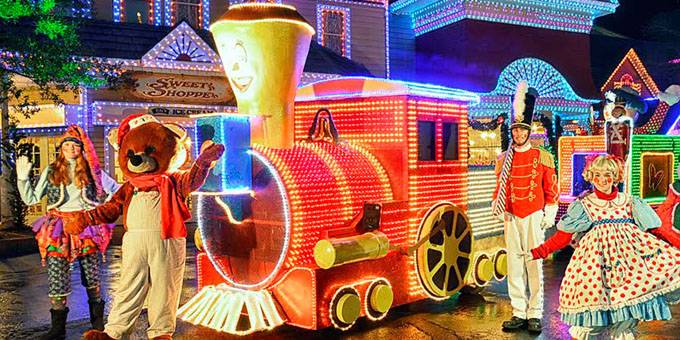 Named after Dolly Parton, this theme park located at the foothills of the Great Smoky Mountains has 150 acres of family fun including rollercoasters, award-winning food and a Christmas Festival lasting through the new year. Take the whole family to see live Christmas shows, meet Rudolph and friends, and check out the festival of lights at Timber Canyon once it's dark to experience why this festival has been named "America's Best Christmas Event" seven times.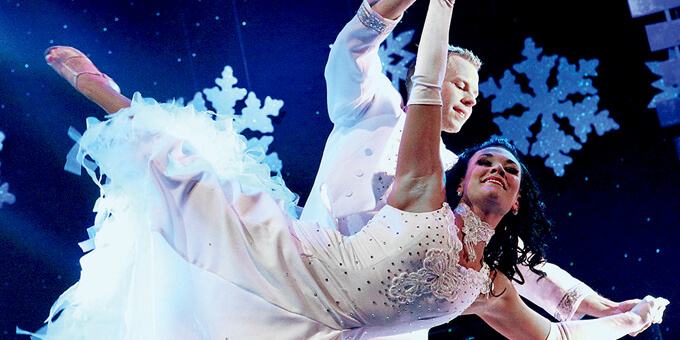 Starting in November and running through December, Country Tonite performs Christmas classics with a Tennessee-feel. The show features choreography, fun holiday costumes, and a decorated set to get viewers in the merry spirit. Complete with Santa Claus, Frosty the Snowman and a ballet-dancing Sugar Plum Fairy, Country Tonite brings holiday nostalgia to their performance with their unique renditions of songs and characters in this Christmas event for all ages.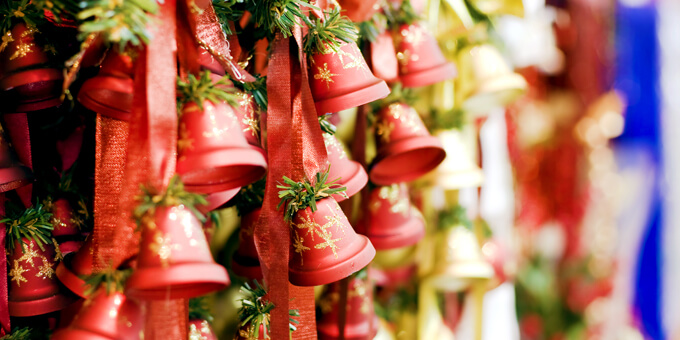 Christmas and Collectibles[16]
This family-owned business has more than 30,000 square feet of Christmas spirit and decorations with two locations nestled on the perimeter of Great Smoky Mountains National Park. Whether you have children or adults on your Christmas list, Christmas and Collectibles has toys, trains and collectible figurines to suit all ages. In addition to shopping for your loved ones, you can find lights, ornaments and trees to make your home feel in the spirit.
How many of these Christmas activities have you experienced? Do you have a favorite activity in Gatlinburg or Pigeon Forge? Tell us about it in the comments, and don't forget to Like and Share with your friends and family!