These light shows will make you love Christmas all over again
Although the holiday season can be a busy time as everyone is hunting for the perfect gifts, finishing up projects at work, or planning for the New Year, you will want to make time to go to some of Oklahoma's many events this winter and spend some time with family and friends.
Throughout the state, nearly every town, big or small, comes together to offer its citizens and visitors a display of holiday joy constructed in lights. So, whether you like illuminated castles and medieval style villages, a vintage Christmas light show, a Christmas parade on the river, or something in between, Oklahoma has a holiday light display that will strike your fancy.
Create new traditions and enjoy yule tide fun at these Oklahoma Christmas Lights displays. You and your family will have a great time seeing sparkling lights and enjoying festive cheer.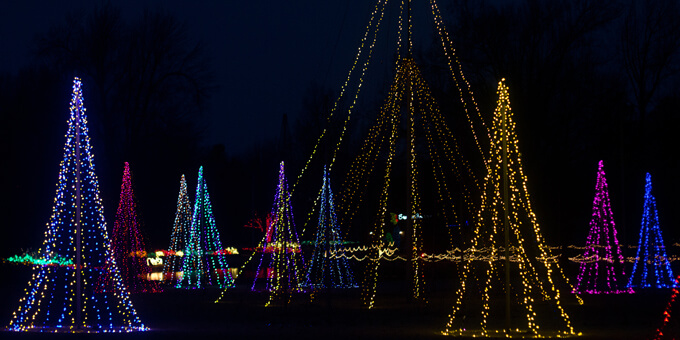 Garden of Lights[1]
Honor Heights Park
Muskogee, OK
A short jaunt south of Tulsa will bring you to this festive 120 acres of glimmering lights. The Garden of Lights offers a variety of ways to enjoy the displays, and running simply on donations, you can't find a more reasonable way to celebrate the season. Make the evening more fun by picking up some delicious hot cocoa or coffee from Jim & Em's Coffee to sip on while you view the lights from the warmth of your own vehicle. If you'd rather not sit the whole time, then park your car and let the kids enjoy a traditional hayride or slip on some skates and view the colors from the ice rink.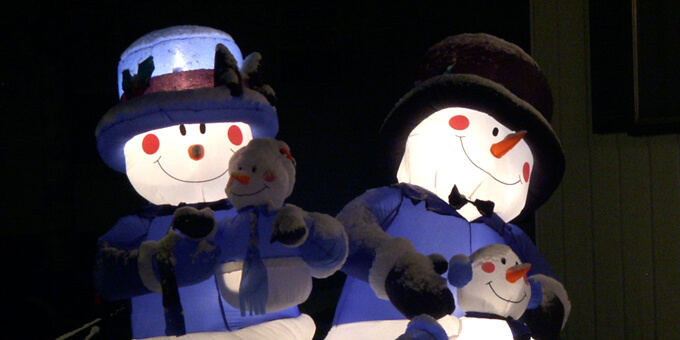 Castle Christmas[2]
The Castle of Muskogee
Muskogee, OK

With Castle Christmas, you can take a trip back in time and view one of the most unique locations for a light show. The castle offers an enchanting backdrop to the fun events. Hop on a hayride through the medieval style Christmas village, enjoy the many inflatables with the kids, or feel like one of the three kings and go for a camel ride.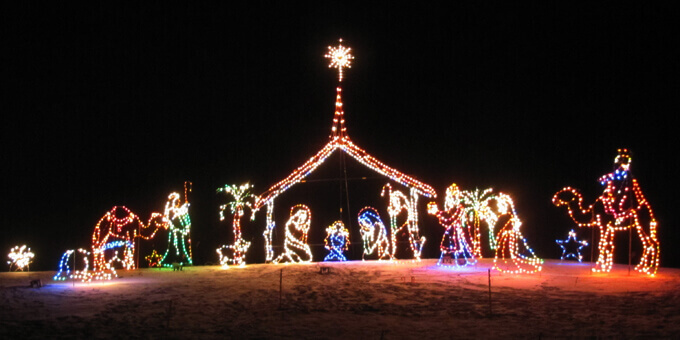 Crystal Christmas[3]
Crystal Beach Park
Woodward, OK
Crystal Christmas starts off with an amazing opening night that includes fireworks, singing, and concessions. The event has been around for more than 20 years and has become a welcomed holiday tradition by many. On Thursday and Friday evenings, Crystal Christmas hosts a family night, where you can snap photos with Santa, take train rides and view nativity scenes.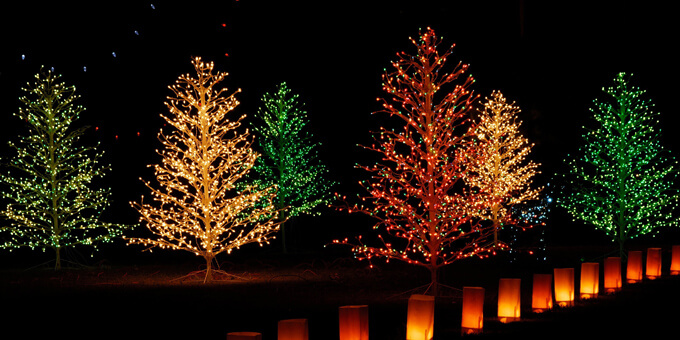 Holiday Lights on the Hill[4]
Chandler Park
Tulsa, OK
Located right off of the Arkansas River and only a few minutes away from the Tulsa Performing Arts Center[5], Chandler Park lights up each year with Holiday Lights on the Hill to celebrate oncoming Christmas season. You can drive through four miles of colors and fun displays of Christmas favorites including inflatable snowmen, lighted animals, beautiful Christmas trees and other popular lights. All funds from this event go to expand the event next year, and it has continually grown every year since its inception.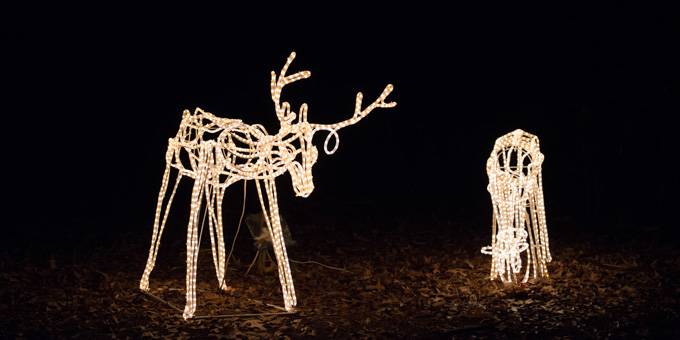 Holiday in the Park[6]
Elmer Thomas Park
Lawton, OK
You can't get much more festive than drinking hot cocoa while riding in a horse-drawn carriage, and Elmer Thomas Park is the place to do both. Holiday in the Park is an annual event that kicks off in November and includes all things festive. From a parade, lights, and vendors offering holiday treats, a visit to Elmer Thomas Park is a great way to ring in the Christmas season. The fun doesn't stop in November however, as the light show is displayed all the way through the New Year.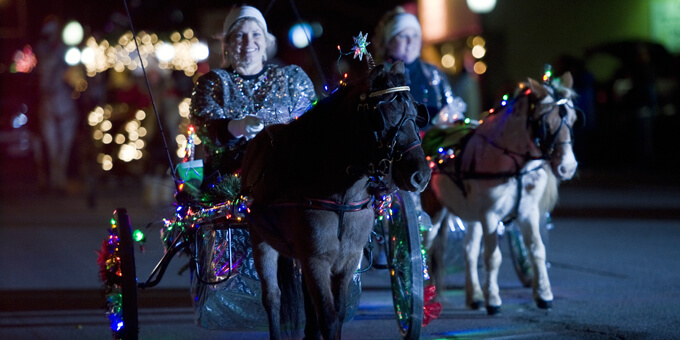 Pawhuska Christmas Parade of Lights[7]
Pawhuska, OK
Each year on December 6, Pawhuska lights up its streets and spreads some Christmas cheer in its Parade of Light. This annual event offers plenty of vendors with unique wares, beautiful lights, and even a photo op with Santa Claus. This one-night event will surely put you in the festive spirit.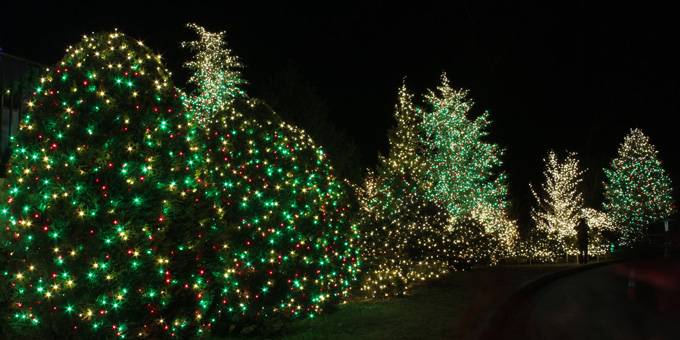 Midwest City Holiday Lights Spectacular[8]
Joe B. Barnes Regional Park,
Midwest City, OK
With a convenient location off the interstate and one of the largest light displays in the state, the Midwest City Holiday Lights Spectacular is something you don't want to miss. The truly notable thing about this display is the 118 foot Christmas tree holding 9,000 lightbulbs and an 8-foot star on top. Put on some Christmas music and enjoy a drive through the trail of 1 million glistening lights.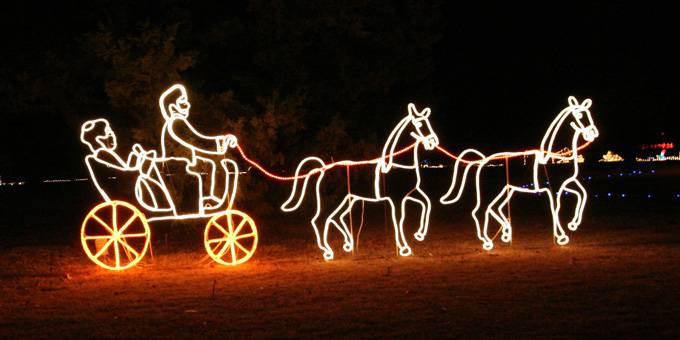 Ardmore Festival of Lights at Regional Park [9]
Regional Park,
Ardmore, OK
The Ardmore Festival of Lights is a 1.5 mile drive-through light show with more than 125 light displays. It attracts more than 80,000 people each year and offers an eclectic mix of seasonal figures. This is one of the largest light displays in southern Oklahoma and will no doubt impress any age of visitor.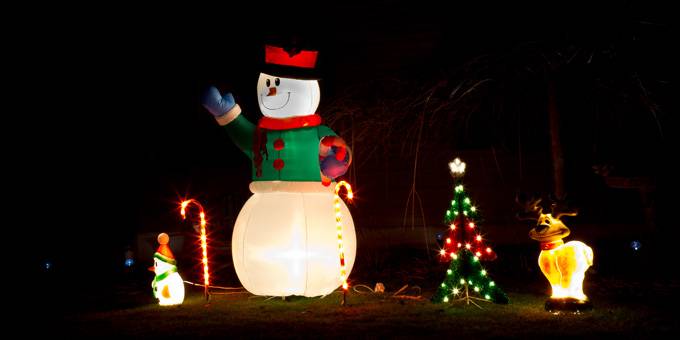 Snowman Wonderland[10]
Magnolia Park
Seminole, OK
The Snowman Wonderland is an example of small town charm and the community at work. For the past several years, the city has come together and created this quaint light show. You can take the tram or savor every glimmer of light by going on foot through the display, which can be a really fun way for kids to get close to the various illuminated characters.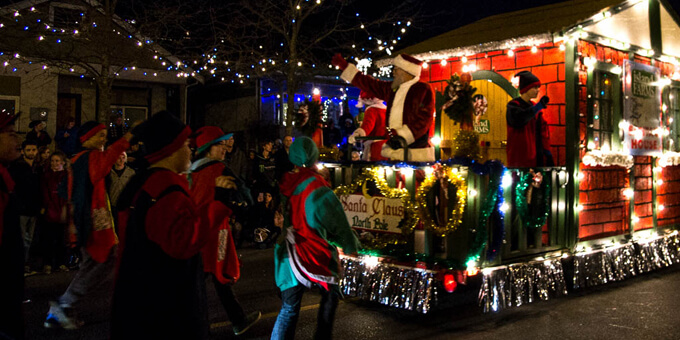 Clinton Festival of Lights[11]
Clinton, OK
The Clinton Festival of Lights is an annual event hosted in downtown Clinton which features a light parade, festively decorated windows in quaint shops, and a decoration contest. The festival includes the opportunity to get your photo taken with many holiday favorites, even the Grinch! Maybe most importantly, the festival coincides with the annual Chocolate Festival and includes other tasty seasonal favorites.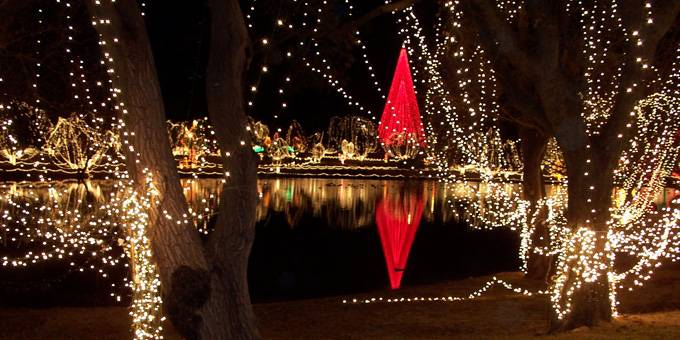 Chickasha Festival of Light[12]
Shannon Springs Park,
Chickasha, OK
Recognized as one of the top ten light shows in the nation, Chickasha Festival of Light features more than 3.5 million lights. You can drive your own car through the magnificent display or enjoy it from a horse-drawn carriage. Either way, you will be impressed with the computer-animated light show, festive displays, and a 172-foot Christmas tree located right in the center of the festival.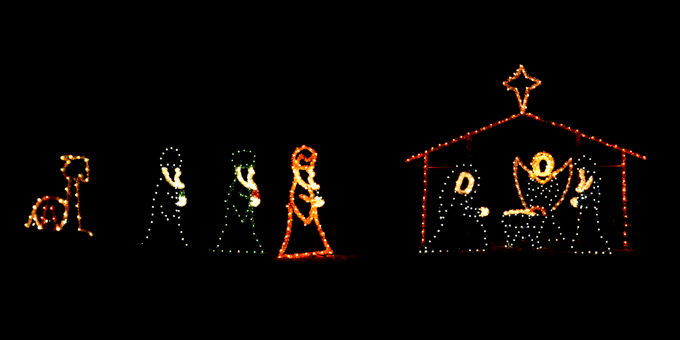 Lights on the Island[13]
Lake Wister State Park
Poteau, OK
What began 10 years ago as just a small light show of donated lights has now grown into an attraction including 300 displays that cover the entire island at Lake Wister State Park. Lights on the Island is a special treat with some unique lighted decorations, including dinosaurs and a 30-foot tall Statue of Liberty. This display always has many volunteers that greet the visitors with a smile and candy canes.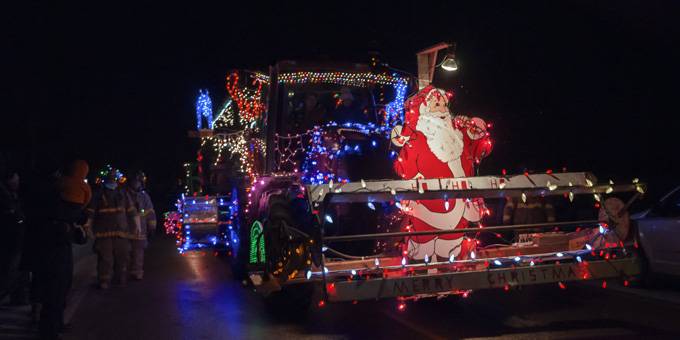 Pauls Valley Christmas Parade of Lights[14]
Pauls Valley, OK
Pauls Valley Christmas Parade is full of holiday fun. You can enjoy many beautiful floats, marching bands, carolers, classic cars, and vintage trucks. This merry parade also features a float contest with three different categories, "Spectacular Sparkles", "Milk and Cookies", and "O Holy Lights", and the "Knock your Socks Off" grand prize.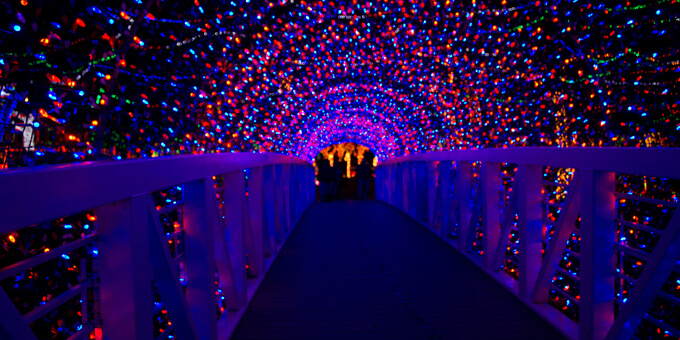 Rhema Christmas Lights
Rhema Bible Church
1025 W Kenosha St
Broken Arrow, OK
The Rhema Christmas Lights are kindly put on by the Rhema Bible Church, which has been decorating the church campus since 1982, although the amount of lights has grown from 60,000 to 2 million. The lights can be enjoyed by driving around the campus, walking, or taking a carriage ride. The displays consist of a Christmas tree forest, lit nativity scene, and a festively decorated bridge that paints a beautiful image on the water beneath. While there isn't an ice skating rink at the church, visitors can check out the Oilers Ice Center[15] for some indoor skating fun before the light show starts.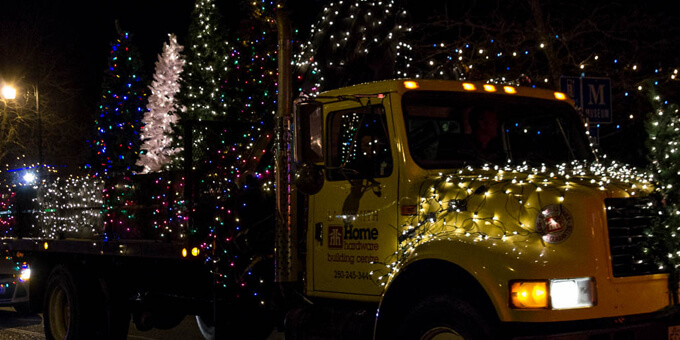 Festival of Lights Christmas Parade[16]
Sand Springs, OK
The Festival of Lights Christmas Parade is an old tradition featuring around 100 family-themed entries. This festival is one of the largest and oldest celebrations in Oklahoma and consists of lighted holiday displays, floats, and marching bands. This is a nice way to celebrate the season and always includes a visit from Santa.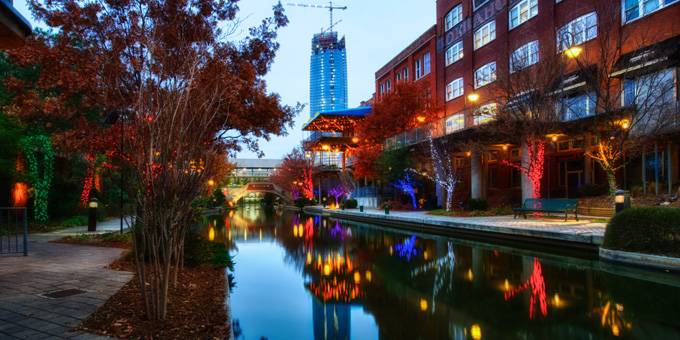 Downtown in December[17]
Oklahoma City, OK
It's no surprise there are a lot of fun events to enjoy including holiday lights in downtown Oklahoma City. There are many activities for the entire family including concerts, snow tubing, dog races, and light shows. Get into the holiday spirit by enjoying a walk around downtown, grab a bite to eat, and visit the Deluxe Winter Market or the Holiday Pop-Up shops.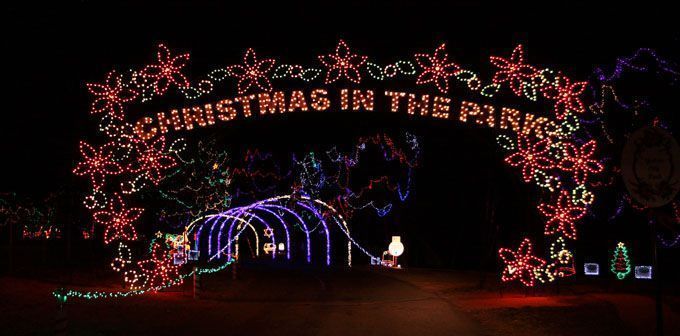 Christmas in the Park[18]
Chisholm Trail Park
Yukon, OK
Chisholm Trail Park lights up each year with over 4 million lights and 400 displays stretching over 100 acres. You may walk, drive, or pay to take a train through the park. Although there are several events at the park throughout December, one of the things that makes this festival special is the Mayor's Christmas Party for children that is held each year. The party includes a city-wide essay contest for kids, face painting, live music, and pictures with Santa and a Polar Bear.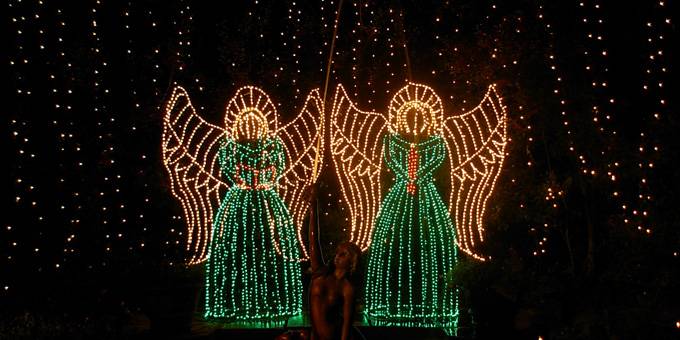 Festival of Angels[19]
Ponca City, OK
The Festival of Angels is a month-long event that offers not only a light show, but also a bit of the history of Ponca City, Oklahoma. The lights wind through the city and angels and holiday displays decorate every historical place. These historical locations include the Marland Mansion, Cann Memorial Gardens, and Lake Ponca Park. There are many other locations spots in the city where you can take a tour and enjoy the beautiful festive lights.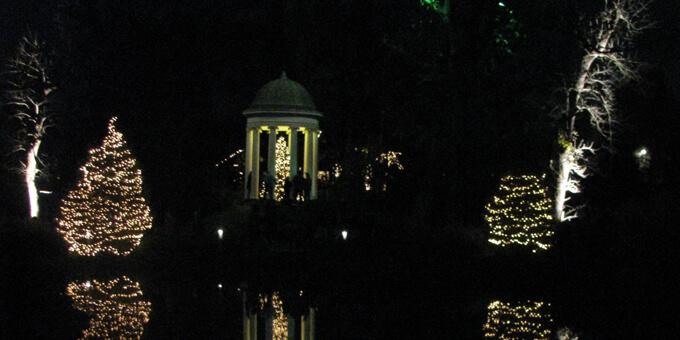 Festival of Trees[20]
Philbrook Museum of Art
Tulsa, OK
If you like art and you like Christmas, then you do not want to miss the annual Festival of Trees put on by the Philbrook Museum of Art in Tulsa, Oklahoma. This Festival is a fundraiser for the museum and features uniquely designed Christmas trees as well as jewelry, paintings, and decorative items. Some years it also includes specially-designed gingerbread houses. This festival is a great way to get into the Christmas spirit while supporting a good cause.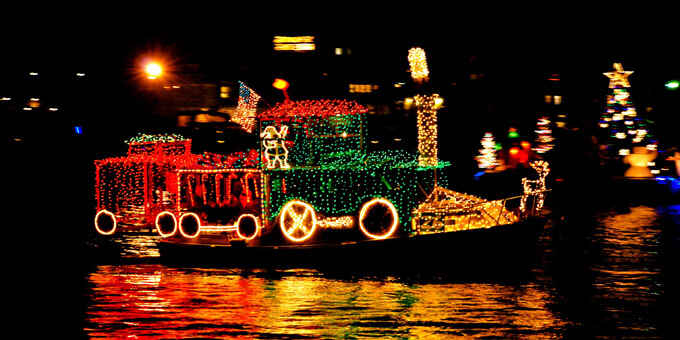 Oklahoma City Holiday River Parade[21]
Oklahoma River,
Oklahoma City
The Oklahoma City Holiday River Parade is a special annual event near downtown Oklahoma City. The parade features beautifully decorated boats of all types, a ski show, and fireworks. The illuminated seasonal hues look particularly alluring reflecting off of the water. This is definitely a unique and spectacular take on the traditional Holiday Parade.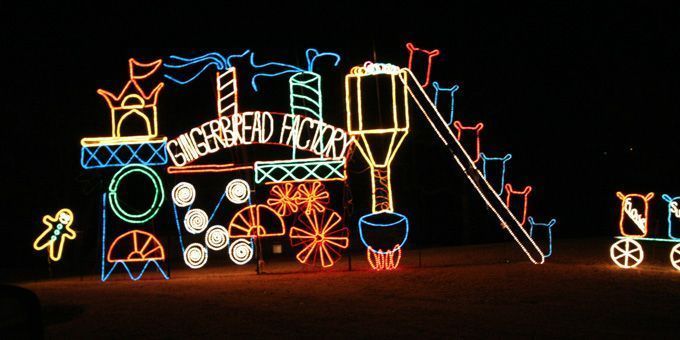 Fantasy Land of Lights[22]
Johnstone Park,
Bartlesville, OK
The Fantasy Land of Lights is a colorful arrangement perfect for the whole family. The event features great holiday music, a synchronized light tunnel, animated displays, and thousands of lights. This simple, yet beautiful light display grows a little every year and is free to the public, although donates are appreciated.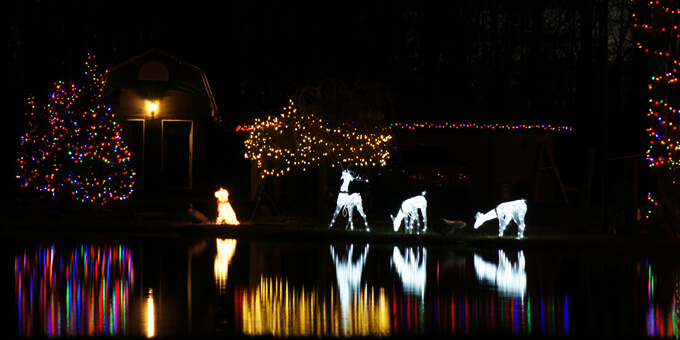 Winter Wonderland Christmas Light Tour[23]
Pine Lodge Resort
Ketchum, OK
Christmas seems nearly timeless and at the Winter Wonderland Christmas Light Tour you can visit a previous time in all its Christmas glory. This old-fashioned light tour contains old log cabins, antique cars, and lighted forest animals decorated with more than 400,000 lights. Drive through the Pine Lodge Resort and enjoy a vintage Christmas light display. Admission to this fun event is free and visitors can drive around as long as they like.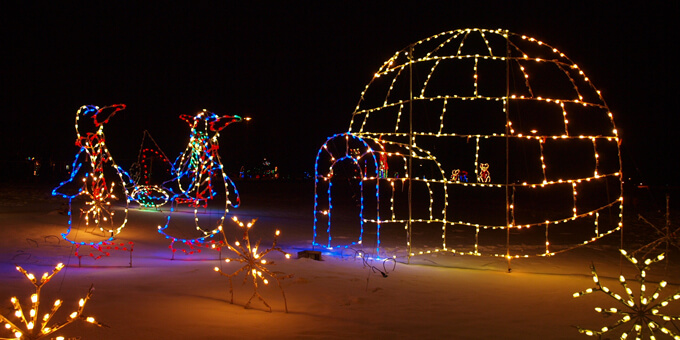 Woolaroc Wonderland of Lights[24]
Woolaroc Museum & Wildlife Preserve[25]
Bartlesville, OK

Woolaroc, a large wildlife reserve and cowboy-themed museum, hosts a great Christmas program throughout December called the Woolaroc Wonderland of Lights. The 3,700-acre grounds and museum are worth seeing at any point, but during Christmas you don't want to miss it. The buildings and grounds are covered with 750,000 lights and there is plenty of entertainment. You can tour the ranch on a wagon, meet Santa, drink hot chocolate or apple cider, and enjoy live Christmas music.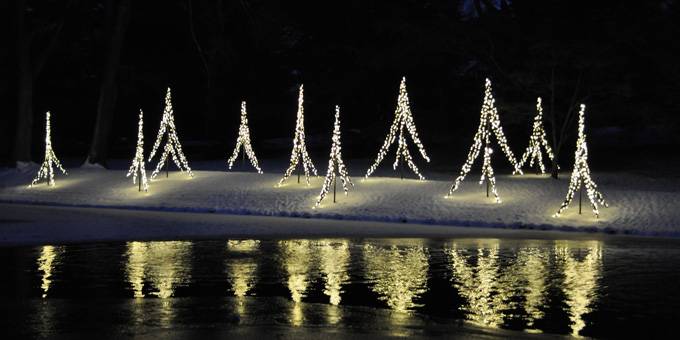 River Lights[26]
Arkansas River,
Tulsa, OK
The River Lights are located along the Arkansas River in Tulsa and fill the park with holiday colors. Make sure to bundle up and explore the trails of the River Park[27] while enjoying the crisp December air and allowing the bright lights to guide your way. This light display opens at the beginning of December at the 41st Street Plaza with a celebration including many local performers and free refreshments.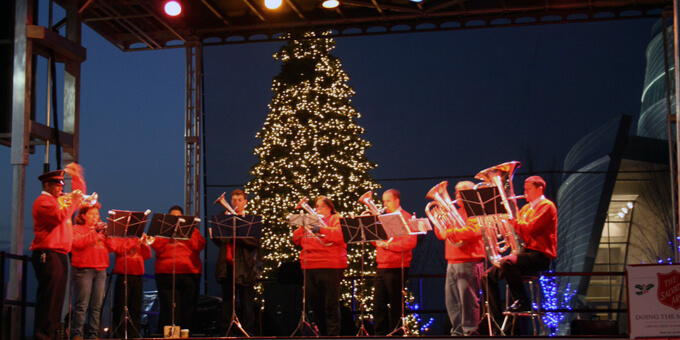 Winterfest[28]
Tulsa, OK
Between November 27 and January 17, Winterfest lights up the area outside of the BOK Center with all of your favorite Christmas classics. You can find horse and carriage rides, ice skating, live music, concession stands, tree lightings, and firework displays. The downtown area is lit up and simply emanates Christmas during Winterfest. There are even several promotions which take place that benefit local food banks, animal shelters, and the distribution of warm clothing to those in need. The festival is also only a few minutes away from some of the best cinnamon rolls, hot chocolate, and diner eats at Tally's Good Food Cafe[29]. What's not to love?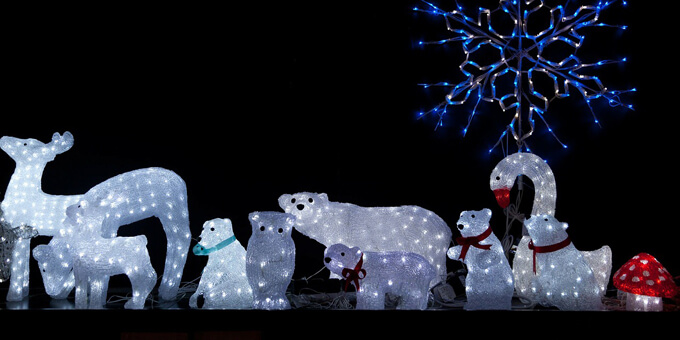 Park of Lights[30]
Twin Bridges State Park
Fairland, OK
Park of Lights at Twin Bridges Park offers more than 40 lit holiday displays, with each year featuring its own theme. More than 20,000 people drive to visit this light display and the numbers are increasingly growing, as is the size and grandeur of the display. On select nights, Santa will make an appearance and the park will offer free hot dogs and drinks.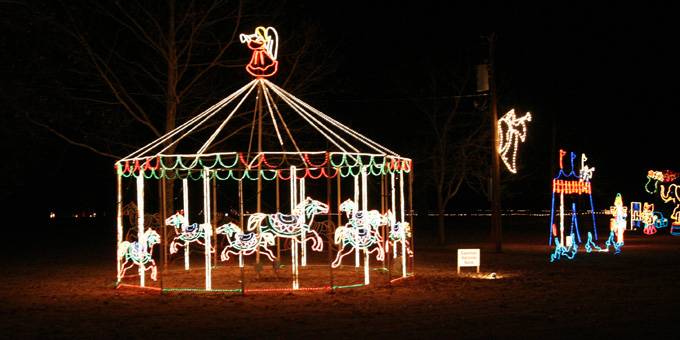 Christmas in the Park[31]
Ackley Park,
Elk City, OK
Christmas in Ackley Park provides a variety of ways to enjoy the many displays and millions of lights, making it a unique experience. On Fridays and Saturdays, kids can go to Santa's Gift Shop, ride the Candy Cane Train and the Centennial Carousel. If you're not up for a train ride, you could also view the shining lights in London fashion via a double-decker bus, or enjoy a classic horse-drawn carriage ride while sipping on hot chocolate. Naturally, Santa will make appearances as well.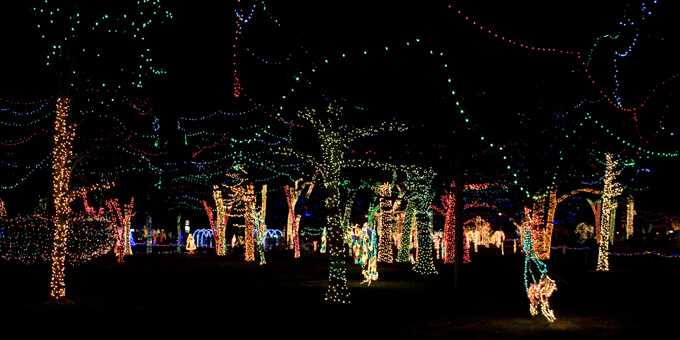 Chesapeake Energy Holiday Lights Display
Oklahoma City, OK
The Chesapeake Energy Holiday Lights Display is a magnificent scene with more than 4.3 million LED lights illuminating 8 acres of landscape. The seasonal colors always bring the trees back to life during winter. This annual display usually begins with a celebration including games, music, and vendors. However, in 2015, Chesapeake Energy decided to forgo the lights display[32] and donate the money to charity instead. It is unclear if the tradition will be reinstated in future years or not.
Have you been to any of these awesome light displays? What's your favorite light display to see on Christmas? Let us know in the comments, and don't forget to Like and Share with your friends!