See big names like Miranda Lambert, Dierks Bentley, Luke Bryan, and Loretta Lynn live in concert.
When you think of summertime, what comes to mind? For me, it's sunny, daytime drives in the car with the sunroof open and the windows rolled down with country music blaring. To be completely honest, I'm not even a country music fan, but for some reason the warm summer months just beg for the sound of guitar strings and fiddles. And let's face it; summertime just isn't the same without those twangy tunes.
Luckily, every summer, country music fans are faced with a barrage of fantastic music festivals to attend. We've compiled a list of them by state, so you can easily find one near your hometown. With festivals scheduled for June all the way through September, we bet you're covered for a summertime filled with great tunes.
There are so many ways to experience great country music across the United States. From Nashville to Memphis, all the way to the California coast, experience the best of the best with headliners like Dierks Bentley, Loretta Lynn, and Miranda Lambert.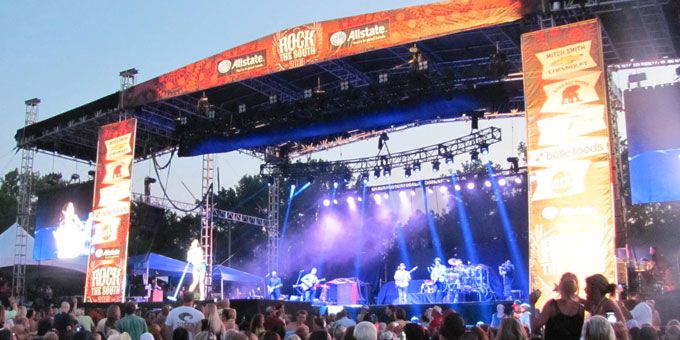 Alabama
Rock the South[1] in Cullman, Ala. is a celebration of the city's resurgence and triumph over the 2011 tornado that ravaged the area. What started as a concert with Dierks Bentley, Kellie Pickler, and 15,000 fans grew to 38,000 fans in 2014. Past year lineups have included Brantley Gilbert, Tyler Farr, Corey Smith, Sara Evans, and many more.
Arkansas
The Ozarks' Thunder on the Mountain at Mulberry Mountain resort in Arkansas is one of the premiere country music festivals in the Ozark Mountains. The event has featured popular artists like Carrie Underwood, Big & Rich, The Band Perry, Zac Brown Band, Sara Evans, and more. 2015 was the second year for Thunder on the Mountain, an Ozarkian celebration that boasts popular music, great food, and exciting outdoor activities like fishing, camping, and hiking.
Delaware
The Big Barrel Country Music Festival is more than just a lineup of great country music; it's an all-encompassing country living experience. The Woodlands of Dover International Speedway in Dover, Del. will play host to this incredible festival where classics like Loretta Lynn, Merle Haggard, and The Oak Ridge Boys will play alongside Eric Paslay, Blake Shelton, and Miranda Lambert among others. The Big Barrel festival also includes line dancing in the Harvest Moon Dance Hall, a family area for little ones to play, a petting zoo, the Big Barrel Market full of western goods, and a savory barbecue pit. Camping and lockers are also available.
The Delaware Junction in Harrington, Del. has featured live performances from Jason Aldean, Toby Keith, Florida Georgia Line, Cole Swindell, Thomas Rhett, Frankie Ballard, The Swon Brothers, and many more in the past. The music festival is usually scheduled in August and three-day camping and music tickets may be purchased as well as three-day music tickets without camping.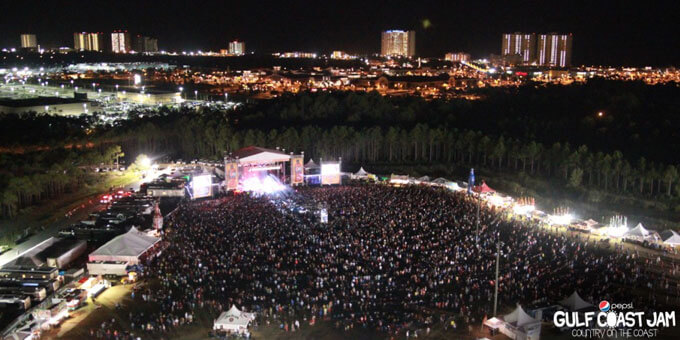 Florida
Pepsi Gulf Coast Jam[2] in Panama City Beach, Fla. is the ultimate location for a summer music festival. Beachfront concerts from Lady Antebellum, Miranda Lambert, Keith Urban, Hunter Hayes, and Sam Hunt are just the start of it. Dozens of big names will make an appearance at this one. Lodging packages at nearby resorts, rental homes, and hotels are also available, so you can make the most of your trip to Panama City Beach and enjoy the sunshine.
Illinois
Windy City LakeShake is Chicago's only three-day country music festival on the lakefront. This festival has featured popular artists like Maddie & Tae, Easton Corbin, Cassadee Pope, Brad Paisley, and more in the past. The celebration usually lasts from 2-11 p.m. each day so there's plenty of opportunity for morning excursions in the Windy City.
Country Life Illinois in Chillicothe invites country music fans to enjoy this three-day festival and celebrate a more southern way of living. Early bird campers will be treated to a free concert for an exciting weekend kickoff party. The Country Life lineup has included big names like Sawyer Brown, Toby Keith, Cassadee Pope, Lynyrd Skynyrd, Ruthie Collins, and more.
Iowa
Country on the River[3] in Council Bluffs, Iowa is one of the top country music festivals in southwestern Iowa. This three-day event takes place on the edge of the Missouri River with riverside camping available and features live shows from Tyler Farr, Chris Janson, Craig Morgan, The Band Perry, Sawyer Brown, and many others. This festival moved to a new location at Tom Hanafan River's Edge Park in 2015 and boasts aspirations of becoming one of the biggest annual outdoor music festivals in the Midwest.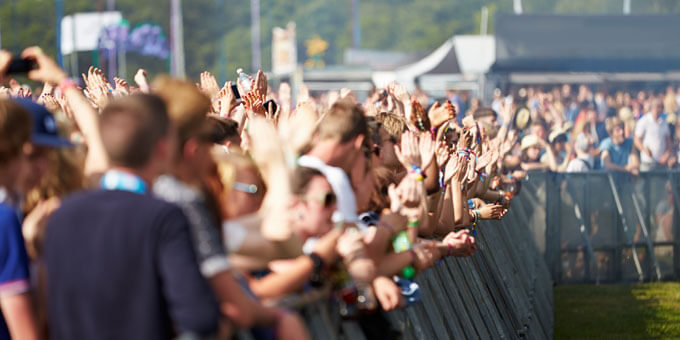 Kansas
The annual Kicker Country Stampede[4] in Manhattan, Kan. features four days of live entertainment and food at Tuttle Creek State Park. The festival becomes home to thousands of campers who pitch their tents in one of the 24,000 campsites available at the state park. This event's lineup has boasted names like Blake Shelton, Florida Georgia Line, Thomas Rhett, Dallas Smith, Angaleena Presley, and Old Dominion. In addition to all the fantastic live music, attendees can enjoy shopping and food vendors, a saloon, and interactive exhibits.
Michigan
Faster Horses[5] in Brooklyn, Mich. is southern Michigan's premiere country music festival, featuring an unbelievable lineup of Dwight Yoakam, Carrie Underwood, Craig Wayne Boyd, Mickey Guyton, Lee Brice, Dustin Lynch, and more in past years. Camping and music are, of course, the main event but the VIP package also includes an open bar, a limited edition cowboy hat and event poster, a three-day event pass, and more.
Minnesota
Moondance Jammin Country[6] in Walker, Minn. is one country music festival that guarantees fantastic country music with a side of friendly competition. Alongside featured artists, festivalgoers are invited to participate in themed camping competitions, beer pong and tastings, and softball at Moondance Fields. Past performances have included Florida Georgia Line, Chris Young, Thomas Rhett, Clare Dunn, Old Dominion, and more. Parents are encouraged not to bring young children to this event, as it's geared toward adults.
The WE Fest[7] in Detroit Lakes, Minn. has been going for more than 15 years, and has hosted a premiere lineup of some top country artists such as Rascal Flatts, Blake Shelton, Miranda Lambert, Hank Williams Jr., Jake Owen, Tyler Farr, and many more. Different campgrounds nearby are designated based on your lifestyle, so if you like to stay up late and party all night, WE Fest has the perfect spot for you. If you're at the festival with family and need some decent sleep, WE Fest has the perfect campground for you too! This festival also features a Karaoke Roundup, where the first-, second-, and third-place winners of area karaoke contests all get to perform at WE Fest.
Nevada
Night in the Country[8] in Yerington, Nev. is an incredible way to close out the month of July, with Full Moon Saloon After Parties each night following the live music shows. Night in the Country will host popular artists like Gunnar & The Grizzly Boys, The Band Perry, Jake Owen, Redneck Rodeo, Parmalee, Joe Nichols, and many more. Food and merchandise booths will be available as well.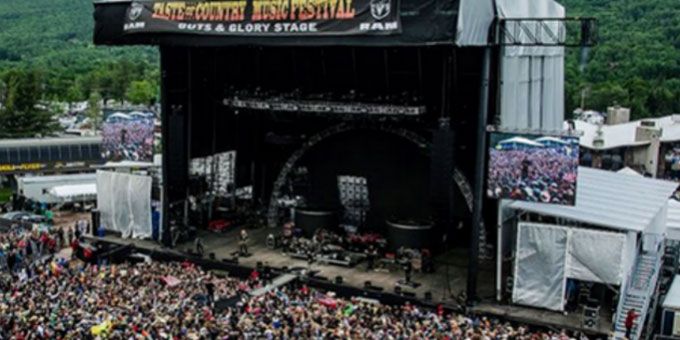 New York
The Taste of Country Music Festival[9] at Hunter Mountain, N.Y. presents country music fans with three full days of exciting, live music from artists like Tim McGraw, Nikki Briar, Toby Keith, Sara Evans, and more. Other activities throughout the weekend include a SkyRide up the side of Hunter Mountain, a beautiful fireworks display, and even therapeutic massages in the Village.
The brand new FarmBorough[10] festival on Randall's Island, N.Y. is a first for New York City, and it should be an exciting one too! The lineups in past years have included Dierks Bentley, Brad Paisley, Luke Bryan, Dwight Yoakam, RaeLynn, and Dallas Smith. Great country music in the center of New York City makes for a one-of-a-kind summer festival with additional options for sightseeing and other activities in the Big Apple.
Ohio
The Country Concert [11] at Hickory Hill Lakes in Fort Loramie, Ohio is still going strong with more than 30 years of festival fun under its belt. The three-day festival is one of the Midwest's biggest, with past artists like Carrie Underwood, Jake Owen, Neal McCoy, The Band Perry, Chris Young, and so many more. A huge variety of nearby campsites and show seating options are available. Country music fans of all ages are welcome to attend.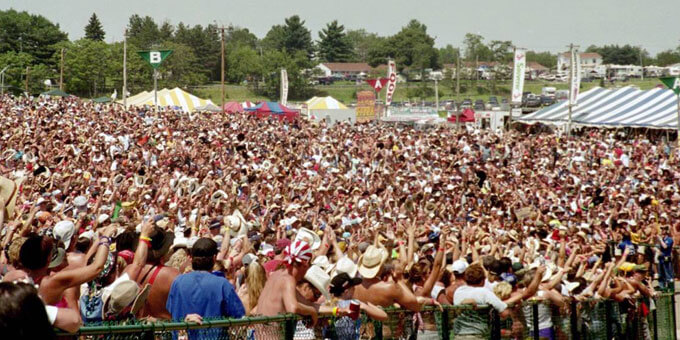 Jamboree in the Hills[12] in Morristown, Ohio, brings in thousands of fans from around the country every year for more than 36 years, and will continue to do so in the future. With past performances from artists like Toby Keith, Dierks Bentley, Neal McCoy, Florida Georgia Line, Sara Evans, Lee Brice, and more, this jamboree will have the hills of eastern Ohio hoppin' with fantastic music, food, and fun.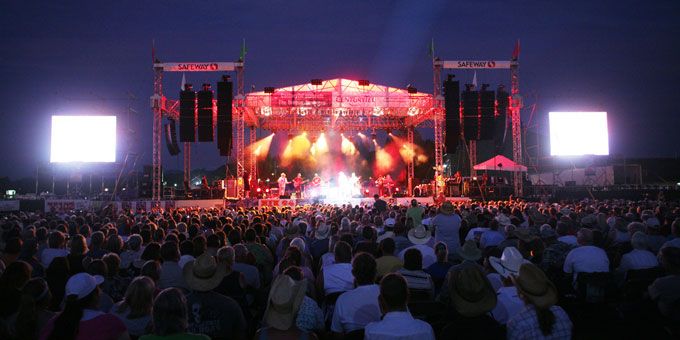 Oregon
The Oregon Jamboree[13] in Sweet Home, Ore. manages to cram 22 live country music shows into one weekend for a summer music festival filled with unparalleled entertainment. Well-known country artists like Keith Urban, Dierks Bentley, Big & Rich, Thomas Rhett, Sam Hunt, and more have graced the stage in the past and wooed audiences with live performances. Who knows, you might get the chance to meet one of them at one of the meet and greets. This music festival even gives you the chance to perform on the Spirit Mountain Casino Stage.
The Willamette Country Music Festival in Brownsville, Ore. has showcased main stage artists like Jackson Michelson, Amy Clawson, Scotty McCreery, Rascal Flatts, Pam Tillis, Dustin Lynch, Luke Bryan, and more. The city of Brownsville has a lot to offer when you're not dancing and singing along to your favorite country artist at the venue. The Brownsville Farmers Market, Art Center Gallery, and the Atavista Farm full of local vendors are just a few great options to fill any leisure time.
South Carolina
The Carolina Country Music Fest[14] in Myrtle Beach, S.C. always features a stellar lineup with names like Rascal Flatts, Lady Antebellum, Eric Church, Hunter Hayes, Kellie Pickler, and more taking the stage in past years. There is usually a special guest headliner performing live at the kickoff party on the boardwalk to get this three-day, beachfront festival going. The Myrtle Beach location couldn't be better with watersports, historic landmarks, long sandy beaches, and a host of shopping venues all closeby.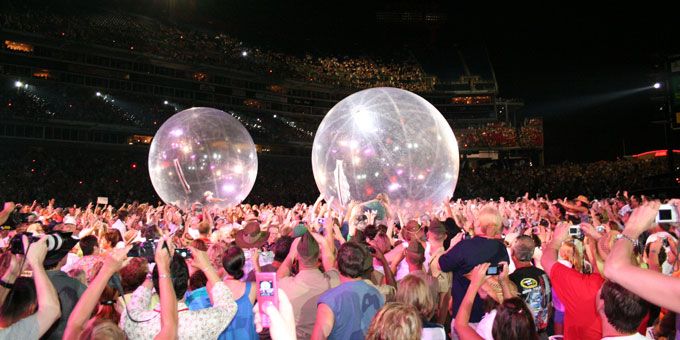 Tennessee
The CMA Music Festival[15] in Nashville, Tenn. has hosted some of the biggest names in country as well as a few of the genre's newcomers like Jamie Lynn Spears. Festivalgoers in the past have been surprised by guest appearances from headliners like Brad Paisley, Darius Rucker, Dierks Bentley, and Eric Paslay in addition to The Cleverlys, Waterloo Revival, and more. Free entertainment in downtown Nashville will also be available for those who'd like to come and go as they please.
Washington
The Watershed Music and Camping Festival[16] is hosted at The Gorge Amphitheatre in George, Wash., winner of the Top Amphitheatre prize at the 2013 Billboard Touring Awards. This three-day outdoor music festival is the perfect opportunity to catch some of the biggest names in country music like Carrie Underwood, Chris Young, Clare Dunn, Dierks Bentley, Easton Corbin, and so many others. Get the full festival experience and rent a campsite just next door to the venue area.
Wisconsin
Country USA Oshkosh in Oshkosh, Wis. is already boasting sold-out camping and a stellar lineup that you just can't pass up. Past performers have included Miranda Lambert, the Eli Young Band, Tim McGraw, Lee Brice, Eric Church, and more. Each year it gets better and better, and to top it off, VIP Country Club Members will have the chance to meet and even hang out with the artists. Even if you're not a Country Club Member, the vendor marketplace, beer tents, and karaoke tents ensure a great time.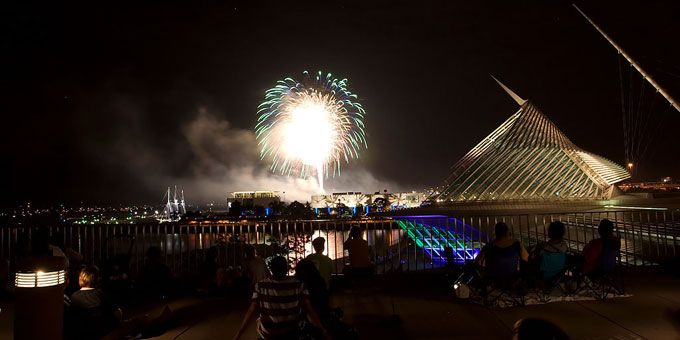 SummerFest[17] is one of the largest music festivals in the country and appeals to music lovers of all genres, including country music. The 11-day country music celebration in Milwaukee will feature more than 1,000 performances. Past headliners have included The Rolling Stones, Florida Georgia Line, Kings of Leon, Keith Urban, Stevie Wonder, Neil Young and Promise of the Real, Zac Brown Band, Ed Sheeran, Linkin Park, and Kendrick Lamar.
Country Fest[18] in Cadott, Wis. is one of the largest summer festival destinations for country music lovers. This festival has hosted country legends like Johnny Cash, George Strait, and Willie Nelson and continues to introduce fans to up-and-coming legends like Carrie Underwood, Miranda Lambert, Tim McGraw, Keith Urban, and many more. An enormous campground with more than 7,000 campsites is available and even glamping options are provided for festivalgoers who'd rather not sleep on the ground for three days. Delicious food vendors and interactive exhibits will also be on the grounds.
Country Jam Wisconsin[19] has been going for more than 25 years. In the past, the country music festival in Eau Claire has played host to popular artists like Blake Shelton, Eric Church, Sam Hunt, Gary Allan, Kip Moore, and Hunter Hayes among others. The VIP tickets offer the best seats, free eats, and free beer for the ultimate festival experience. Even regular tickets make for a one-of-a-kind summer festival bash, with more than a dozen talented artists in one place.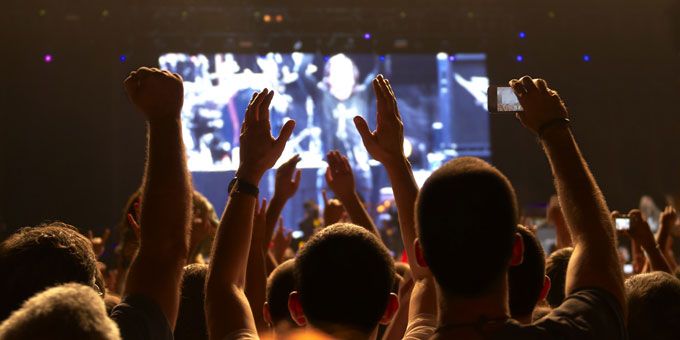 The Country Thunder Wisconsin[20] festival in Twin Lakes, Wis. promises a good time up north with some of your favorite country artists like Luke Bryan, Maddie & Tae, Clay Walker, Dierks Bentley, Jerrod Niemann, and many more. A variety of different sized campsites are available too, so you can enjoy the shows without even leaving the property.
With so many incredible options for summertime entertainment, which will you attend? What's your favorite summer country music festival? Let us know if we missed any great ones in the comments below!