Be sure to check our glamping Pinterest board with 59 glamping pictures.
I've been camping in tents, RVs and log cabins ever since I can remember, but one of the most ridiculous camping experiences I've ever had was when I was about 14 years old. What started as an impromptu, overnight camping trip with my mom and three siblings, ended with five hungry, grumpy people, sleeping crammed inside a minivan all night.
If you love nature but prefer the use of toilet paper and dread the thought of sleeping in a tent, then glamping just may be or you! This somewhat indulgent way of camping out foregoes 'roughin' it' for some luxurious self-pampering instead.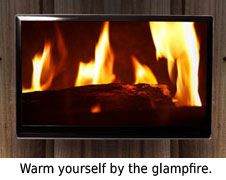 Needless to say, forgetting to pack dinner, eating utensils, pillows and blankets, and the necessary tools to pitch a tent makes for a pretty crappy camping experience. And I can't help but think, if we had only known about glamping back then, life would have been so much easier.
So what is glamping, you ask?
glamping
noun
1. a form of camping in which participants enjoy physical
comforts associated with more luxurious types of holiday
In a nutshell, it's glamorous camping. And there's a whole slew of people who do it. This global trend has quickly gained enthusiasm because of its incredible benefits. Forget about pitching a tent, building a fire, and crawling into that sleeping bag at the end of the night — you're getting a straight-up mattress and bed frame.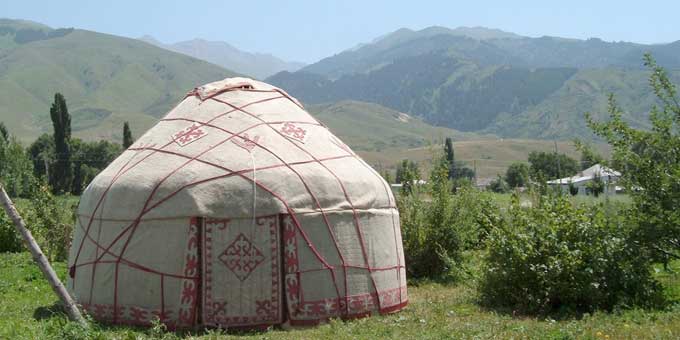 The History of Glamping
Glamping isn't just a new trend — it's actually been around for ages. It all started around 200 A.D. with the Turkish Ottomans and their luxurious tent cities. Of course, back then, they didn't call it "glamping," but it was the same basic principle. Each extravagant tent was well-decorated and furnished with exquisite silks and rugs that were well-suited for a sultan.
The early 1900s gave rise to another swell in the popularity of glamping as affluent Europeans and Americans began traveling to Africa for safari experiences. In order to accommodate those high-class travelers, safari camps provided them lavish canvas tents, complete with king size beds, beautifully aged furniture and even a wait staff!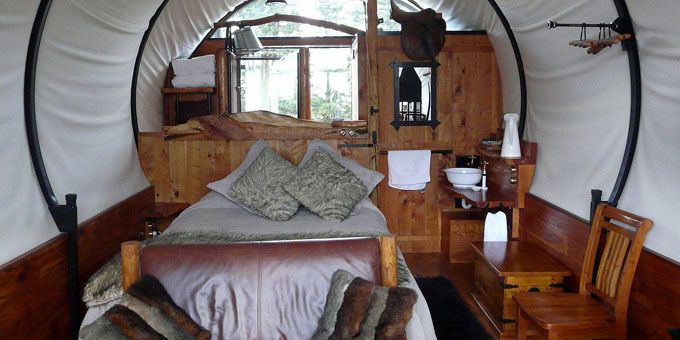 Glamping Today
Glamping has once again earned a following, providing nature lovers with a way to merge their love of the outdoors with the comforting, luxuries of everyday life. Many glampsites today offer amenities like electricity, running water, heat and air conditioning, Wi-Fi, twin or king size beds, wood floors, and most even provide food for you. But the best part? It's all set up and ready for you when you arrive.
The term "glamping" has even grown to include a variety of glamorous outdoor living options like mobile pods, tree houses, and RVs.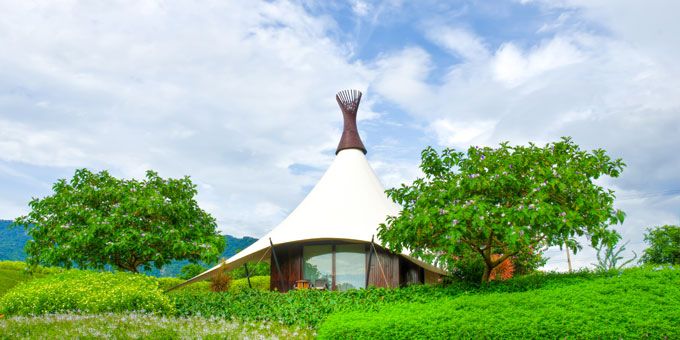 More than 70 different glampsites in the United States and Canada[1] offer this distinct experience, including The Resort at Paws Up[2] in Montana, Dunton Hot Springs & Cresto Ranch[3] in Colorado, and Ithaca By Firelight[4] in New York, to name a few.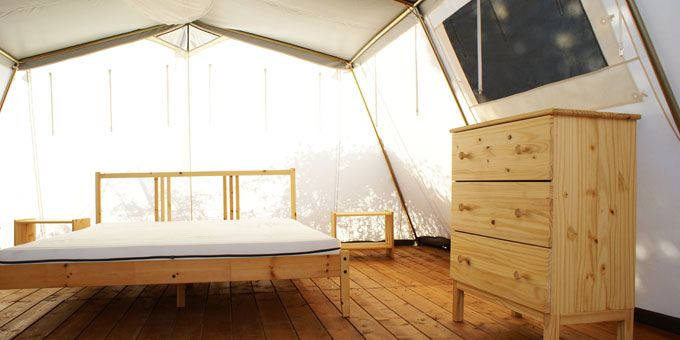 But be forewarned: glamping isn't always cheap. You can expect to pay anywhere from $100 to thousands of dollars per night. It just depends on how extravagant you want to get. If you're serious about trying it out, make sure to do your research in order to find the most budget-friendly options. We think www.glamping.com[5] is a good place to start.
So what do you think? Would you try glamping? Or do you prefer the rugged experience of traditional camping? Leave us a comment!
Want to see more pictures of glamorous tent homes? Check out our Pinterest board with 59 glamping pictures[6].