YOUR PEACE OF MIND IS OUR TOP PRIORITY
Should you need to cancel at any time, you have up to 48 hours from your vacation start date to do so for a 100% future travel credit.
Light up your Independence Day with these spectacular shows.
There's just something special about fireworks that bring back pleasant memories of warm, summer nights sitting under the stars, while watching explosions of color fill the skies above. And year after year, communities all over the country continue to celebrate the Fourth of July with spectacular fireworks shows.
Although the very first Fourth of July fireworks were debuted more than 200 years ago in Philadelphia, the celebration never grows old. So whether you're starting your own family's Fourth of July traditions or just looking for a new place to see some great fireworks this Independence Day, check out our list of top places on the East Coast to catch magnificent fireworks displays.
Since America was first founded on the East Coast, it is no surprise that it is home to some of the greatest fireworks celebrations in the country! Celebrate America's independence with these fireworks displays that light up the sky and put a bang in your Fourth of July festivities.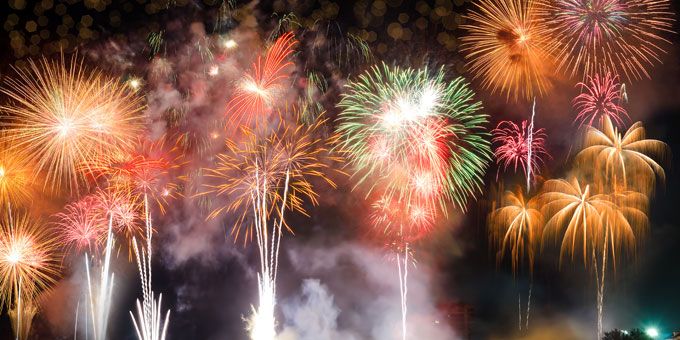 1. Bristol, Rhode Island
Bristol is credited with having the oldest Fourth of July celebration in the country[1], with an astounding 230-year legacy of patriotic festivities. The town's very first Independence Day celebration was a series of patriotic exercises held in the early 1800s, more than two centuries ago. Today, the town's Fourth of July celebration is the event of the summer for both visitors and residents. The celebration features a concert series at Independence Park, a performance from the Drum Corps, the Fourth of July Ball, a carnival and parade, and of course, a beautiful fireworks show over the Bristol Harbor. Watch the fireworks from Independence Park or find a spot on the harbor to curl up under the spectacular lights.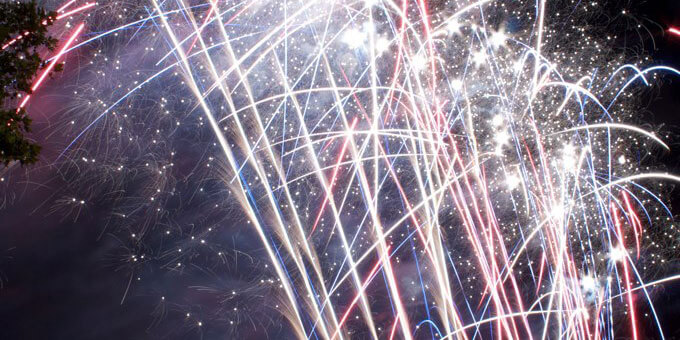 2. Narberth, Pennsylvania
For the biggest fireworks display along The Main Line[2], head to Narberth, Pennsylvania. This former route of the Pennsylvania Railroad is home to some of the wealthiest communities in the U.S., and they don't mess around when it comes to Fourth of July celebrations. During the day, families can enjoy a carnival with food and drinks and fun activities like a baby parade, the basketball foul shooting contest, wheelbarrow and three-legged races, as well as an old fashioned pie eating contest. As the sun starts to set, everyone gathers for live music and an extravagant fireworks display to close out the day.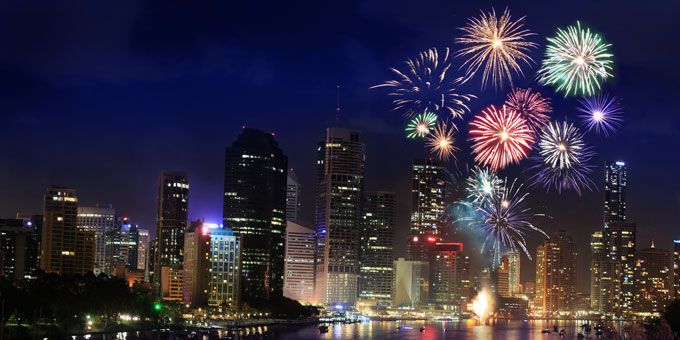 3. New York City, New York
Obviously we can't go without mentioning Macy's annual show in New York City[3]. It's the nation's largest fireworks display with more than 40,000 fireworks and a 38-year record of extraordinary entertainment. Macy's annual show has been going for 40 years and has featured performances from popular artists like Dierks Bentley, Kelly Clarkson, Flo Rida, Brad Paisley and Meghan Trainor. You can view the fireworks from anywhere with open views of the sky above the East River. This fireworks show has become an American tradition, and even those who can't make the trip out to New York City can tune into NBC at 8 p.m. July 4.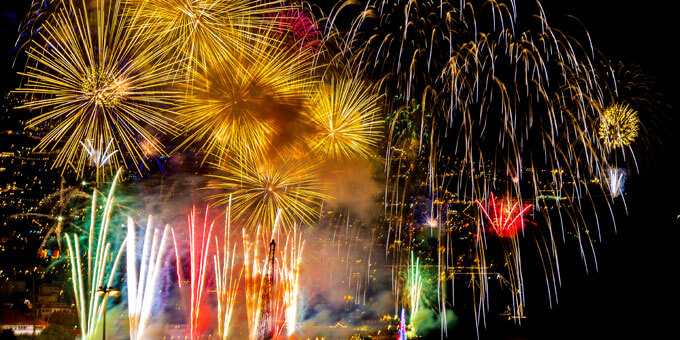 4. Gorham, New Hampshire
Gorham's Fourth of July Spectacular[4] is one of New Hampshire's longest running Independence Day celebrations, with four days of exciting events and a tremendous evening fireworks show on the fourth. Community events include something for just about everyone: a chili, chowder and dessert cook off competition, horse drawn wagon rides, live music performances, a carnival for the kids and a classic car show and parade. The fireworks show will begin after dark on July fourth in the skies over the carnival, showcasing blasts of bright colors and designs. But that's not the end of the fun. Stick around for another day to see a classic car parade and get your fill of the carnival rides all while enjoying the breathtaking scenery of the surrounding Northern White Mountains.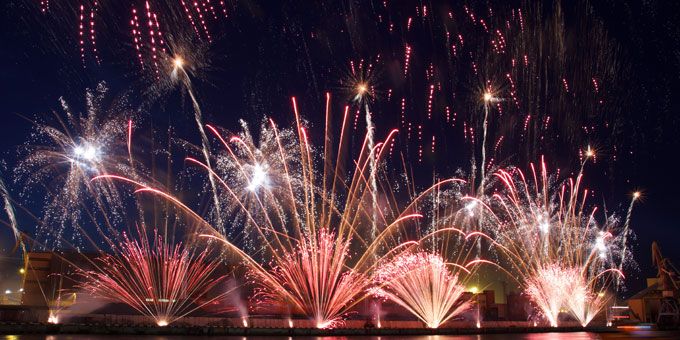 5. Saratoga Springs, New York
The 8th annual All-American Celebration[5] in downtown Saratoga Springs is a one-of-a-kind event culminating in an astounding fireworks show set to patriotic music at dusk on July fourth. The weekend celebration is packed full of family-friendly events like a patriotic parade, BBQ and dessert fest, classic car show, everyone's favorite patriotic pooches and more. You'll find actors dressed in period clothing at Congress Park, along with a family photo op with Ben Franklin and General Burgoyne, and a Historic City Tour that tells the story of the people and places of Saratoga Springs' past. Just before the fireworks are shot off and light up the sky, Congress Park will also host a live reading of the Declaration of Independence.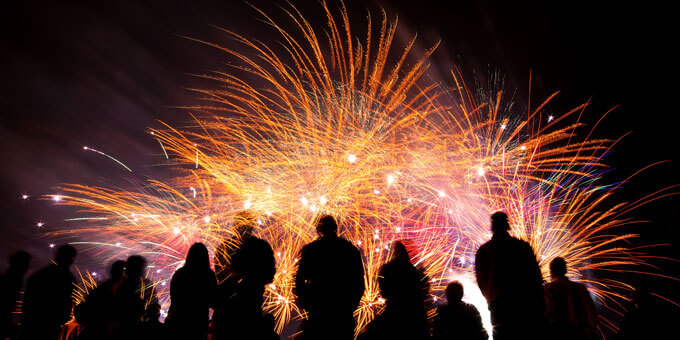 6. Corolla, North Carolina
The annual Festival of Fireworks[6] in Historic Corolla Park is a much anticipated event for families and visitors of all ages. An afternoon of exciting community activities precede a stunning display of fireworks on the northern Outer Banks at dusk. During the daytime hours, enjoy live music, food and drink, a cornhole tournament, watermelon eating contest and games, all free of charge.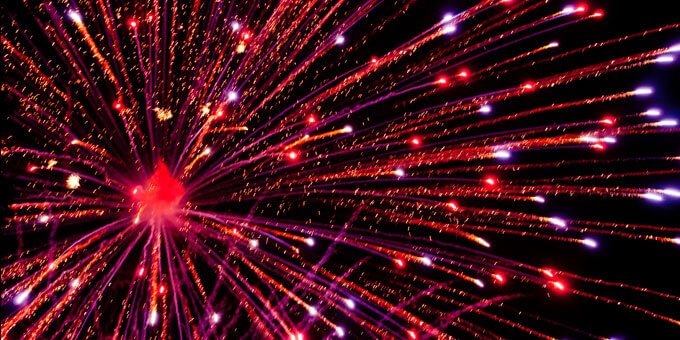 7. Bar Harbor, Maine
The best kind of Fourth of July is one that starts with blueberry pancakes. And we can say with certainty that Bar Harbor's festivities do. The town's annual patriotic event[7] has been deemed one of the country's top Fourth of July celebrations by National Geographic and the Today Show and visitors travel from all over the country just to be a part of it. After everyone has loaded up on pancakes, the day starts with a craft fair and Independence Day parade through downtown Bar Harbor. Afterward, the area's largest seafood festival invites everyone to chow down on fresh mussels and lobster followed up by the annual Lobster Races begin. Guests enjoy free music in Agamont Park and on the Bar Harbor Village Green before settling down to watch the magnificent, waterfront fireworks display over Frenchman Bay at dusk.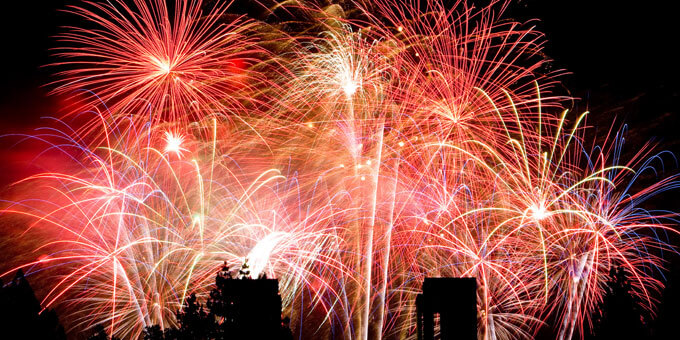 8. Baltimore City, Maryland
The Fourth of July fireworks at Inner Harbor in Baltimore[8] are a great way to spend the evening! Head to the heart of the city, pick a place to camp out under the stars and wait for the incredible fireworks show, which is choreographed to music. During the day, the city has its share of fun activities too! The American Visionary Art Museum's annual dog show and games at the city's waterfront West Shore park are always a hoot. Join the multitude of people who come out to have an eventful day and see the dazzling light show.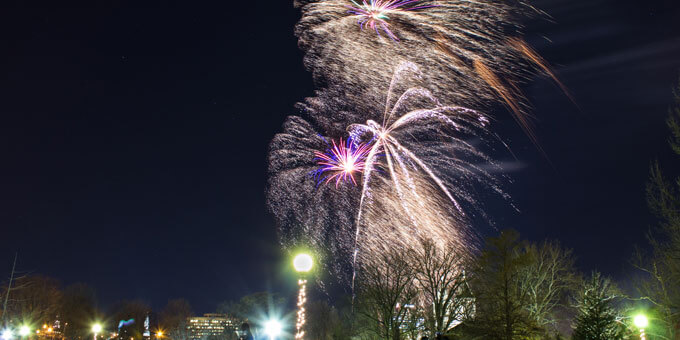 9. Hartford, Connecticut
Hartford, Connecticut has one of the largest one-day fireworks shows and patriotic events in the state: the Hartford Riverfest[9]. This family-friendly celebration features a show by Atlas Pyrovision, the Montreal International Fireworks Competition Gold medal winner, as well as free live music, food, pony rides and a petting zoo, East Hartford Police Dog demonstrations, face painting and much more. The fireworks begin at dusk and will be set to Americana-themed music. So grab a spot along the Connecticut River and enjoy as they explode in bursts of bright colors above the water.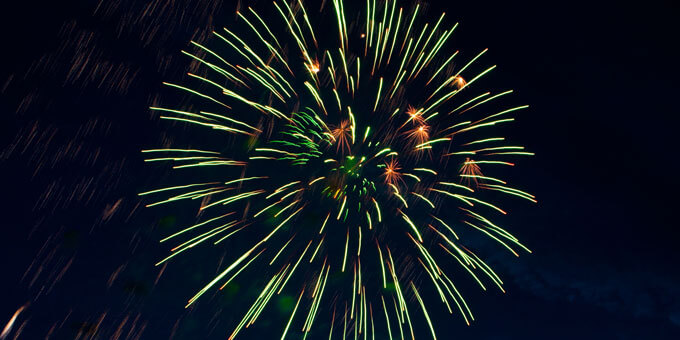 10. Wilmington, Delaware
Celebrate this Independence Day on the Wilmington Riverfront, a well-developed area that's home to delicious restaurants, great shopping and community recreation. The city's Fourth of July Celebration[10] will fill the Riverfront's Tubman-Garrett Park with a 50-foot obstacle course, local vendors, rides and games, face painting and more. Enjoy live music while munching on mouthwatering foods from the crab feast, or watch historical reenactments in the park. Magicians will also be on hand to provide even more entertainment that the whole family can enjoy. At dusk, you can expect to see the main event: dazzling fireworks over the river! This colorful show on Wilmington's Riverfront is the perfect way to end a full day of fun.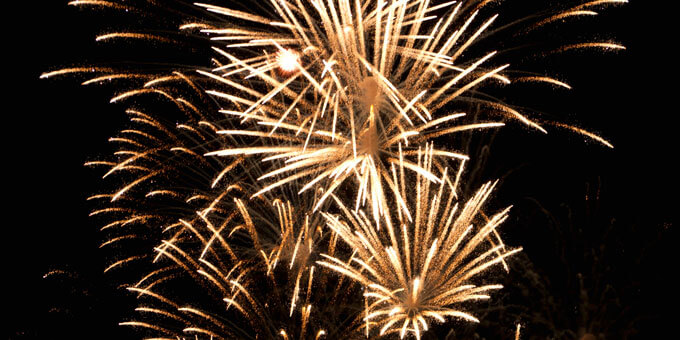 11. Falmouth, Massachusetts
This year's Annual Falmouth Fireworks[11] will be a stunning celebration, as always. And if you've never been before, Fourth of July fireworks in Cape Cod are one thing you really don't want to miss. Falmouth Heights Beach will host this year's celebration, with a remarkable fireworks show from Atlas Pyrotechnics. Hundreds of boats surround the barge each year as hundreds more park their blankets and chairs on the beach to watch the lights ablaze overhead. Just tune your radio to 102.9 FM to hear the synchronized music and enjoy!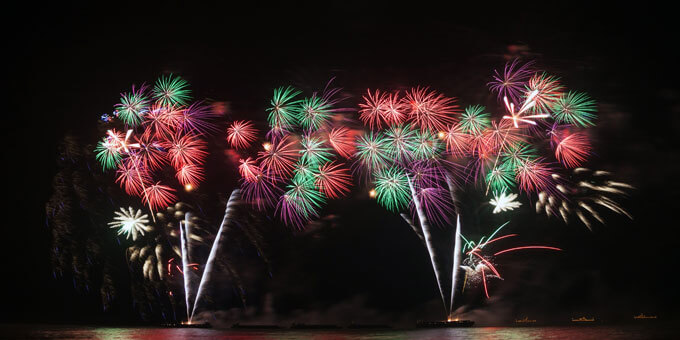 12. Alexandria, Virginia
The Fourth of July celebration in Alexandria, Virginia[12] is no joke, and the fact that the city is celebrating the birthday of the USA as well as its own birthday makes the celebration all the better. A fireworks show and more family events will kick off the ten day Alexandria Live Music Week, a summer music festival offering live bluegrass, country, jazz music and more, alongside tasty dishes from dozens of area restaurants. But back to the Fourth of July celebration — Alexandria brags one of the most incredible fireworks shows, set to Tchaikovsky's patriotic 1812 Overture. The event also features local food vendors, live music from the Alexandria Symphony Orchestra, family activities and of course, lots of birthday cake. The night will conclude with the extravagant fireworks show from a barge on the Potomac River. Charleston, WV also offers up some awesome fireworks displays, so if you are in the area be sure to check those out!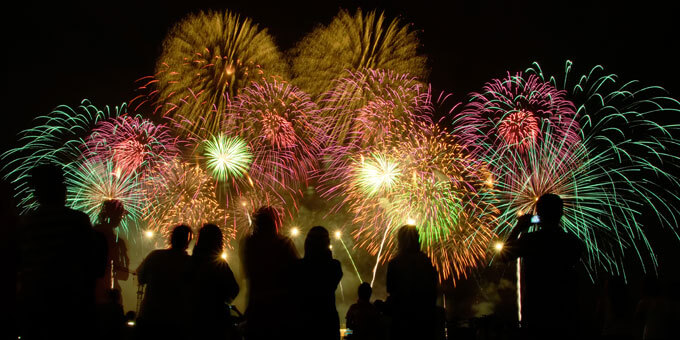 13. Ocean City, New Jersey
The Ocean City Fourth of July celebration[13] gets kicked off with a bike parade at 9 a.m., followed by a kite flying competition later. The Independence Day fireworks are preceded by live music as visitors and residents find a spot to plop down and enjoy a picnic and the entertainment while waiting for the highlight of the evening. Finally, at 10 p.m., Ocean City's fantastic show of fireworks off the boardwalk begins, sending a colorful display of patriotism shooting into the darkened sky above the Atlantic Ocean.
How are you spending your Fourth of July? Do you have a favorite fireworks display that you and your family enjoy watching every year? Share and comment below!