Take your little paleontologist back to the prehistoric era with these awesome attractions
From the towering T. Rex to the majestic brachiosaurus, dinosaurs and prehistoric creatures have captured the imaginations of children for decades. While there are plenty of movies and books that can teach your little one all about dinosaurs, these ten children's attractions will allow them to come face-to-face with their favorite dinosaurs and learn in an interactive, fun environment.
What kid isn't totally obsessed with dinosaurs? Intrigue the minds of your little paleontologist at these unforgettable prehistoric destinations which feature gigantic T-rex, pterodactyls, and more!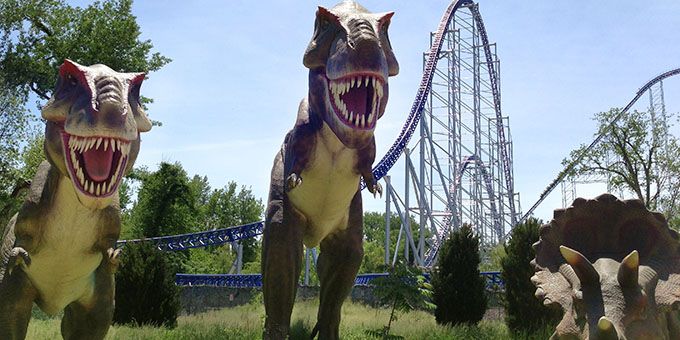 1. Dinosaurs Alive! at Cedar Point
Sandusky, OH
See the "age of dinosaurs" come to life with interactive exhibits based on real fossil evidence. At the Dinosaurs Alive! section of Cedar Point[1] park, visitors can walk among more than 50 life-sized scientifically accurate animatronic dinosaurs which move and roar. See these gigantic lizards up close and learn more about the most fearsome period of Earth's history.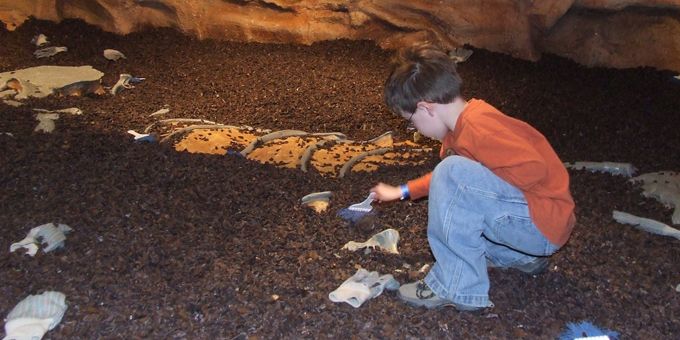 2. The Chicago Children's Museum
Chicago, IL
The Chicago Children's Museum[2] is filled with plenty of activities for kids of all ages but one of the coolest has to be the Dinosaur Exhibition. At this exhibit, children can spend time digging for dinosaur bones at an excavation site, looking at dinosaur fossils, and learning what life is like for real archaeologists.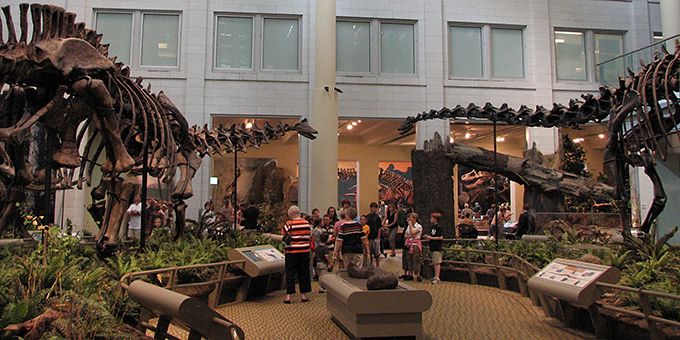 3. Carnegie Museum of Natural History[3]
Pittsburgh, PA
In addition to plenty of exhibits about wildlife and anthropology, the Carnegie Museum of Natural History has one of the finest dinosaur fossil collections in the world. Visitors can see experts work with real dinosaur fossils in the PaleoLab or check out the dinosaur skeletons on display. Make sure to snap a photo in front of Dippy, the scarf-loving dinosaur guarding the front of the museum!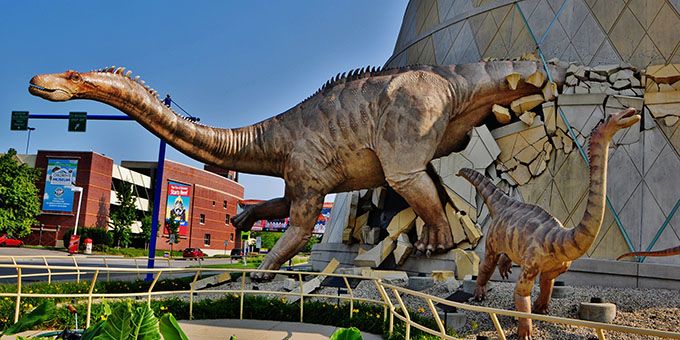 4. The Children's Museum of Indianapolis
Indianapolis, IN
From the dinosaurs exploding out of the side of the building to the fossils within, the Children's Museum of Indianapolis[4] is filled with fun things to do including several exhibits filled with dino fun. Kids can touch a real T. rex bone, look for dinosaur bones, and see reconstructed dinosaur skeletons up close.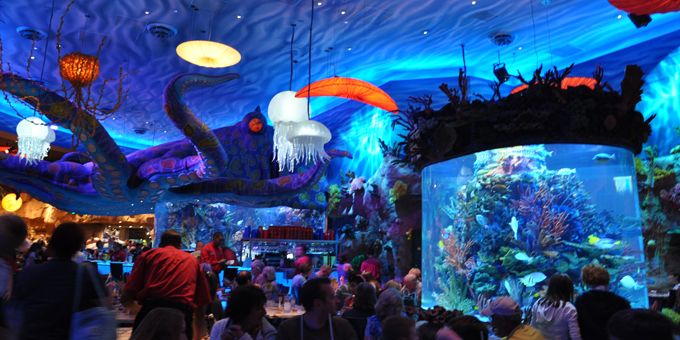 5. T-REX Cafe
Lake Buena Vista, FL
Enjoy a deliciously cooked meal in a fun prehistoric restaurant which features animatronic dinosaurs, exotic plants, aquariums with tropical fish, and a meteor shower every 20-30 minutes. T-REX Cafe features a fantastic menu with delicious and kid-friendly entrees, fun souvenirs, and an unforgettable atmosphere that will transport you back to the time of the dinosaurs.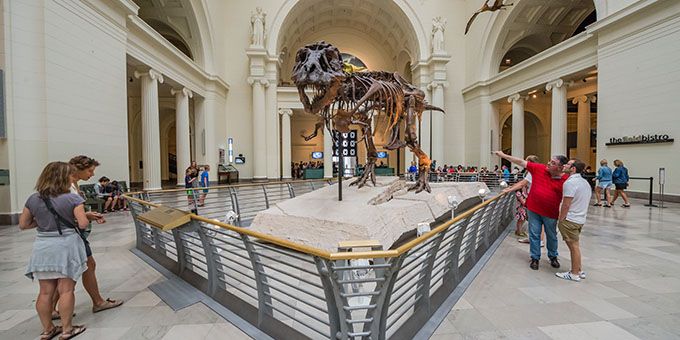 6. Field Museum of Natural History
Chicago, IL
The Field Museum of Natural History[5] is home to Sue, the largest, best-preserved, and most complete T. rex ever found. Kids will love the opportunity to examine her skull from multiple angles as she towers overhead. The museum also features a 3D movie about the T. rex and an exhibit about the evolution of life on Earth, including the time of the dinosaurs.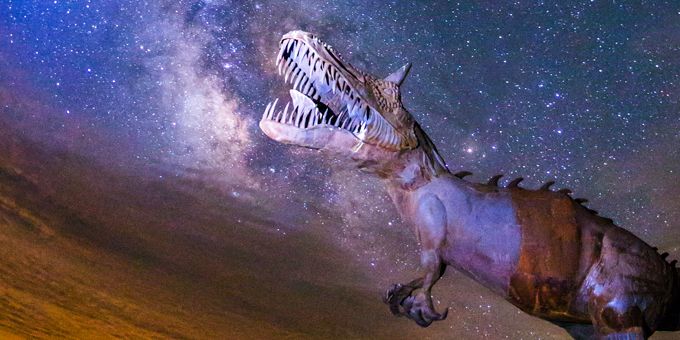 7. Galleta Meadows
Borrego Springs, CA
Located in the dusty California desert, Galleta Meadows[6] is filled with art designed to spur imaginations both young and old. Scattered across nearly 10 miles, giant metal sculptures of dinosaurs, giant sloths, tortoises, sea serpents, horses, and more seem to loom out of the sand. There are nearly 140 pieces of art in all, including several prehistoric animals and some mythological creatures.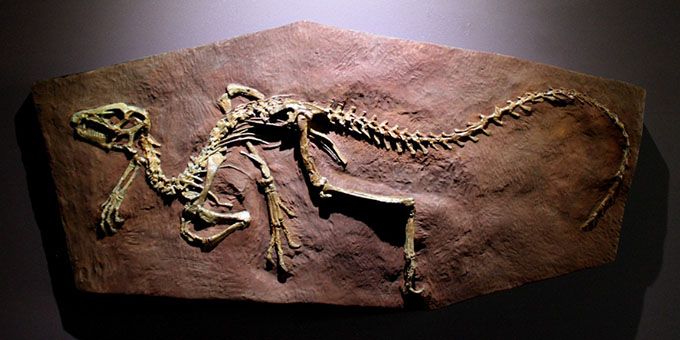 8. Dinosaur Journey Museum
Fruita, CO
While other museums may have dinosaurs exhibits as part of the museum, the Dinosaur Journey Museum[7] focuses all of its space on the terrible lizards. With a paleontology lab where kids can see dinosaur bones being prepared to display, a quarry where they can dig for their own fossils, a simulated earthquake ride, a dinosaur reading library, and, of course, real dinosaur bones on display, this fun, interactive museum will keep the family occupied for hours.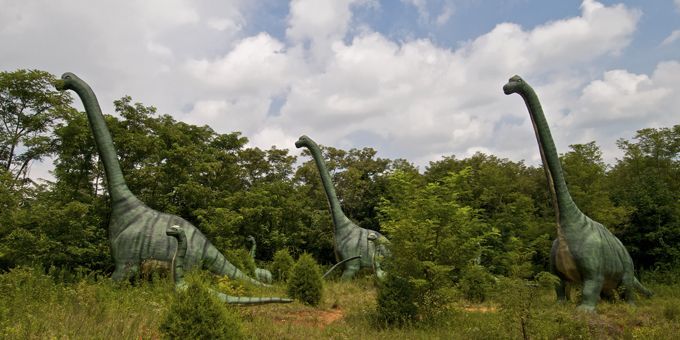 9. Dinosaur World
Plant City, FL; Cave City, KY; Glen Rose, TX
With three different parks spread across the country, Dinosaur World[8] gives kids the opportunity to take photos with life-sized dinosaur statues, touch a real dino bone, and talk with paleontologists and demonstrators at the interactive shows. These 20 acre parks feature more than 150 dinosaurs in natural settings so kids can get an idea of how these magnificent creatures lived when they ruled the earth.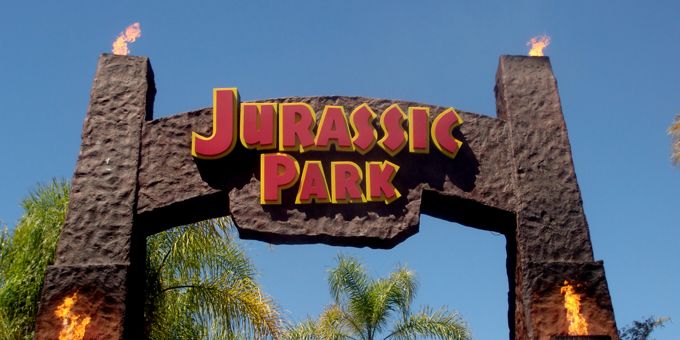 Orlando, FL
Easily one of the most iconic dinosaur movies, Jurassic Park has been reborn at Universal Studios. Step through the giant gates and into the tropical world where dinos lurk behind every fern. Dine at the Jurassic Park restaurant, see the dinosaur eggs at the nursery, experience how dinosaurs see the world, and avoid the massive T. rex that might be around the corner! The Jurassic Park Discover Center at Universal Studios is part of the Islands of Adventure portion of the park.
So which of these dinosaur attractions are you going to take your little dino to first? Tell us in the comments below! Be sure to Like and Share with your dinosaur-loving friends!