YOUR PEACE OF MIND IS OUR TOP PRIORITY
Should you need to cancel at any time, you have up to 48 hours from your vacation start date to do so for a 100% future travel credit.
Treat your taste buds to a vacation too.
Why settle for the typical theme park fare when there's a whole world of distinctive cuisine just waiting to be discovered? If you know where to look, you can find some amazingly delicious entrees and snacks at America's most popular theme parks and resorts. Next time you're in one of these locations, make it a point to try one of these delectable favorites, and we promise, you won't be sorry you did.
Theme parks are a place where everyone can embrace their inner child and have a fun time! One of the best parts besides the rides and shows is the theme park food. From funnel cakes to Disney's famous churros, these theme parks are a foodie's dream!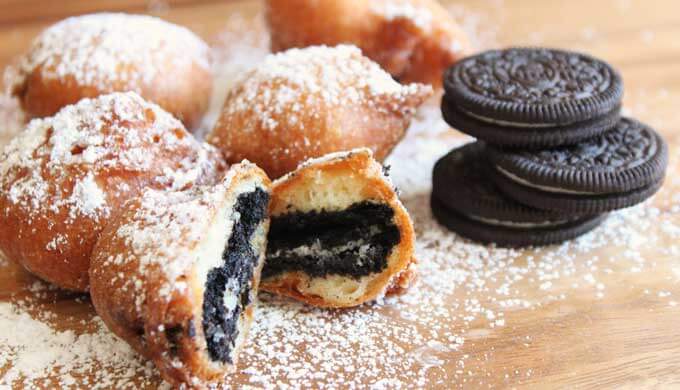 1. Deep Fried Oreos
Where to find it: Kennywood Amusement Park[1], West Mifflin, PA
Bite into a tempting deep fried oreo from Kennywood's[2] Star Refreshment Stand and you'll never be the same again. Once these all-American favorites are coated in a sweet batter and dropped into the deep fryer, they soften, and the filling transforms into a rich, velvety cream that satisfies even the biggest sweet tooth.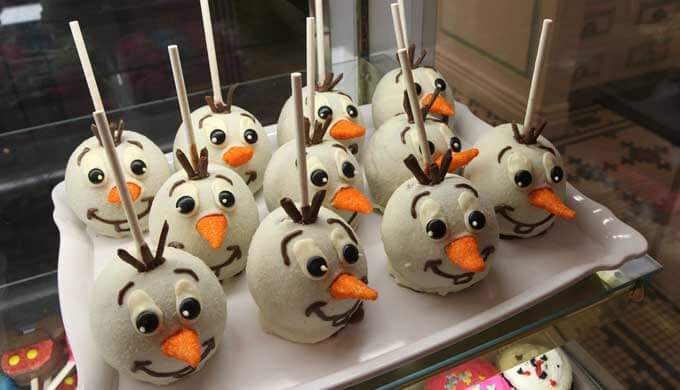 2. Olaf Candy Apples
Where to find it: Disneyland, Anaheim, CA and Walt Disney World, Orlando, FL
This one proves that Frozen is taking over the world. The familiar face of Olaf the snowman has shown up at several locations in Disneyland and Walt Disney World. The goofy-faced candy apple is covered in a delicious layer of white chocolate and Disney's equation is obviously genius: Frozen + candy = instant top seller.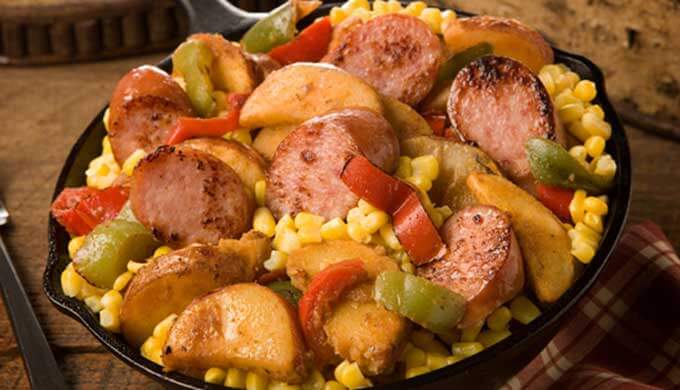 3. Signature Skillets
Where to find it: Silver Dollar City, Branson, MO
If you walk by the Lumbercamp Falls or Buckshot Annie's Cookery[3] at Silver Dollar City your nose will most certainly lead you back to the savory scents of homemade skillets. These mouthwatering meals continue to be a guest favorite and are prepared on a gigantic iron skillet with mix-ins like sautéed corn, roasted red skin potatoes, fresh okra, juicy smoked sausage, and yellow squash.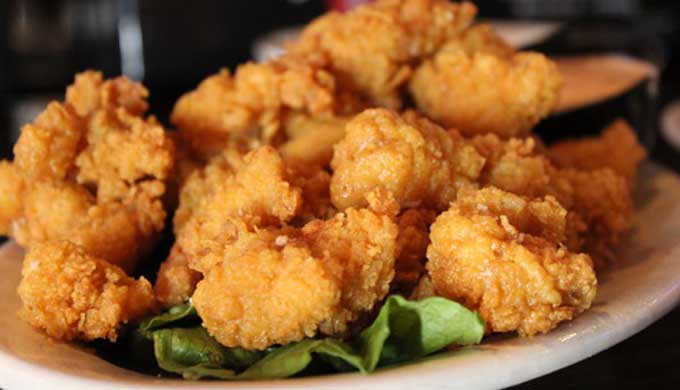 4. Alligator Bites
Where to find it: Knoebels[4], Elysburg, PA
The International Food Court at Knoebels[5] serves up this tasty breaded favorite alongside other delicious international dishes. Don't be put off by the word "alligator" because you'll forget as soon as you take a bite. These juicy bites are fried to a perfect crisp and will have you heading back for more each time you visit the park.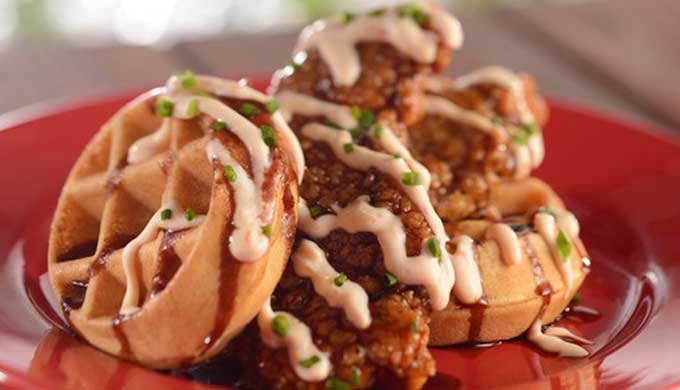 5. Sticky Chicken and Waffles
Where to find it: Downtown Disney, Orlando, FL
Who doesn't like fried chicken and waffles? And with a topping of sweet and spicy Thai cream sauce, they're pretty much perfection. This finger lickin' good entrée at Downtown Disney's Fantasy Fare food truck is a million times better than your run-of-the-mill chicken fingers, so dig in.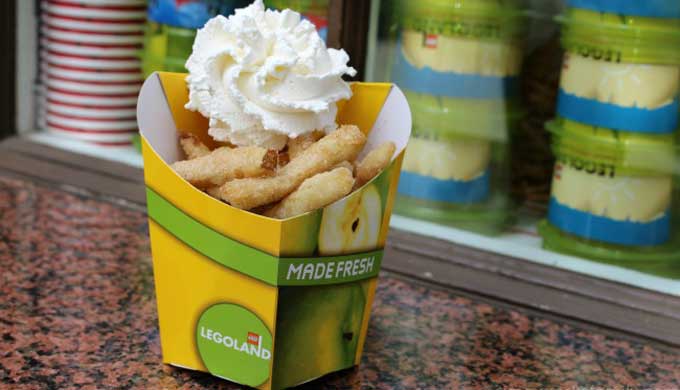 6. Granny's Apple Fries
Where to find it: Legoland, Carlsbad, CA
Trick your kids into skipping those artery-clogging chili cheese fries by tempting them with this healthy-ish dessert at Legoland. These fried apple slices are bathed in a sweet coat of cinnamon and sugar and then topped with a dollop of vanilla whipped cream. Forget the rides — we're making a beeline for the only apple fries stand in the park!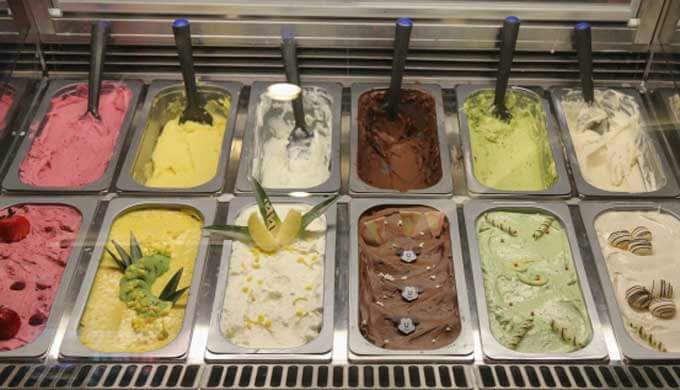 7. Coppa Delizia
Where to find it: Epcot, Orlando, FL
Gelato. Fresh strawberries. Cookies and cream. Need I say more? Virtually every food your tongue touches at Epcot is heavenly, but this divine creation from the gelato stand in Italy takes the cake. This exquisite combination of strawberries, cookies and cream, Fior di Latte, and whipped cream is a dream come true.

8. Deep Fried Cheese on a Stick
Where to find it: Cedar Point[6], Sandusky, OH
Sink your teeth into this ooey gooey mess of deliciousness and hope you're not about to discover that you're lactose intolerant. One of Cedar Point's[7] top sellers, this slab of cheese is dipped in sweet corn dog batter and then deep fried to perfection for a tasty mid-day snack.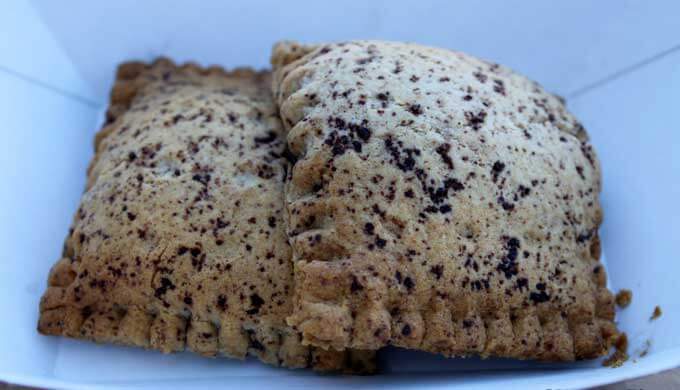 9. S'mores
Where to find it: Disney's Hollywood Studios, Orlando, FL
Herbie's Drive-In at Disney's Hollywood Studios is serving up these old campfire favorites in a new way. What may look like toasted ravioli at first glance is really a dainty pocket filled with the luscious flavors of marshmallow and chocolate. These s'mores are served warm so the only thing missing is the campfire.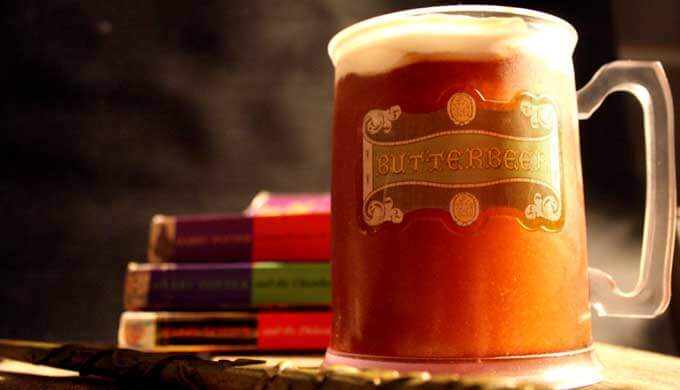 10. Butterbeer
Where to find it: Universal Orlando Resort, Orlando, FL
Yes, this is technically a beverage not a food, but who cares — it's delicious. Butterbeer is in high demand at Universal Orlando Resort's The Wizarding World of Harry Potter and none of those copycats out there will ever recreate the original taste of this frothy, goodness. The ingredient list is top secret and probably hidden away in a Gringotts vault, but most people compare the flavor to cream soda or butterscotch. Despite what the name suggests, it's non alcoholic so kids of all ages can enjoy a mug.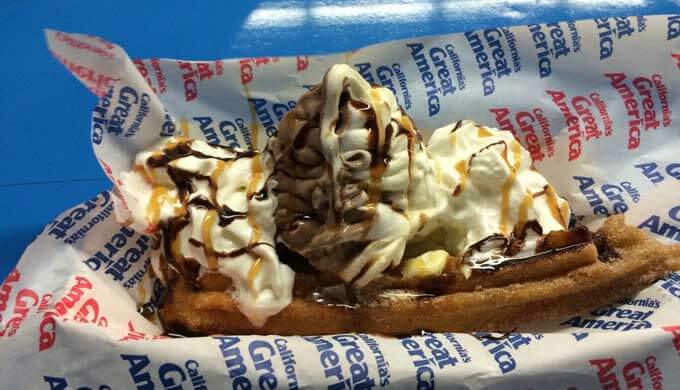 11. Churro Sundae
Where to find it: Great America[8], Santa Clara, CA
The Churro Factory at Great America[9] cranks out some pretty tasty treats including this amazing churro sundae. The crunchy, sugary pastry is smothered in a pile of rich ice cream and whipped cream. It's served hot so the ice cream slowly melts into a milky, sweet sauce that blends with the cinnamon and sugar dusting for a delectable snack.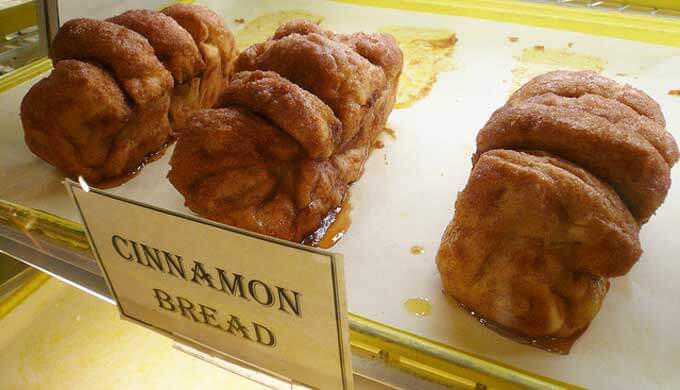 12. Cinnamon Bread
Where to find it: Dollywood, Pigeon Forge, TN
Dollywood is consistently receiving positive feedback for its food, and some would even argue a trip to the theme park is worth it just for the cinnamon bread. A simple recipe of cinnamon, sugar, bread, and butter makes for one of the park's most popular treats. Find this addicting, melt-in-your-mouth goodness at the Grist Mill where it's made fresh daily.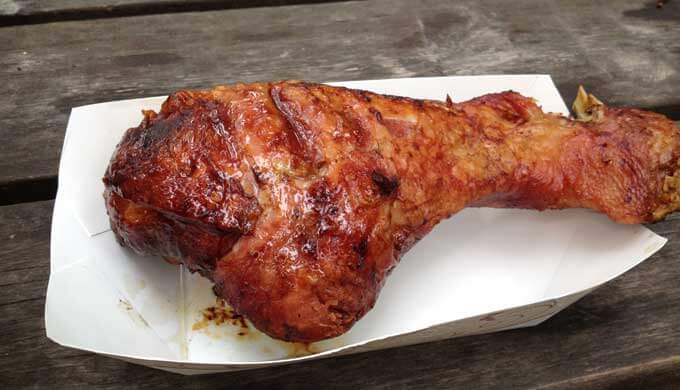 13. Gigantic Roasted Turkey Legs
Where to find it: every Six Flags location
Abnormally large turkey legs are a popular dish at theme parks across the country, but Friar Tuck's at Six Flags has a particularly good one. These perfectly roasted drums are tender, savory, and incredibly convenient for theme park visitors on the go who don't want to miss a single second of fun, even if that means eating while walking.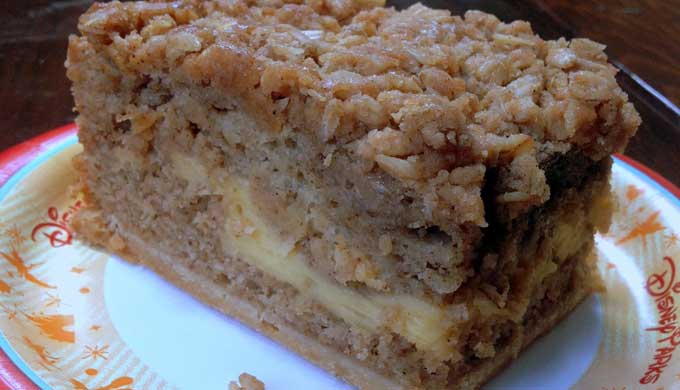 14. African Spice Cake
Where to find it: Disney's Animal Kingdom, Orlando, FL
This African Spice Cake is served at Disney's Animal Kingdom in Florida and makes for a delightful breakfast. Kusafiri's Coffee Shop and Bakery has outdone itself with this one, featuring layer upon layer of cream cheese filling, moist spice cake, and a crumbly spiced oatmeal streusel to top it off. But really, just stop. You had me at cream cheese.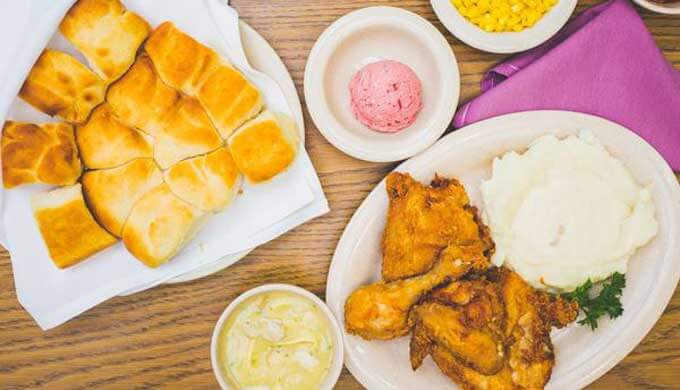 15. Mrs. Knott's Fried Chicken Dinner
Where to find it: Knott's Berry Farm, Buena Park, CA
This meal of tender chicken, buttermilk biscuits, fresh veggies, mashed potatoes and gravy, and boysenberry pie is simply to die for. Mrs. Knott's Chicken Dinner Restaurant at Knott's Berry Farm has been offering this same meal since the 1930's and the park's visitors are still craving it, more than 80 years later.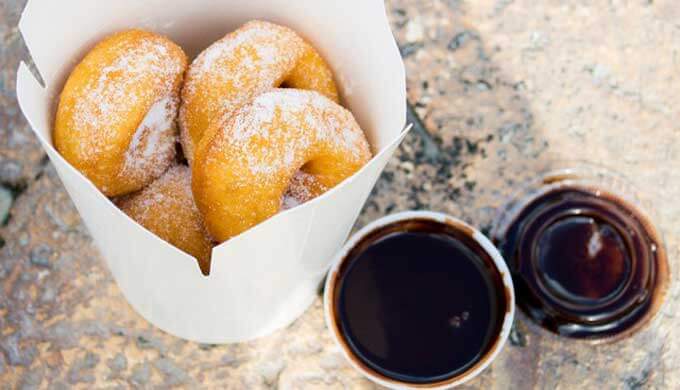 16. Mini Doughnuts
Where to find it: Disney's Blizzard Beach, Orlando, FL
You can find these tiny wonders at a kiosk near the entrance of Blizzard Beach. The sweet, spongy dough is brushed with a thin layer of sugar and comes with a small cup of chocolate sauce that elevates these delectable dunkers to a whole new level of deliciousness.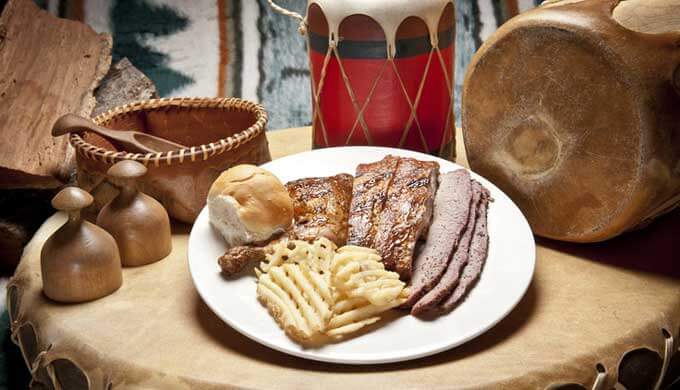 17. Trappers Smokehouse Brisket
Where to find it: Busch Gardens, Williamsburg, VA
Trappers Smokehouse in New France at Busch Gardens serves up some mouthwatering brisket that is totally worth taking a break from the roller coasters. The savory meat is smoked over hickory and oak for 10 hours and boasts a robust flavor that is just too good to pass up.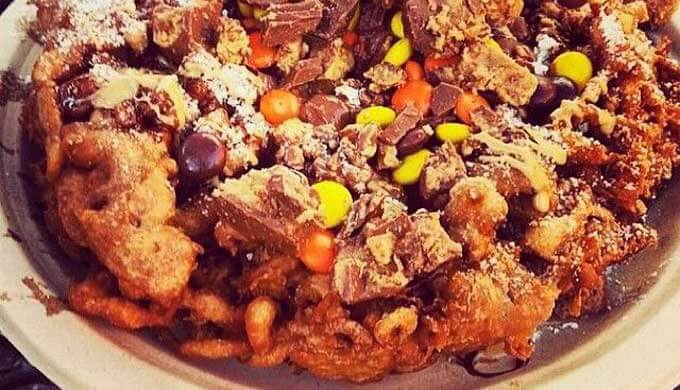 18. Loaded Funnel Cake
Where to find it: Hersheypark, Hershey, PA
Funnel cake is a must when it comes to theme parks, but Hersheypark does it right with this loaded funnel cake. Nutrageous pieces, chunks of peanut butter cups, chocolate chips, M&Ms, and Reese's Pieces all covered in powdered sugar and chocolate syrup drizzle.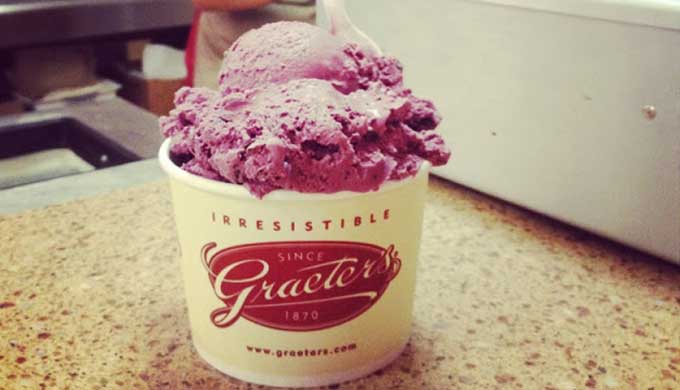 19. Graeter's Black Raspberry Chocolate Chip Ice Cream
Where to find it: King's Island, Mason, OH
Savor a spoonful of this Cincinnati favorite at King's Island in Mason, Ohio. Graeter's consistently produces top quality ice cream with rich flavors and gigantic semi-sweet chocolate chunks. A sweet and crunchy waffle cone makes it even better.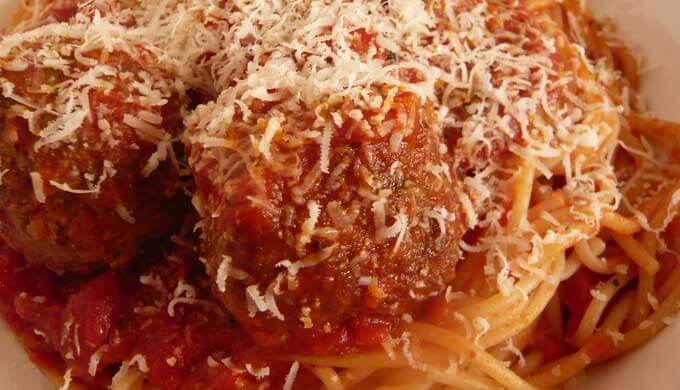 20. DelGrosso Spaghetti and Meatballs
Where to find it: DelGrosso's Amusement Park[10], Tipton, PA
Spaghetti Wednesdays at DelGrosso's Amusement Park[11] attract hoards of pasta lovers throughout the months of June, July, and August. Weekly pasta specials feature Italian favorites like rigatoni, cheese ravioli, and homemade lasagna accompanied by the popular DelGrosso pasta sauce. You just can't go wrong with a huge plate of primo spaghetti and meatballs slathered with the flavorful DelGrosso sauce.
Have you tasted any of these delicious wonders or do you have any favorites we forgot to mention? Leave a comment for us!