Hersheypark
100 W. Hersheypark Drive Hershey, PA 17033
1-800-987-9852
Description
Since 1907, Hersheypark has been the place to go in Pennsylvania for a chocolate-themed day of family fun. Hersheypark is designed to give people of all ages with an amazing day of fun and excitement. Adults and older kids will love the thrills of mega coasters like Great Bear, Coastline Plunge, Fahrenheit, and the Fender Bender. Younger kids can get in on the fun and excitement at Hersheypark with rides like Bizzy Bees, Helicopters, the Mini Scrambler, the Pony Parade, and Sandcastle Cove. Your whole family will love riding a variety of family-friendly rides together like Frontier Flyers, the Ferris Wheel, and Bayside Pier. There are also plenty of water rides at Hersheypark, so you will want to be sure to bring your bathing suit and towel if you visit on a warm day. Some of the water park rides include East Coast Waterworks, the Coal Cracker, and Tidal Force.
When you visit Hersheypark, you can plan to spend a full day enjoying the rides, but you will also want to make time to enjoy some of the many live shows at the park. There are scheduled shows as well as strolling shows and even Hershey characters walking through the park to greet you. Guests can also enjoy fun annual events such as the Trick or Treat Trail and Hersheypark in the Dark where they'll be able to ride some of the park's favorites after dark!
You can enjoy dining at any of the many great indoor and outdoor eateries, featuring full meals as well as tasty chocolate treats. There is also a chocolate-themed gift shop on-site, where you can pick up a wide variety of Hershey-themed merchandise for gifts and souvenirs. Don't miss out on the fun at Hersheypark on your trip to Pennsylvania!
Hersheypark Shows
TAP: The Show

- A high-energy tap dance show with lots of musical variety and vocal talent.

The Milkmen

- This quartet takes you back by way of fun jukebox hits.

Crystal Sneakers

- A 'high school musical' performance where there's a ton of singing and dancing at the talent show.

Wild Country

- From today's country tunes to the western songs of the past, this is a kicking' cowboy time.

Frontier Frenzy

- Modern country rock and bluegrass come together in this display of musical talent.

And many more!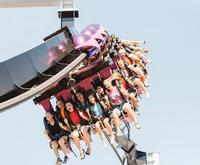 Hersheypark Rides
Balloon Flite

- Hop in a hot air balloon and circle around at a moderate speed.

Reese's Extreme Cup Challenge

- Travel through the darkness in a rotating car and a laser gun as you compete in the challenge.

Roller Soaker

- Riders on the aerial coaster will be sprayed with squirt guns by spectators below, and in return they can drop up to four gallons of water from above.

Lightning Racer

- A wooden racing/dueling roller coaster, the first of its kind in the US.

Storm Runner

- Get launched 0 - 72 mph in just two seconds, shoot 18 stories up and take a drop, fly through a 135 foot cobra loop, and more on this roller coaster.

And many more!
Hersheypark Dessert Shops
Simply Chocolate

- Chocolate Fondue, French Silk Pie, Peanut Butter Pie, Cupcakes, Cheesecakes, Sundaes, Milkshakes

Whistle Stop Sweet Shop

- Hershey's Chocolate Funnel Cakes, Hershey's Fried Candy, Sundaes, Milkshakes

Turkey Hill Ice Cream Parlor

- Hershey's Kisses and Reeses Peanut Butter Cup Frozen Yogurt, Sundaes with your favorite Hershey's Candy

Dippin' Dots Sundae Shop

- Sundaes featuring Dippin' Dots and Hershey's candy

Spring Creek Smokehouse

- S'mores Cobbler, a non-traditional take on the classic flavor of S'mores

And many more!
Events at:
Hersheypark:
Friday, 11/15/2019

-

Wednesday, 1/1/2020

Location:

Hersheypark Christmas Candylane

Hersheypark already smells like chocolate when you arrive, but when you visit for the Christmas Candylane, you can smell hints of peppermint as well.
Reviews
4.5 | 12 reviews
Thomas

✓
Verified Traveler
"this place is awesome!"
Anything with the name hershey is worth the try! And this place is awesome!
Daneen Izzo
NY
✓
Verified Traveler
"My family had a great time!"
My family had a great time! Thanks.
Sandra Rodriguez
NJ
✓
Verified Traveler
"the folks are helpful as well as friendly."
Great & the folks are helpful as well as friendly.
Raul Garcia
Amsterdam, New York
✓
Verified Traveler
"we are so happy we were able to go!"
We had a great time at the park we are so happy we were able to go! It was a great day and you guys made it possible in making sure we got our e tickets.
Book Now!